Tell us a bit about your Design Company
As an agency we help businesses to design and develop products to fall in love with. As a product studio we also build our own products (e.g. Prototyping tool Prott, Feedback app Balto).
In the Berlin studio we are a team of 10 designers and engineer, globally we are ?.
Some of our past and current clients include McDonalds, Panasonic, Mimi, Vimcar, Teambay, Labfolder, Vimeda, WEKA and Zenjob.
We currently tell a story of three cities with studios based in Tokyo, Berlin and Taipei. Every single member of our team is a designer—whether they craft interfaces, strategy, or code, we are united by our curiosity and unshakable belief in good design.
Together we make a difference to the world.
What makes your Design Company a great place to work?
Together with our clients we bridge cultures and industries to create quality solutions that include great design and a fresh user experience. The products we design have already changed the lives of millions of people. Here's why  Hiromu & Teodora love what they do at Goodpatch.
"It's exciting to work with many startups and companies here in Berlin. There are many ideas and a lot of creative energy, and this really stimulates me. Another great thing about working at Goodpatch is that I can attend tech conferences all over the world and connect with highly skilled engineers. And I must add—having moved here from Japan—I love beer and sausage in Germany."
"I love Goodpatch for it's creative freedom and the ambitious projects we're always working on. But the best part are my colleagues who push and inspire me to be the best. They are my mentors and friends and be it through our weekly inspirational talks or design reviews, every day I am learning something new. The products we've launched together have made an impact and I feel like I get to be part of something bigger than me. How many people can say that?"
Besides technical skills, what other attributes will make a candidate a good fit for joining your team?
Good commincation skills and a getting shit done attitude goes a long way. While we at Goodpatch are unrelenting perfectionists, you know when it's time to let your baby go out into the world.
Great leadership skills are always a plus. We need someone who is confident in communicating with clients, leading presentations, workshops and mentoring creative talent.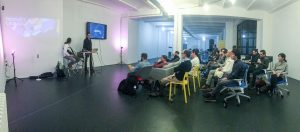 Why should someone reading this apply to work at Goodpatch?
Besides working with a fun, talented and international team that aims to create a caring and inclusive workplace we offer quite a few perks. Monthly team dinners, gym/books/conference/smart gadgets budget, flex hours, relocation costs and the opportunity of travel to Japan and of working with Goodpatch Tokyo are to name a few.
You can learn more about Goodpatch at berlin.goodpatch.com. Check out our open positions and apply directly to [email protected]