Welcome Employers and Job Seekers!
Willkommen Arbeitgeber und Arbeitssuchende!
Whether you are looking for a job or recruiting, Tech Job Fair is the place to be! The speed dating event for recruiting! Come to meet employers, ask questions, and make connections.
Ob du auf der Suche nach einem Job oder einer Stelle bist, Tech Jobmesse ist der richtige Ort!
This event will target local job seekers from tech and business filed: developers, designers, marketers, sellers, financiers, managers, BI, analysts, product managers, data scientists.
Diese Veranstaltung richtet sich an lokale Arbeitssuchende aus den Bereichen Technik und Wirtschaft: Entwickler, Designer, Vermarkter, Verkäufer, Finanziers, Manager, Geschäftsanalysten, Analysten, Produktmanager, Datenwissenschaftler.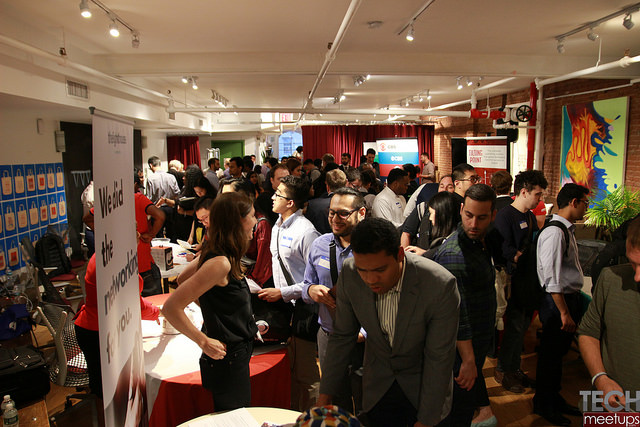 Berlin Tech Job Fair 2019 is a chance for job seekers to talk to companies that are hiring in person. If you've had enough of submitting your CV online without the opportunity to make a lasting first impression, here's your chance to change your strategy and do a bit of networking.
Die Berlin Tech Jobmesse 2019 ist eine Gelegenheit für Arbeitssuchende, mit Unternehmen zu sprechen, die persönlich einstellen. Wenn du genug davon hattest, deinen Lebenslauf online einzureichen, ohne die Möglichkeit, einen bleibenden ersten Eindruck zu hinterlassen, hast du hier die Chance, deine Strategie zu ändern und ein wenig zu vernetzen.

Job postings for the event here: www.techstartupjobs.com

Stellenausschreibungen für die Veranstaltung findest du hier: http://www.techstartupjobs.com/
Become an exhibitor
Enjoy networking opportunities, launch a new product, collect feedback, source, hire and generate new leads.
Exhibitor packages & benefits https://techmeetups.com/exhibitors
Pictures from previous events https://www.flickr.com/photos/techmeetups/albums
Testimonials https://techmeetups.com/testimonials
If you have any questions and suggestions, please contact marketing@techmeetups.com
Werde Aussteller
Geniesse Networking-Möglichkeiten, lanciere ein neues Produkt, sammle Feedback, beschaffe, stelle ein und erzeuge neue Tipps.
Ausstellerpakete & Vorteile https://techmeetups.com/exhibitors/
Bilder von früheren Veranstaltungen https://www.flickr.com/photos/techmeetups/albums
Erfahrungsberichte https://techmeetups.com/testimonials        
Wenn du Fragen und Anregungen hast, wende dich bitte an marketing@techmeetups.com

Good news! You no longer have to worry about spending weeks, or even months, researching how to make your job-winning CV!
If your current CV isn't getting the response you want, we'll help you transform it into a interview-generating machine.
Grab the NEWEST ticket to get your CV done by our team of professionals and stand out from the crowd.
Gute Nachrichten! Du musst dir keine Sorgen mehr machen, Wochen oder gar Monate damit zu verbringen, zu recherchieren, wie du deinen arbeitsgewinnenden Lebenslauf erstellen kannst!
Wenn dein aktueller Lebenslauf nicht die gewünschte Antwort erhält, helfen wir dir, ihn in eine Interviewgenerierungsmaschine zu verwandeln.
Kauf das NEUESTE Ticket, um deinen Lebenslauf von unserem professionellen Team erstellen zu lassen und dich von der Masse abzuheben.
TechMeetups is now on Patreon! Check it out: https://www.patreon.com/techmeetups
TechMeetups ist jetzt auf Patreon! Schau dir das an: https://www.patreon.com/techmeetups
COMPANIES PARTICIPATING:

TEILNEHMENDE UNTERNEHMEN:
Talent.io – Find your next tech job in one week. Salaries from €35k to €100k.
Permanent, Freelance, and Internship positions.
Talent.io – Finde deinen nächsten Tech-Job in einer Woche. Gehälter von 35.000€ bis 100.000€.Festanstellungen, Freiberufler- und Praktikumsstellen.

finleap is a company builder for Fintech companies based in Berlin with an office in Milan. At finleap we strive for the highest performing teams where collaboration, individual contributions and excellent results are rewarded with fair and attractive conditions.
finleap  ist ein Unternehmensgründer für Finanztechnologieunternehmen mit Sitz in Berlin und einem Büro in Mailand. Bei finleap streben wir nach den leistungsstärksten Teams, in denen Zusammenarbeit, individuelle Beiträge und hervorragende Ergebnisse mit fairen und attraktiven Konditionen belohnt werden.
Jobsens.ai provides you with hand-picked jobs for you to master your skills – it's fast, efficient, and of course free. Jobsens.ai selects jobs exclusively for IT developers.
Jobsens.ai bietet dir handverlesene Jobs, mit denen du deine Fähigkeiten verbessern kannst – schnell, effizient und natürlich kostenlos. Jobsens.ai wählt Jobs ausschließlich für IT-Entwickler aus.
American Express offers world-class Charge and Credit Cards, Gift Cards, Rewards, Travel, Personal Savings, Business Services, Insurance and more.
American Express bietet Weltklasse-Gebühren und Kreditkarten, Geschenkkarten, Belohnungen, Reisen, persönliche Einsparungen, Geschäftsdienstleistungen, Versicherungen und mehr.
Reply specializes in the development and implementation of solutions based on new communication channels and digital media. Reply is the place to meet an incredible variety of enthusiastic, passionate, ideas-driven people, who want to make a difference and an impact.
Reply ist spezialisiert auf die Entwicklung und Implementierung von Lösungen auf Basis neuer Kommunikationskanäle und digitaler Medien. Reply ist der Ort, an dem du eine unglaubliche Vielfalt von enthusiastischen, leidenschaftlichen, ideenorientierten Menschen treffen kannst, die etwas bewegen und etwas bewirken wollen.

 With over 2.000 employees and 7 million customers, the Berlin-based MYTOYS GROUP is one of the leading e-commerce businesses in Germany and is also a member of the Otto Group.
Die Berliner MYTOYS GROUP  ist mit über 2.000 Mitarbeitern und 7 Millionen Kunden eines der führenden E-Commerce-Unternehmen in Deutschland und gehört ebenfalls zur Otto Group.
Flightright– We have been helping air passengers enforce their rights for over 8 years. As the market leader in our segment, we are committed to making sure that being right always translated into being proven right.
Flightright– Wir helfen Fluggästen seit über 8 Jahren, ihre Rechte durchzusetzen. Als Marktführer in unserem Segment setzen wir uns dafür ein, dass die Richtigkeit immer in die richtige Richtung umgesetzt wird.
Honeypot is Europe's tech-focused job platform. Our mission is to get every developer a great job. Honeypot helps Developers, Data Scientists, QA, Product People and CTOs find jobs they love.
Honeypot ist eine europäische, technologieorientierte Jobplattform. Unsere Mission ist es, jedem Entwickler einen guten Job zu verschaffen. Honeypot hilft Entwickler, Datenwissenschaftler, Qualitätsanalysten, Produktmanager und leitenden Techniker bei der Suche nach Jobs, die sie lieben.

Work in Denmark provides international job seekers and Danish employers with the information, guidance and tools to find each other.
Work in Denmark bietet internationalen Arbeitssuchenden und dänischen Arbeitgebern Informationen, Ratschläge und Werkzeuge, um sich gegenseitig zu finden.
PARTNERS:
WeWork is revolutionizing the way people and companies work. Get flexible workspaces, agile services, and leading technologies to move your business