About Us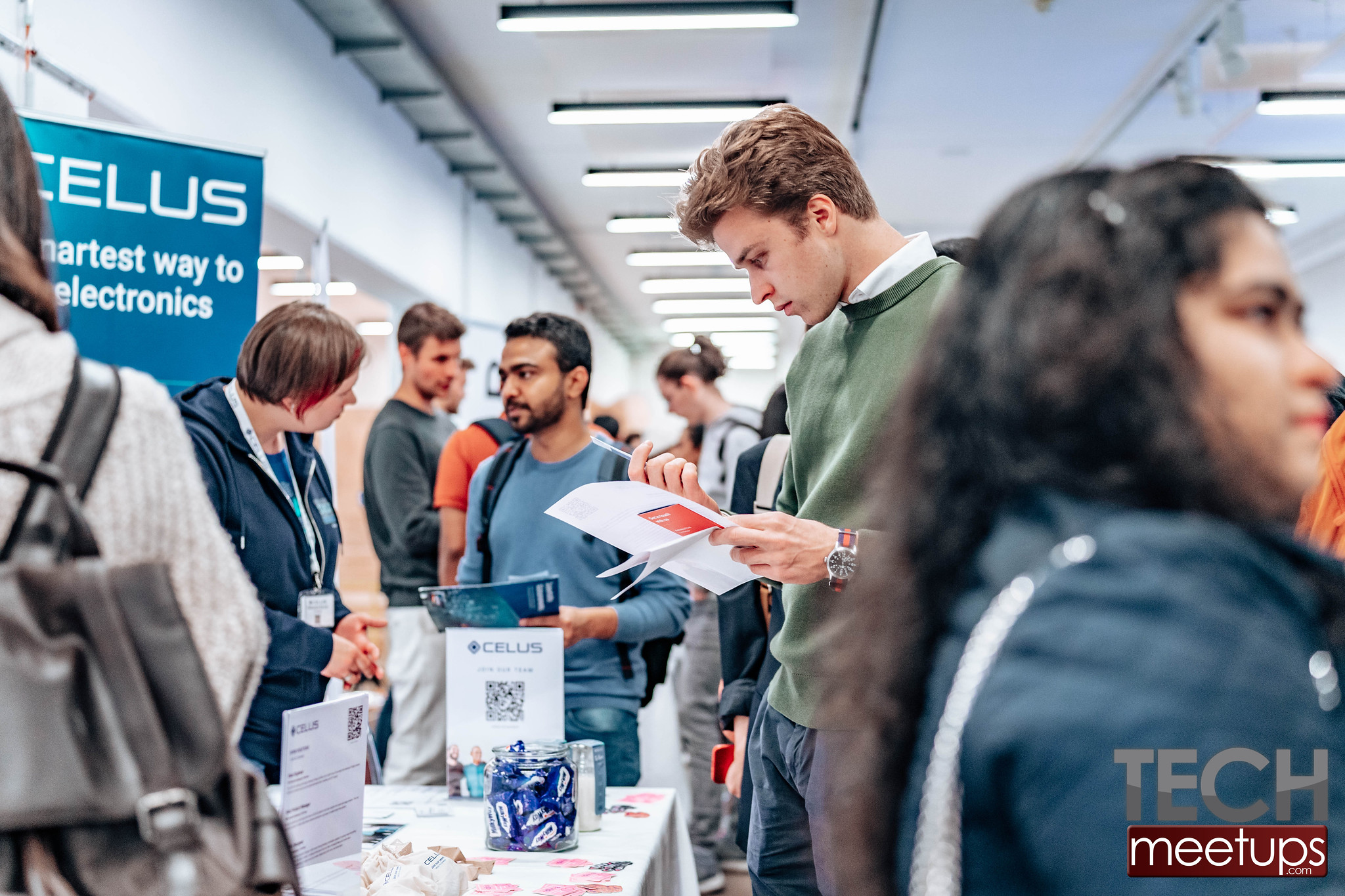 TechMeetups Global Tech Community has been a presence for the last 12 years, with 25 interconnected communities, 90 organized job fairs, 1300+ hiring companies and 70,000+ members: startups, students and graduates, professionals, coders, salespeople, financiers, marketers & developers in London, Berlin, Amsterdam, Barcelona, Paris, Lisbon, Stockholm, Madrid, Copenhagen, Hamburg, Munich, Dublin, Bern, Zurich, Stuttgart, Frankfurt, New York.
Are you looking to hire experienced technology professionals? Participating in our Tech Job Fair will give you access to a wide range of talented and experienced tech professionals.
We invite you to join our upcoming Tech Job Fairs! Employers, hiring managers, career consultants, startups, non-profit organizations, and community organizations come together to provide resources, connections, and job opportunities to candidates looking for opportunities in IT, Marketing or Sales.
Are you a company looking to hire the best talent from around the world? Look no further!
By participating in our Tech Job Fairs around the globe, we are here to help you to connect, network to identify qualified candidates, source talent, and recruit the best personnel for your organization. Our Tech Job Fairs are designed to meet the needs of companies of all sizes, from startups to Fortune 500 companies. We provide a platform where recruiters can meet and interact with potential candidates, network with other recruiters, and access resources to help you in your recruitment process. With our extensive experience in organizing Tech Job Fairs, you can trust us to provide a successful and enjoyable event for all involved.
Benefits of participating in our Tech Job Fair:
• Access to a large pool of qualified job seekers: Our Tech Job Fair will bring together tech professionals from diverse backgrounds and experience levels. 
• Cost-effective recruitment: Participating in our Tech Job Fair will save you recruitment costs, as you will be able to meet potential candidates in person and assess their skills, knowledge and cultural fit.
• Networking opportunities: Our Tech Job Fair will provide you with the opportunity to build relationships with other employers and share best practices in recruitment.
• Promotional opportunities: You will have the chance to showcase your brand and products to potential job seekers, and to engage with them about career opportunities.
• Additional support: We will provide additional services such as refreshments, and access to job seekers' profiles.
Take advantage of this opportunity! Contact us today and let us help you find the perfect candidate for your next job opening!
Alexandra – Global Manager +442071939329
Events techmeetups.com/events
Exhibitor packages https://techmeetups.com/exhibitors
Attention tech job seekers! Are you looking for an exciting new opportunity in the tech industry? Join us for the upcoming tech job fair and unlock your career potential! Don't miss out on this amazing opportunity to kickstart your career! Job Seekers can get free tickets through Eventbrite https://www.eventbrite.com/cc/2023-tech-job-fairs-1451509
Photos https://www.flickr.com/photos/techmeetups/albums
Clients https://www.slideshare.net/techmeetups/presentations
Testimonials https://techmeetups.com/testimonials
Follow us on social media
Facebook http://facebook.com/techmeetupscom
LinkedIn http://linkedin.com/company/techmeetups
Instagram https://www.instagram.com/techmeetups
Twitter http://twitter.com/techstartupjobs
YouTube http://youtube.com/techmeetups