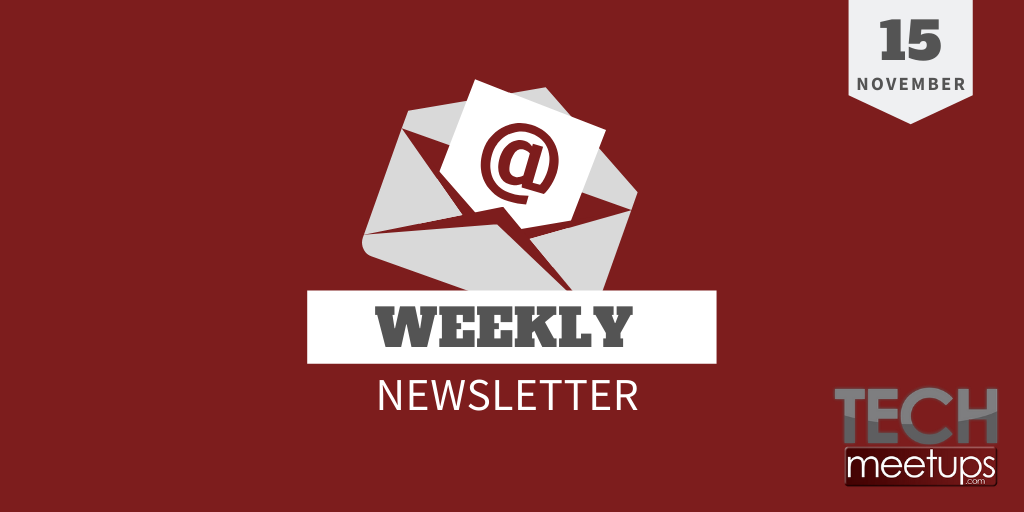 Hello everyone!
AirFly came to be your best buddy for travelling if you have AirPods Pro. TwelveSouth has a solid lineup of gadgets and just released the AirFly Pro, this gadget is a new iteration on one of those, providing a way to connect Bluetooth headphones to any audio source with a 3.5mm headphone jack. It's being sold at Apple Stores too and there's good reason for that: This is the ideal way to make sure you can use your AirPods Pro just about everywhere, including with airplane seatback entertainment systems.
Read more about this news in this article. You love gadgets or think they are a waste of money and all related to trends?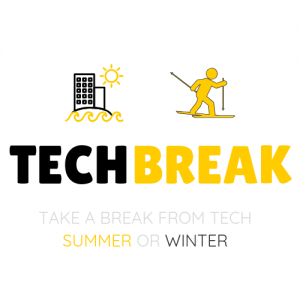 Take a break from tech in Winter or Summer with this offers – Check it here
TECHMEETUPS PREMIUM MEMBERSHIP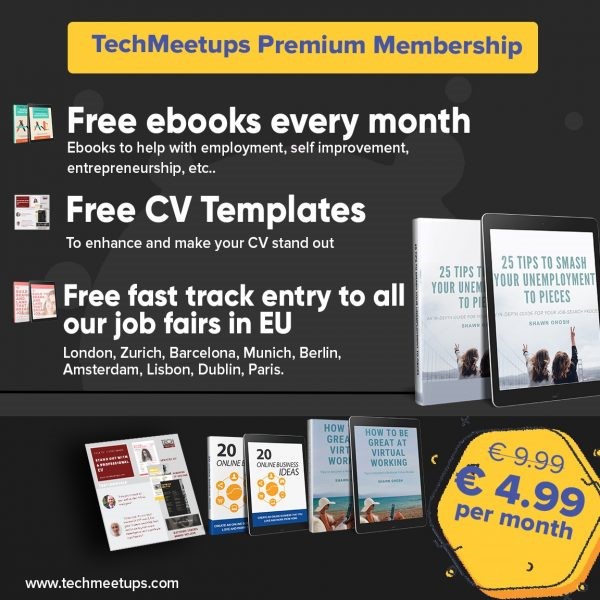 Have access to premium ebooks, job fair entry and videos on new and emerging tech with a TechMeetups – the modern solution to today's job seekers.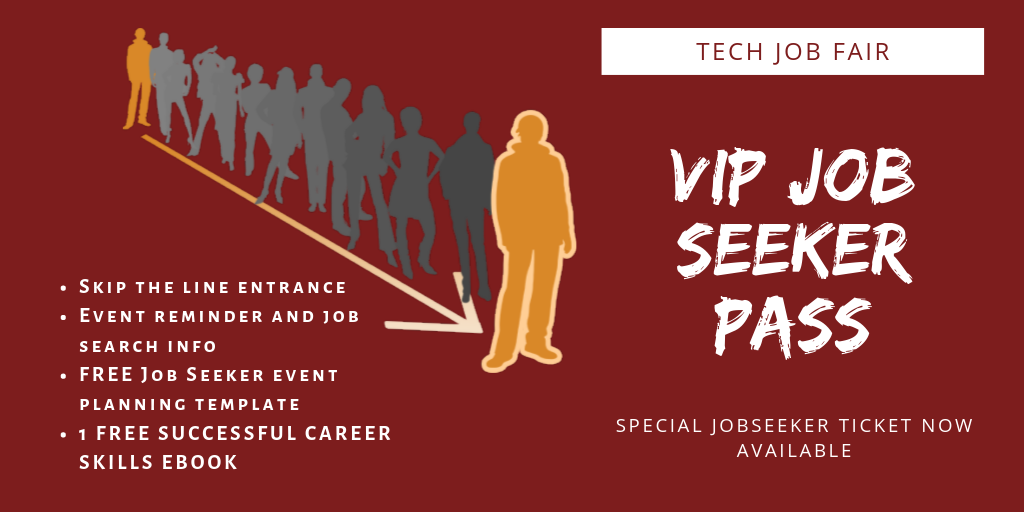 Purchase your VIP Ticket here
BOOK OF THE MONTH
The job world is changing proportionately to the economic and political changes. Now more than ever, there is no relying on one-time skills and knowledge. Skills that were once needed at the beginning of employment for a long period, now require regular improvement and practice. The number of people having temporary employment is on the rise and there will be periods of working on a freelance basis. Careers are susceptible to change trajectory more than once across the working lifetime.
Check the book here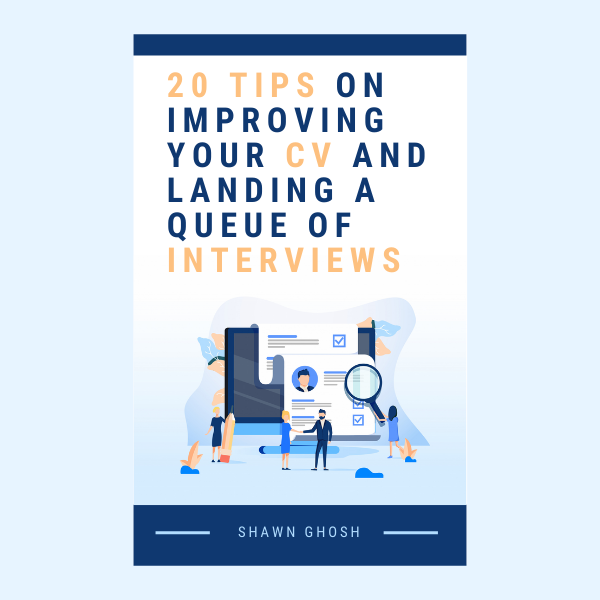 THE LATEST TECH GADGETS
Multitasking Amazon Speaker: A Real Lifesaver!
LED Desk Lamp: Your Personal Light Assistant
Wooden Stand Mobile Holder: Keeping Your Device Beautiful And Clean
CAREER AND RECRUITMENT ADVICE
5 BEST COWORKING SPACES IN MADRID
Passive Recruiting: 13 Tips And Techniques For HR Professionals
The Intern Diaries: ICT Software Engineering & Cyber Security Intern Dane
STAY UP TO DATE WITH TOP NEWS
Facebook quietly built "Popular Photos", an in-app Instagram
VoltServer adds a data layer to electricity distribution in a move that could help smart grid rollout
WORK ON YOUR ENTREPRENEURIAL SIDE
20 habits that prevent you from being a millionaire
The 10 questions you should ask yourself to know if you are a good leader
The reason why mindfulness is important for entrepreneurs
CHECK OUT THESE EVENTS COMING UP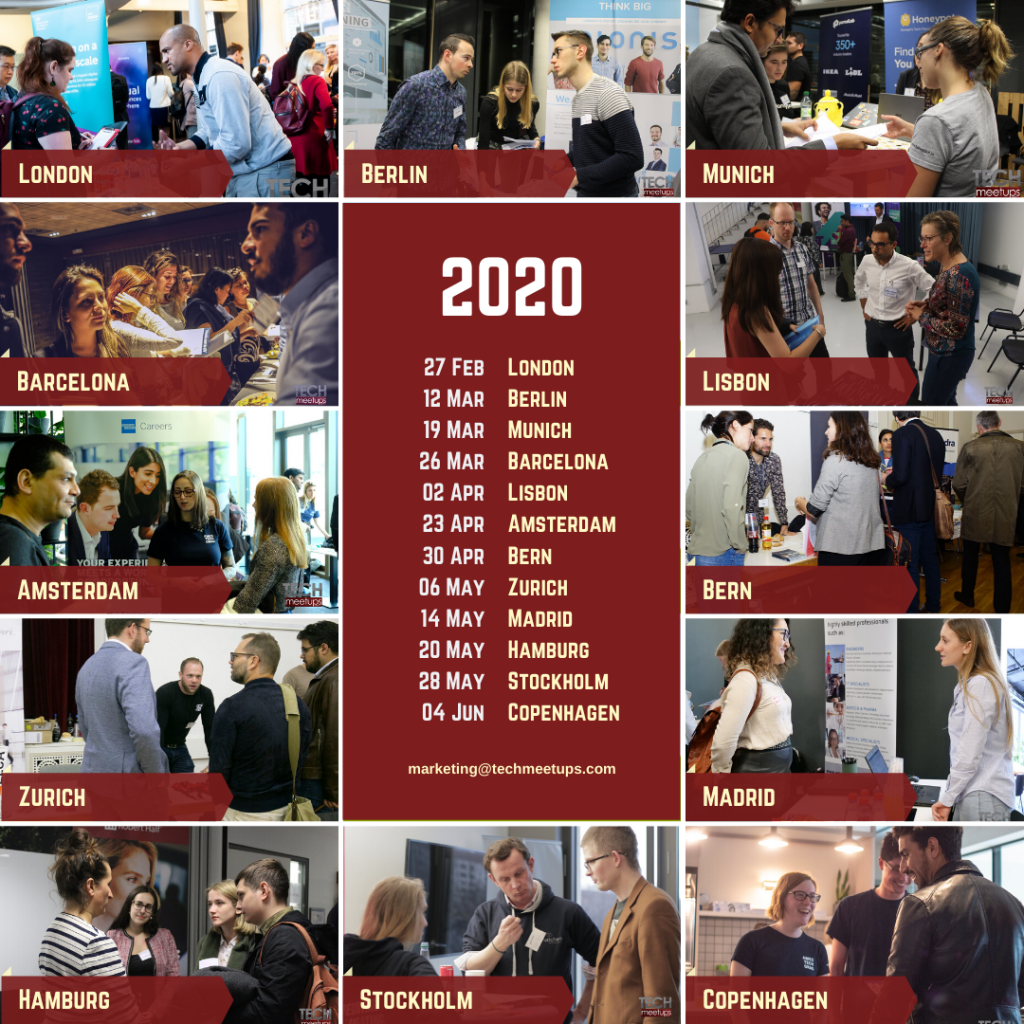 Whether you are looking for a job or recruiting, be part of Tech Job Fairs by Techmeetups.com in London, Zurich, Barcelona, Munich, Berlin and Amsterdam!
London:
Barcelona:
Zürich:
Münich:
Berlin:
Amsterdam:
 If you have a free event and would like to promote it to the community let us know!
BROWSE HOTTEST JOBS IN TECH COMPANIES
London
Barcelona
Zurich
Munich
Berlin
Lisbon
Amsterdam
Anywhere
More jobs and career opportunities from our clients on Tech Startup Jobs!
 LEARN MORE ABOUT EMPLOYERS LOOKING FOR YOU
JOIN AMSTERDAM TECH JOB FAIR AUTUMN 2019 HERE: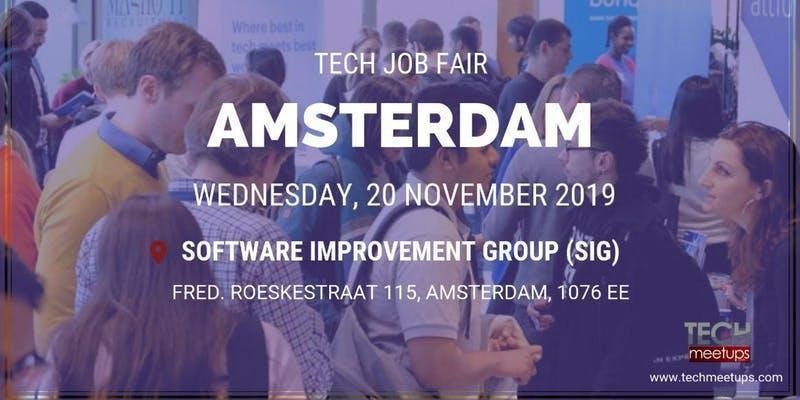 Partner
StartupAmsterdam is the online hub for Europe's most connected tech city. Join the Amsterdam startup community to get ahead of the curve.
JOIN GET HIRED AMSTERDAM 2019 HERE: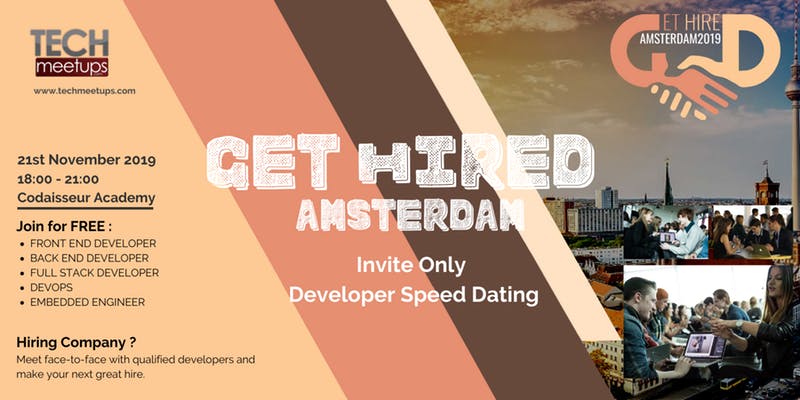 2019 event of the tech talent hiring experience – Hiring Experts, Master Class, Networking
Come take that last step in getting your dream job. Give your professional brand a new look, borrow perspective from experts and step off the seeker's treadmill
JOIN RECRUITECH BERLIN 2019 HERE: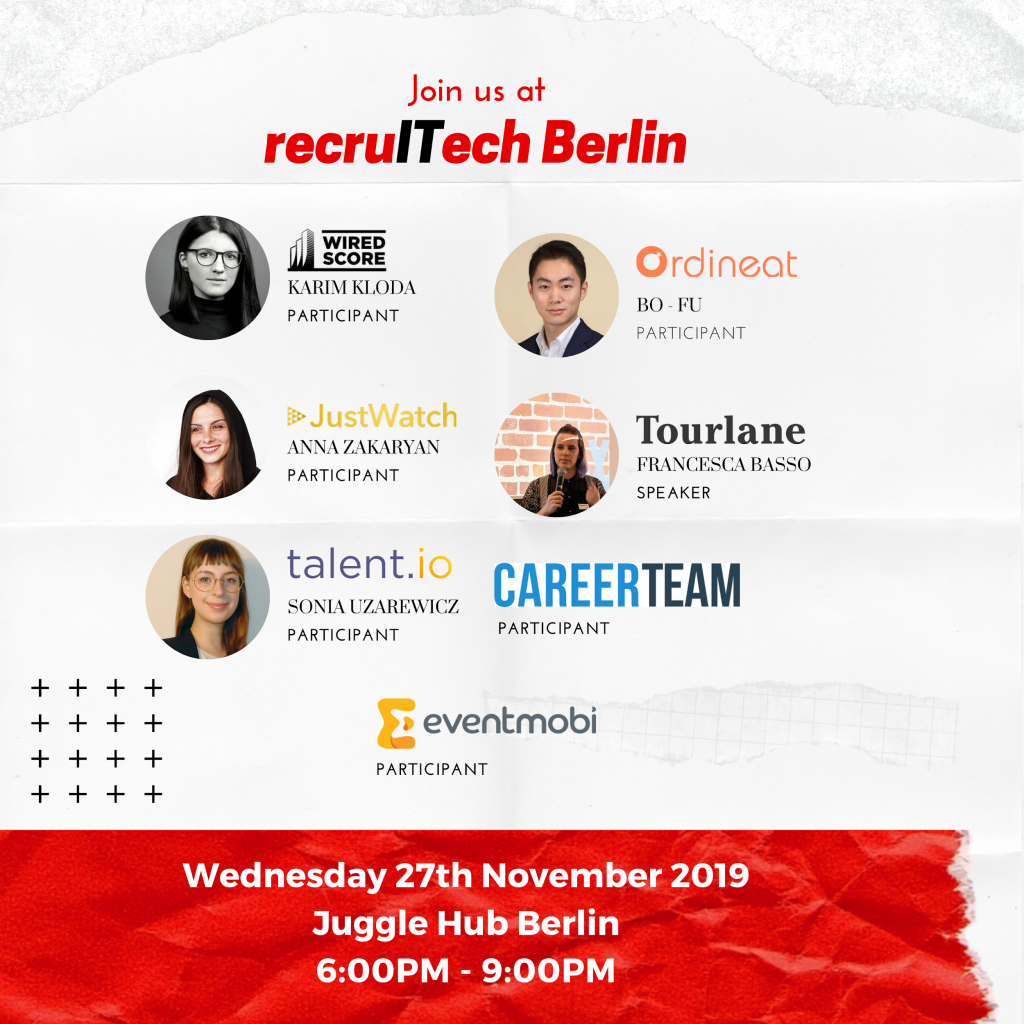 TechMeetups is getting Berlin's Tech Recruiting community up and running!
Are you interested in learning more about new HR techniques and tools? Do you want to know how to get to the top of your recruiting career?
Come and share an evening that will allow you to meet multiple HR professionals and experts in the recruitment field, enjoy presentations about the latest recruiting processes and innovative Apps/Softwares.
Technology oriented: 100+ of tech recruiters, startups, HR professionals and students, Freelance Recruiters.
 JOIN LONDON FRESH MINDS 2020 HERE:
TechMeetups presents Fresh Minds, an event designed specifically to give COMPANIES a head start in securing FRESH TALENT under their apprenticeship and internship opportunities, a chance to apply a 'fresh mind' to existing businesses and bring in new perspectives and ideas and the experience of working within a successful business.
Students, Do you need help in deciding between different career options? Experience first-hand how your knowledge and degree can impact different fields.
Networking with talent that have PRESTIGIOUS SKILLS AND TRAINING. Experience the business world without the delay from recruiting processes and improve your skills, knowledge and CV.
 JOIN LONDON TECH JOB FAIR SPRING 2020 HERE: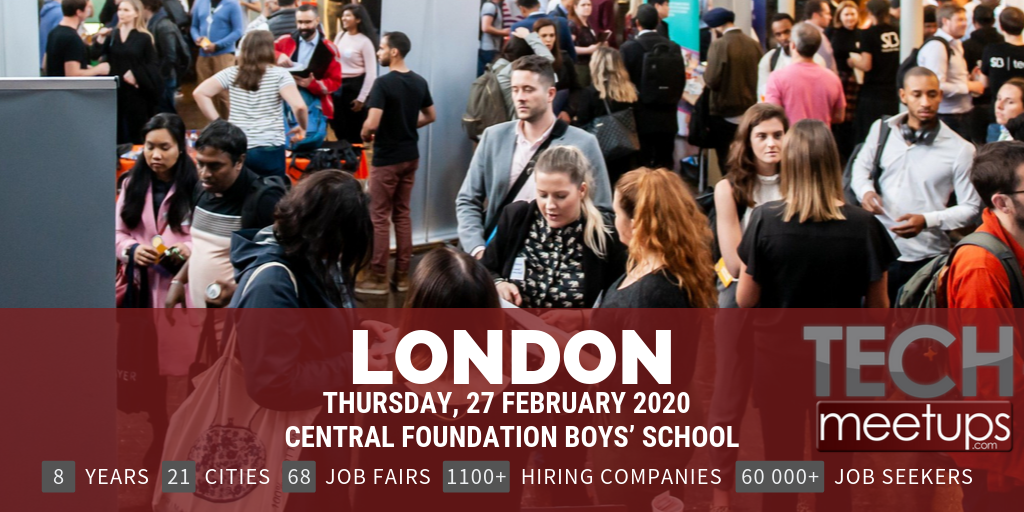 causaLens is a deep-tech company on a mission to optimise the global economy. We build the next generation of predictive technology for complex and dynamic systems with HQ in London and presence in key global markets.
Digital insight runs on demand through our website, drawing on hundreds of thousands of sources, to generate detailed reports that are verifiable and always up to date.
JOIN BERLIN TECH JOB FAIR SPRING 2020 HERE: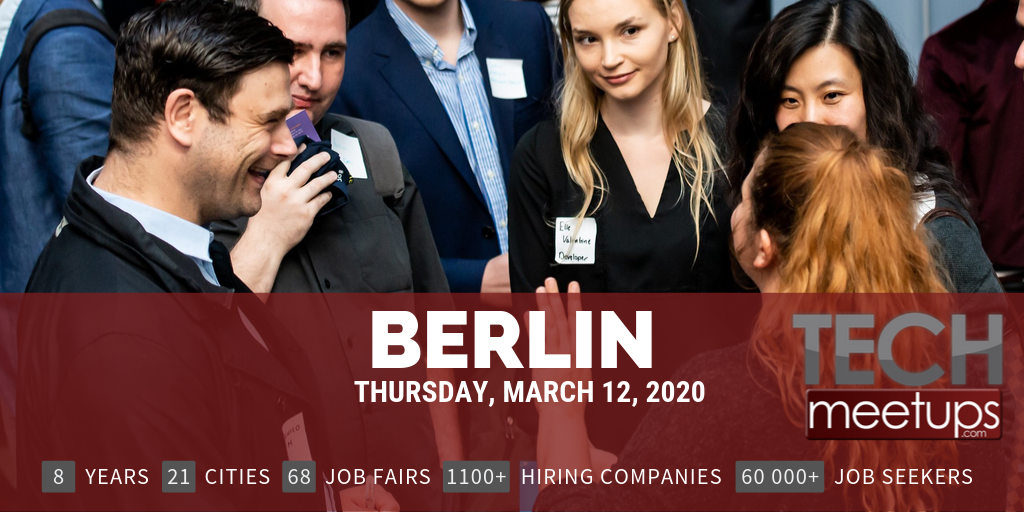 ai provides you with hand-picked jobs for you to master your skills – it's fast, efficient, and of course free. Jobsens.ai selects jobs exclusively for IT developers.
JOIN MUNICH TECH JOB FAIR SPRING 2020 HERE: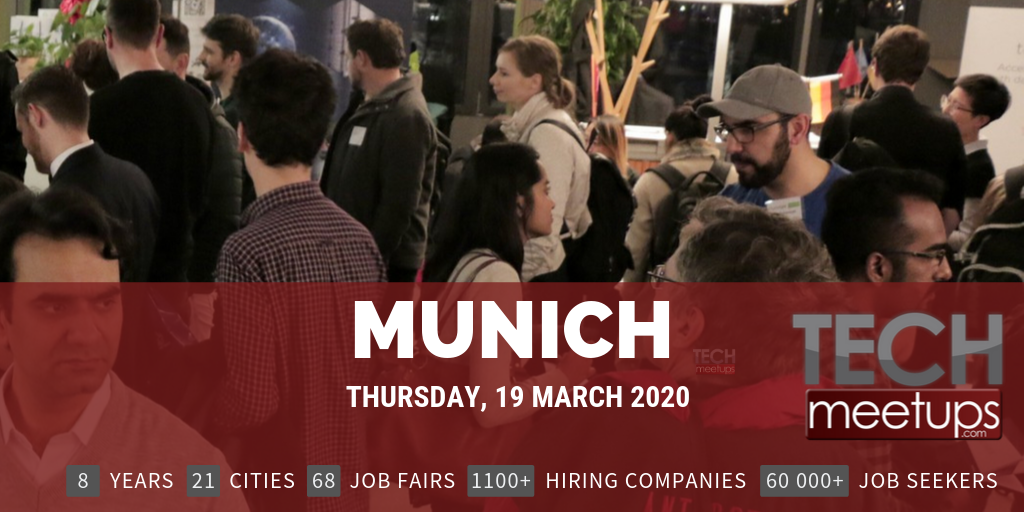 JOIN BARCELONA TECH JOB FAIR SPRING 2020 HERE: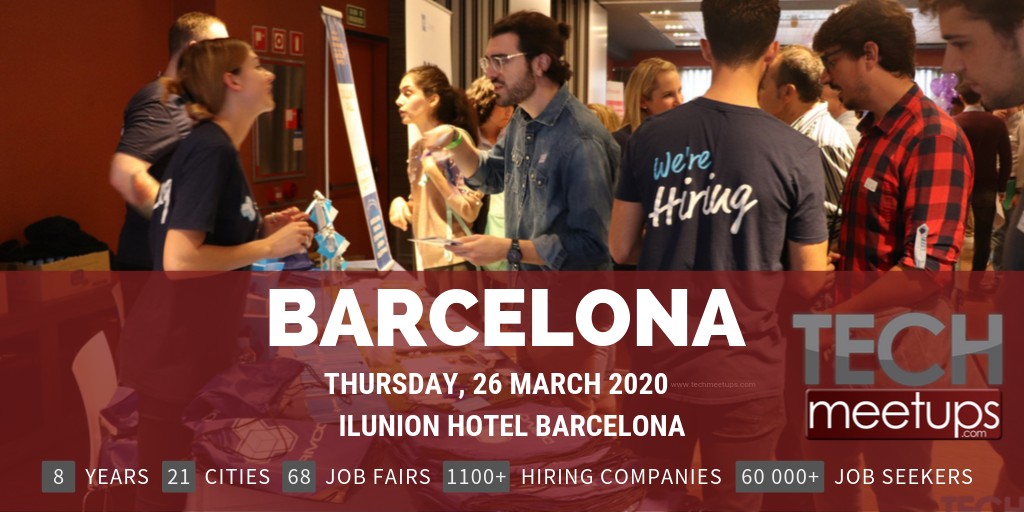 Nestle is the world's largest food and beverage company we are driven by a simple aim: enhancing the quality of life and contributing to a healthier future.
JOIN LISBON TECH JOB FAIR SPRING 2020 HERE: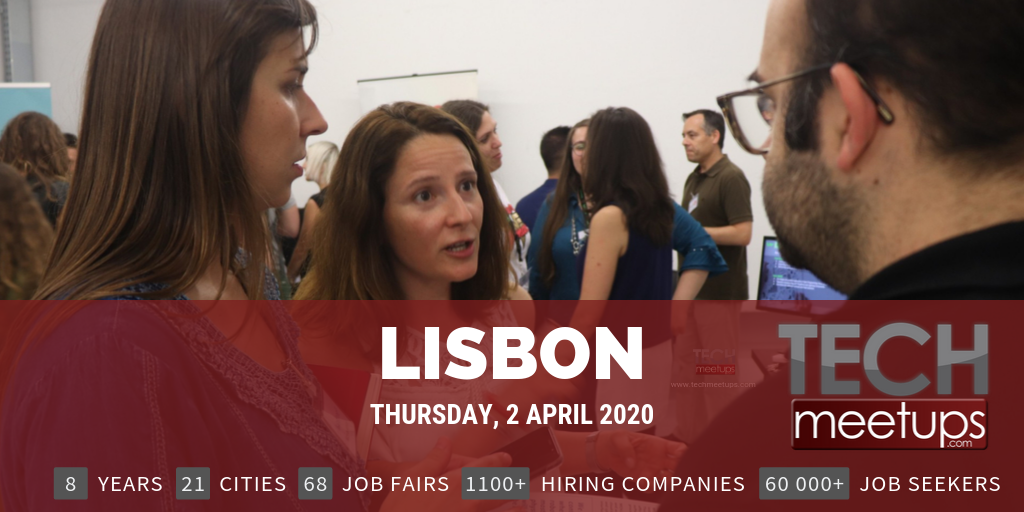 JOIN AMSTERDAM TECH JOB FAIR SPRING 2020 HERE: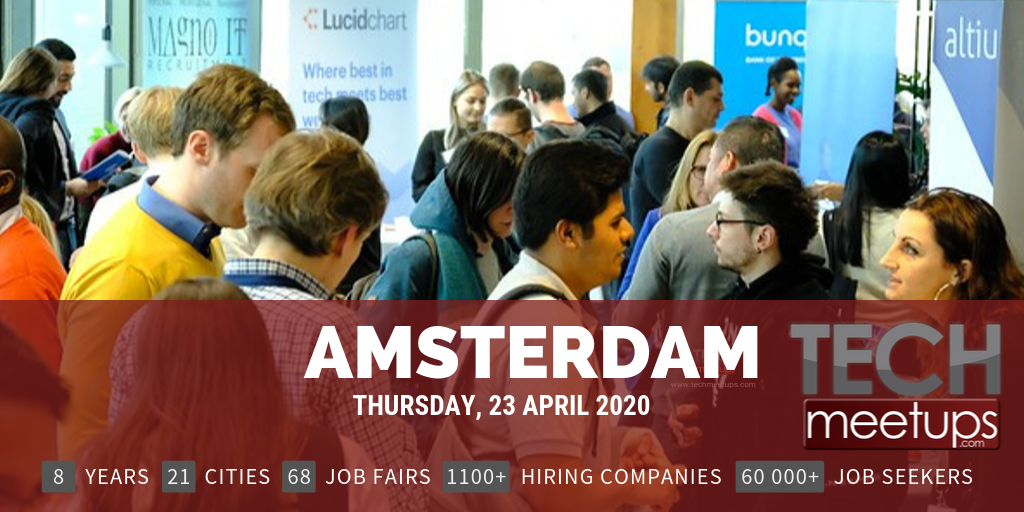 NEW! Reducept is the virtual reality training for chronic pain treatment in accordance with the IASP Guidelines for Pain Management. It is employable as an E-health solution within physiotherapy, rehabilitation, psychology, pain centres and at home.
JOIN BERN TECH JOB FAIR SPRING 2020 HERE: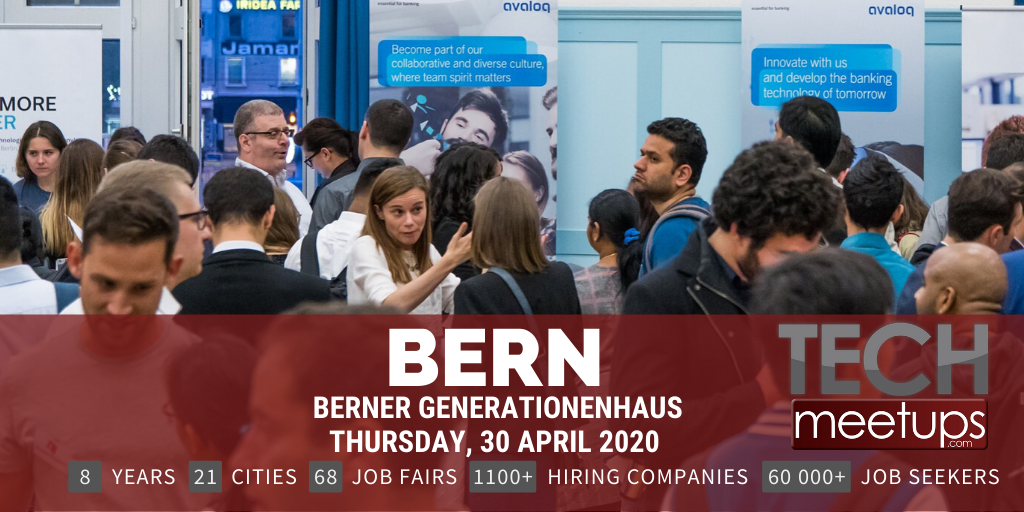 NEW! TieTalent is a Swiss Tech Jobs Marketplace dedicated to positions in IT & digital marketing. Simply, create your account on TieTalent.com and let the companies apply to you; once you get matched, decide the ones you want to meet.
JOIN ZURICH TECH JOB FAIR SPRING 2020 HERE: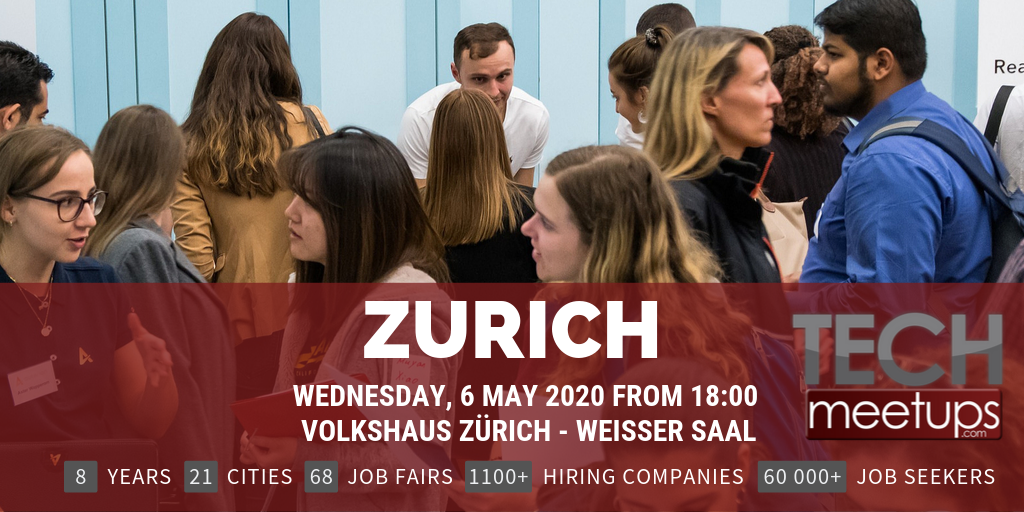 turicode is a young technology company located in Winterthur. We are experts in extracting unstructured information from documents, and making it available for analytics or use in further automated processing.
Contovista is a Swiss market leader for data-driven banking. Our white label software, data & analytics solutions can be seamlessly integrated into existing banking systems. Through our partner banks, we now reach more than 5 million customers.
TieTalent is a Swiss Tech Jobs Marketplace dedicated to positions in IT & digital marketing. Simply, create your account on com and let the companies apply to you; once you get matched, decide the ones you want to meet.
JOIN MADRID TECH JOB FAIR SPRING 2020 HERE: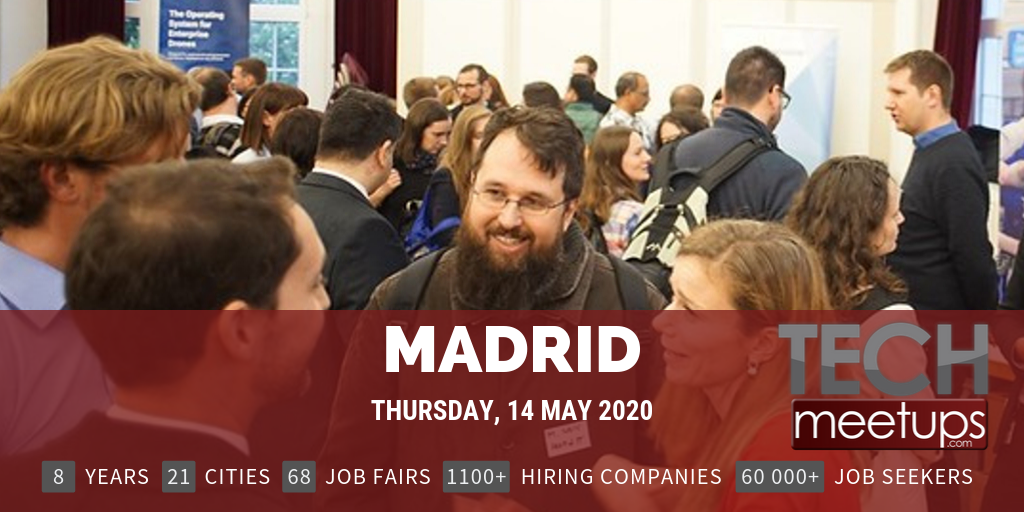 JOIN HAMBURG TECH JOB FAIR SPRING 2020 HERE: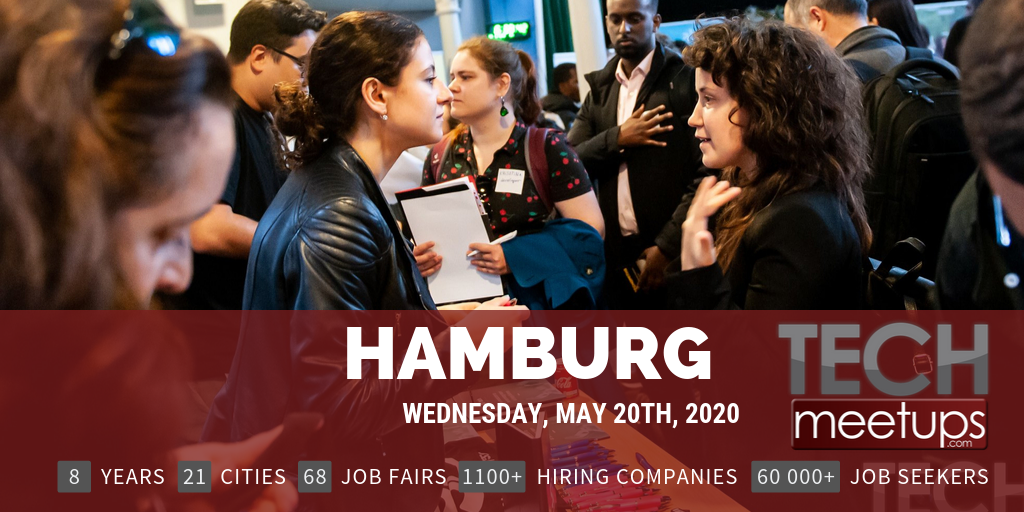 JOIN STOCKHOLM TECH JOB FAIR SPRING 2020 HERE: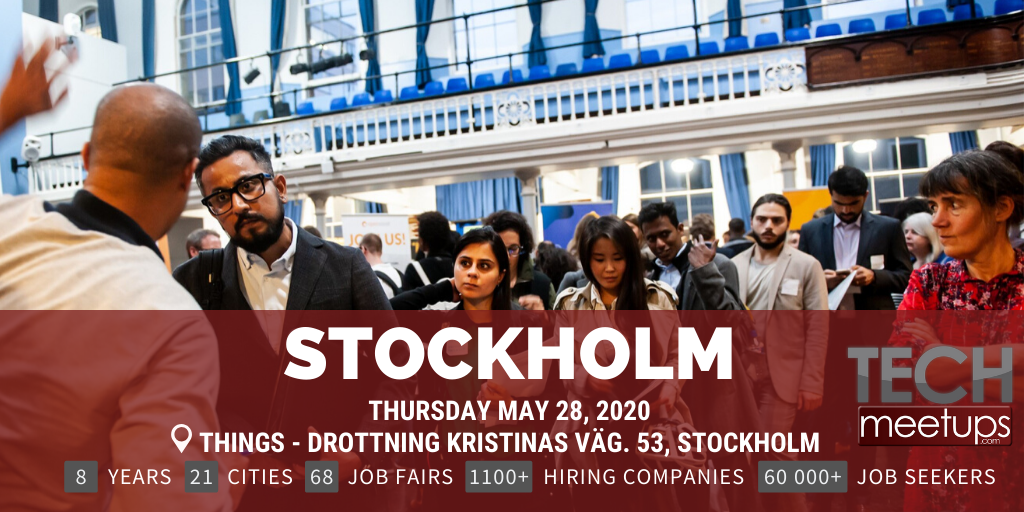 JOIN COPENHAGEN TECH JOB FAIR SPRING 2020 HERE:
Follow us on Social Media
TechMeetups Facebook | Twitter | Instagram | Linkedin