Madrid concentrates on activities directly connected with power (central and regional government, headquarters of Spanish companies, regional HQ of multinationals, financial institutions) and with knowledge and technological innovation (research centres and universities). It is one of Europe's largest financial centres and the largest in Spain. The city has 17 universities and over 30 research centres. It is the third metropolis in the EU by population and the fourth by gross internal product. Leading employers include Telefónica, Iberia, Prosegur, BBVA, Urbaser, Dragados, and FFC.
The city continues to hold the position of Spain's second industrial centre after Barcelona, specialising particularly in high-technology production.
Madrid is becoming increasingly friendly toward freelancers and startups, thanks to its great coworking spaces and work-friendly cafés. Here's a list of its favourites, located in different central neighbourhoods of the city. Although each one has something unique to offer, they have the essentials in common: fast WiFi and plenty of coffee.
1. BEE  LAB COWORKING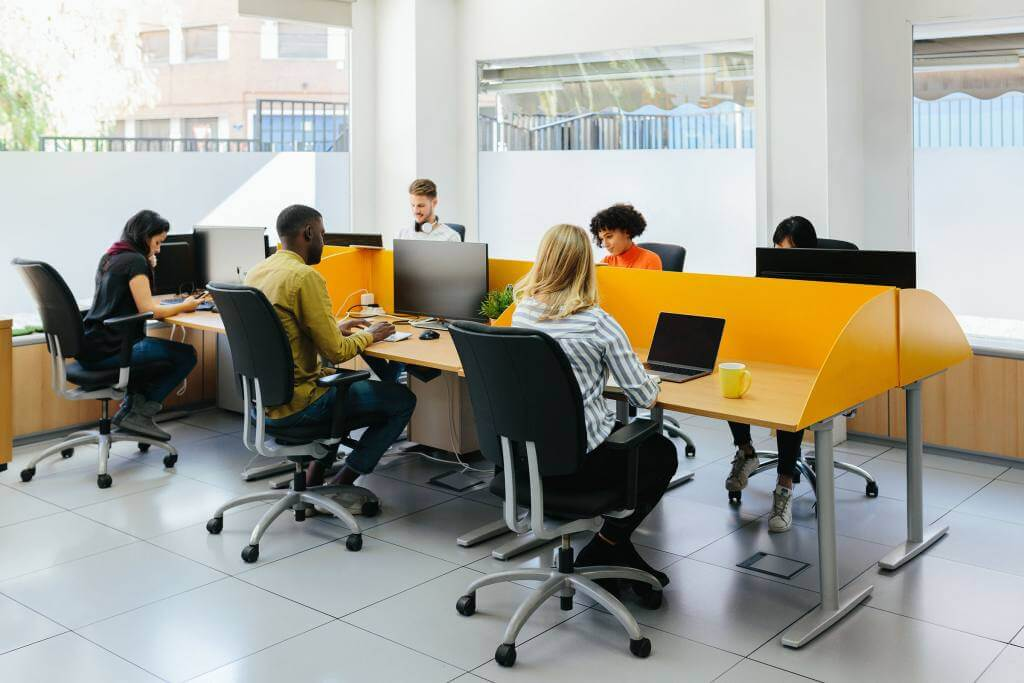 If you're looking to start coworking in Madrid, Bee Lab Coworking is a great option. This coworking space is spacious being larger than 400 square meters. All of that space is filled with excellent facilities as well!
A kitchen for making fresh coffee and snacks, meeting rooms to land your next big deal, one of Madrid's best internet connections, and even a mini-golf course to clear your mind after a long day of work, Bee Lab Coworking has all the amenities and features you could want from a coworking space.
The community at this space isn't half bad either. Members of Bee Lab come from a number of different countries giving the community an exciting cosmopolitan feel. Plus, events to enjoy some community warmth and networking are abundant. Every Friday for example, the community gathers for a breakfast event.
For a solid desk to work and abundant opportunities to network with friendly, authentic local professionals, Bee Coworking is one of Madrid's best coworking spaces.
Membership plan; Working Bee/Open seat at 110 Euros per month, Queen Bee/Dedicated desk at 195 Euros per month and 10 days voucher at 80 Euros.
Find Bee Lab on Website | Facebook  | Twitter 
2. ESPIRITU23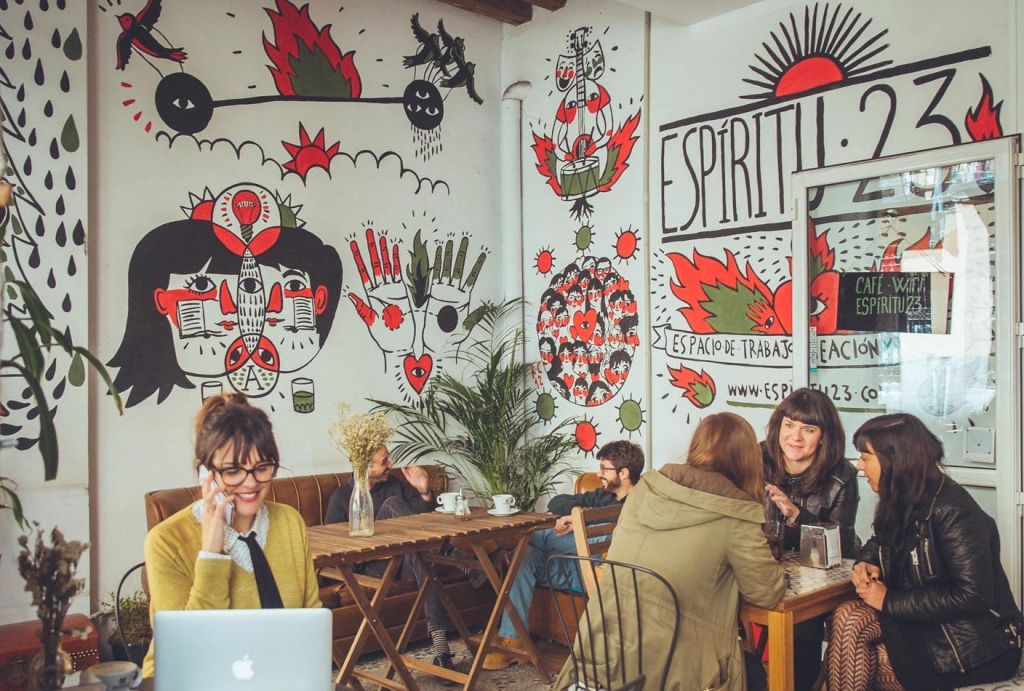 Espiritu23 is an affordable, yet dynamic coworking space located just a few minutes north of Madrid's Centro district. Apart from just being in the centre of the city, this coworking space is also well positioned near several theatres, yoga studios, and even a nice park.
While the upscale neighbourhood surrounding Espiritu23 is appealing, the same can be said of space's interior. Countless paintings on the wall give this space character and can help inspire you to be more creative yourself.
Some of the community members are quite the characters themselves. When asked, "Why do many professionals consider Espiritu23 to be the best coworking space in Madrid?" One community member answered half-grinning, "Because I work here!"
Laughs are pretty much a guarantee as a member of this space. Of course, you'll also be well equipped to be productive. As a member of this space, you'll have access to a fast internet connection, kitchen, meeting room, printer/scanner, and more to crush the day's tasks.
Membership plan; Open seat at 165 Euros, dedicated desk at 100 Euros and 10 Euros a day.
Find Espiritu23 on Website | Facebook | Twitter 
3. THE SHED COWORKING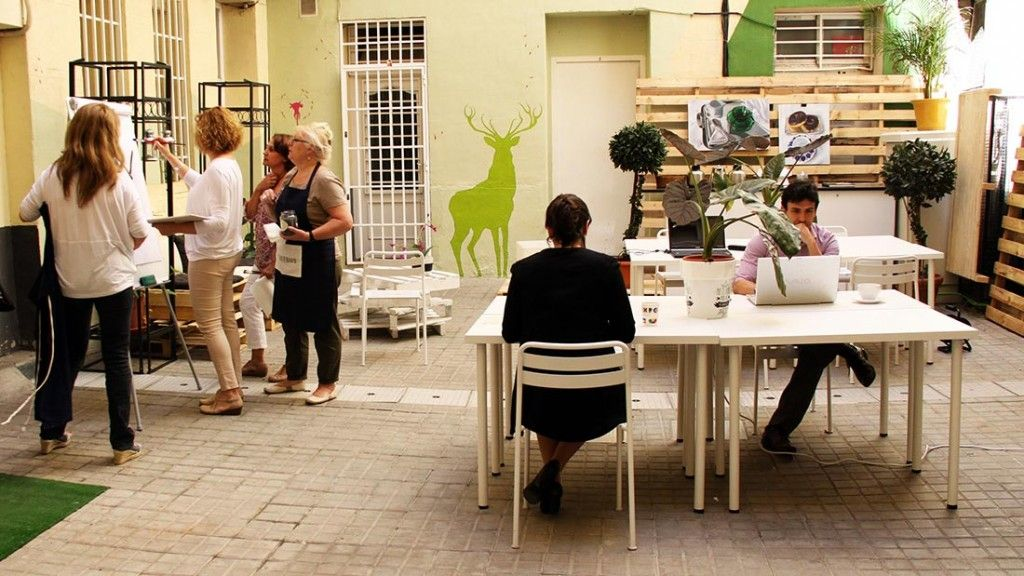 Some members of The Shed Coworking have called it not just the best coworking space in Madrid, but the best coworking space they've ever worked at! We're not quite ready to make that guarantee for you, but we will say there is a lot to love about coworking from Shed.
Starting with the location, Shed is located in the Salamanca neighbourhood in the heart of Madrid. This location provides easy access to restaurants and bars after work and is also easily reachable by public transport on your morning commute.
The highlight of Shed Coworking is clearly its naturally lit communal work area designed to maximize the efficiency of your efforts. With that being said, a membership at this space also offers a number of other benefits worth mentioning
Members are able to use meeting rooms, training rooms, wifi, a kitchen, and space's beautiful outdoor terrace just to name a few things. From time to time, interesting workshops are held on topics such as email marketing, sales and cryptocurrencies too.
If your top priorities in a coworking space are continued professional development, networking opportunities, and working in a classy neighbourhood, Shed may be the Madrid coworking space for you.
Membership plan; Flexible desk at 180 Euros per month, dedicated desk at 250 Euros per month, flexible desk for a day at 5 Euros and a dedicated desk for an hour at 2.50 Euros.
Find The Shed Coworking on Website | Facebook | Twitter
4. COWUP MAJADAHONDA COWORKING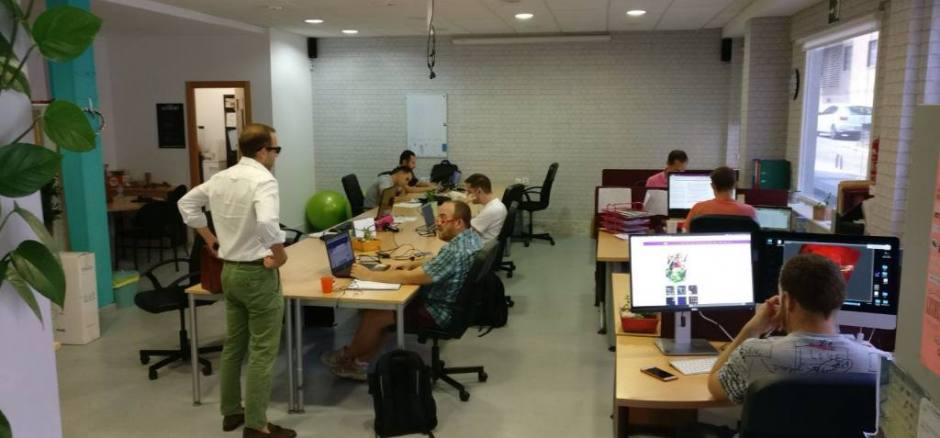 Despite being a decent 20-minute commute outside the city centre, no list of Madrid co-working spaces would be complete without mentioning CowUp Coworking.
Working alongside the community at this space will help stave off feelings of isolation, and energize you to do your best work or else… Yes, that's a threat! And that's why we love CowUp Coworking.
This tight-knit community will encourage you to make ambitious goals and hold you accountable when you're not producing. While everyone has an off-day on occasion, you'll be motivated to not slip up too many times in a row when you see your peers crushing it at the table next to you.
A few other aspects of this space that make it a winner are the regular community events, meeting rooms for rent, photocopying, and the coffee area's heavenly smells. Oh, and most important of all, members have 24/7 access to space.
Membership plan; 3 days free trial, open coworking at 50 Euros per month, morning coworking at 85 Euros per month and coworking full-time at 150 Euros per month. Coworking full time fixed desk at 225 Euros and coworking afternoon at 90 Euros.
Find CowUp on Website | Facebook | Twitter
5. COWORK IN TRES CANTOS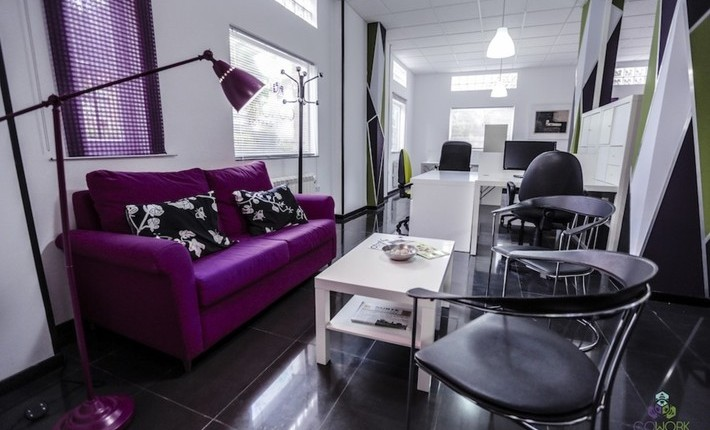 Located in the north of Madrid, Cowork in Tres Cantos is a beautiful shared working space surrounded by parks. While the nearby good life gourmet supermarket may inspire your stomach, the Tres Cantos coworking space will inspire your mind.
The founders are dedicated to maintaining an ambitious work environment that'll motivate you to take more action than ever before.
All of your peers will be hustling alongside you as you encourage each other to start new projects, win more clients, and increase your rates. This support and encouragement are priceless.
Aside from moral support, you'll also gain knowledge from various courses, events, and workshops members have the opportunity of attending.
The knowledge and connections you gain from the community will be invaluable. However, the amenities the coworking space provides will be useful too.
Being a member of Cowork in Tres Cantos will grant you access to high-speed wifi, 1GB ethernet cable connection, meeting room, the ability to receive calls, and a relaxing rest area.
Cowork in Tres Cantos also has a try before you buy a policy. You'll have the opportunity to work completely free for a whole day before deciding if you'd like to make this coworking space your new home.
Membership plan; Coworker flexible at 95 Euros per month, Coworker Working Hours at 175 Euros, Resident coworker at 195 Euros per month and 10 days coworker at 60  Euros per month.
Find Tres Cantos on Website | Facebook | Twitter
Whether you are looking for a job, your next co-founder or recruiting your tech talent, Madrid Tech Job Fair  is an event to attend on 14th May 2020 for all professional networking and more information about the event and how you can get more out of the experience, visit Techmeetups.com  and also get yourself a ticket to an event!
Website: Techmeetups.com  visit and treat yourself to a community of tech business events and support!
TechMeetups.com 8 years. 21 cities. 68 job fairs. 1100+ hiring companies. 60,000+ job seekers.