Hi, I'm Evelien and I'm currently one of the Technical Recruiters at Bonial.com!
Tell us a bit more about your company and your achievements?
Bonial.com brands provide digital circular advertising via website and mobile app platforms.
The Bonial.com Group belongs to Axel Springer SE, the leading digital publisher in Europe, and has been offering professional solutions for high street retail in the area of location-based services since the start-up of kaufDA in 2008.
Starting with kaufDA, we currently have 7 separate apps active in 11 different markets worldwide.
We are also currently Top Developer in the Google Play Store, a position we are really proud of and intend to maintain.
Where are your offices located?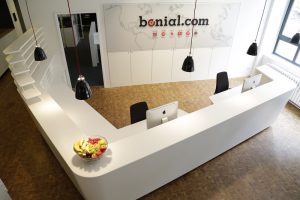 Chicago Bonial Enterprises North America, Inc. 525 W Monroe St. IL, 60661
Berlin Bonial International GmbH, Warschauer Straße 70a 10243
Paris Bonial France, 8 rue Saint-Fiacre Paris, 75002 France
Barcelona Ofertia Spain, Plaça Doctor Letamendi 1-2 Floor 7- 08007
São Paulo Guiato S.A., Rua. Paes Leme, 136, 10º andar, 05424-010
What makes your startup such a great place to work?
The unconventional office fuels ideas, great empathy, and life-long friendships: a perfect breeding ground for developing yourself on both a personal and professional level.
Next to this, we have free drinks, a Barista Coffee Machine for your self-made Latte-Macchiato, Kicker-table, table-tennis, Friday beers and a lot of free space for your own ideas!
Being a growing we are looking for people to grow with us, therefore we offer plenty of room to grow: you'll have the opportunity to bring your ideas to the table and take on real responsibilities.
At the Bonial family we have a friendly work atmosphere with lots of after-work activities and events.
Besides technical skills what other attributes will make a candidate a good fit for joining your team?
With our business exploding in every corner of the world, we are looking for enthusiastic self-starters who can help manage growth.
At Bonial, you will get real responsibility and real challenges from day one.
Personal growth and success await those that enter the company.
Open-minded individuals from all over the world join together to strengthen their skills and work towards creating innovative products for the retail sector.