1. Hi can you introduce yourself please ?
Kahoot! is a free game­based learning platform, and one of the fastest growing learning and educational technology brands in the world. We launched in August 2013, aiming to bring a little magic to the classroom to engage learners and promote social learning. Just two years in, there are over 50 million people in 180 countries creating, playing and sharing learning games using Kahoot!
2. So tell us a bit more about Kahoot?
Loved by millions of educators and learners, ​Kahoot! is used for 'formative assessment' to monitor each student's progress towards learning objectives, to identify strengths and weaknesses, introduce new topics, increase retention of new facts, revise prior to exams, survey opinions, gather insights, facilitate discussion and debate, and to reward and re­energize learners.
Teachers and other leaders can create learning games (called 'kahoots') in minutes to suit any subject, age or language, using a simple user interface. They can add a video clip, image, diagram or chart to amplify engagement or to prompt critical thinking or debate.
Gameplay itself is best in a group setting, like a classroom, with players coming together around a single screen. Learners join in the game via any device with a web browser ­ whether it's a smartphone, tablet, laptop or desktop. Crucially, the questions and answers are only displayed on the main screen, with the answers corresponding to a particular colour or shape on the player's device's screen. This simple twist requires players to look up from their screens, actively engaging with the teacher and their peers, taking learning to a whole new level.
We've also built in small but effective little rewards and behavioural triggers for learners, reinforcing learning and keeping them motivated throughout gameplay.
Being part of Kahoot! is an opportunity to directly impact millions of people's lives ​and that's how we measure our success!
3. How did kahoot start ?
Kahoot! is on a mission to make learning something everyone wants to engage with. We want to
bring the student at the back of the class to the front, for all the right reasons.
Kahoot! was developed by our three founders, Johan Brand, Jamie Brooker and Morten
Versvik, as a joint project with Professor Alf Inge Wang at the Norwegian University of
Technology & Science (NTNU).
When we first started prototyping, we asked ourselves a simple question: "How can we make learning fun?".
Combining our knowledge of gaming, behavioural design and learning models, we crafted a unique "Learners to Leaders" model, where gameplay challenges knowledge, promotes discussion, emotional engagement, neurochemical reward and social learning.
The result? Behind Kahoot!'s playful exterior, our intelligent game­based pedagogy facilitates awesome, highly engaging, fun and rewarding learning experiences. So rewarding in fact that among the 3,000+ mentions on Twitter every week you'll find snaps of grinning students and clips of impromptu victory dances.
3a. Can you provide a pic of your founder(s)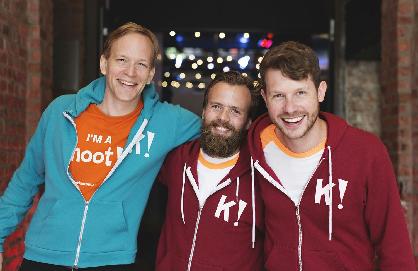 Photo Credit: Nadia Frantsen
4. How many years have you been operating for ?
The Kahoot! product has been launched for two years. The business was founded in 2012.
5. Are you looking to raise funds ? How much & what round ?
So far Kahoot! has raised $6.5m in seed funding. For more information please refer to our CrunchBase page: ​http://bit.ly/1KOe3B8
We have raised seed funding from the very beginning – through grants and project funding because of our global, social and pedagogical impact – but the majority of funding has come directly from the founders and management team.
We've also been joined by some key people we really value and who believe in our 'return on learning' approach. We have what we call an impact­driven model, rather than a revenue­driven model.
Impact for us is motivated, engaged learners around the world, who are taking learning into their own hands. Because we believe if you have impact, you will see revenue as a consequence. Our aim is to keep Kahoot! 100% free for anyone to use.
6. Where are the majority of your clients based ?
Approximately 75% of Kahoot!'s 50 million users are based in the USA, with the largest group based in Texas.
7. Where are your offices ?
Kahoot! has evolved to become a global learning brand, and we now have offices in Oslo, London and Austin, as well as team members based in Sydney, Rhode Island & the Philippines.
7a. Can you provide a pic of your team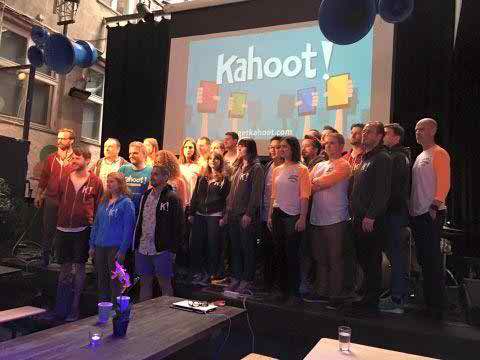 Photo Credit: Kahoot!
8. What are your plans moving forward ?
Our mission is to make learning something that everyone wants to connect with!
Being learner­centered, we intend to keep Kahoot! free for learners and teachers forever. We have already seen an incredible positive impact on classrooms in 180 countries, and truly believe we will continue to build a sustainable business as a direct result of that impact on learning.
We will offer added value services & products as we mature, and are currently piloting a programme for corporate account holders.
9. What are the key challenges Kahoot faces & how are you'll addressing it ?
It's no secret that the way we're learning about our world has changed fundamentally over the past century. And yet look around most classrooms or lecture halls and you'll notice they still look pretty much the same.
Kahoot! is designed for the way people learn today, and hundreds of thousands of teachers have experienced magical classroom moments first­hand and seen its impact on learning outcomes. Some teachers, however, are not quite ready to shift towards a more learner­centric approach, or are using Kahoot! only for reward or classroom engagement, as opposed to embedding it into their curriculum.
The key challenge for us is to help those teachers take that first step towards game­based learning, and create lasting impact for their students by using Kahoot! to its full potential.
We're building an exciting programme of content, events and school visits to educate and inspire teachers. We also have a network of enthusiastic and experienced super­users who offer peer­to­peer support, tips, guidance and inspirational stories.
10. Are there any landmark events coming up that you would like to tell us ?
The team are excited to have a presence at not only the Tech Jobs London Fair in October but also a number of Ed Tech and Learning events in Europe and across the USA, including Oslo Innovation Week, TCCA, Slush and SXSW.
Join our event 'TechStartupJobs Fair London Autumn 2015' at Central Foundation Boys' School, Cowper Street, EC2A 4SH London, United Kingdom on Thursday, 8 October 2015 from 18:00 to 21:00 (BST)