The Technology sector in Germany continues to grow despite a challenging economic environment in recent years. Today, companies in the Technology sector are faced with a talent market dominated by a drive for skills related to internet/data security and cloud/mobile connectivity. Companies also face a shortage of labour supply due to demographic changes across Germany.
As a leading reward consultancy in the Technology and Life Science sectors, Radford continues to monitor critical trends for key jobs in the Technology sector. With reference to compensation data collected from nearly 340 technology companies in Germany, below we present a sample view of  market intelligence that will be of interest to HR and Reward managers in the sector.
At Radford,  jobs are categories: Executives, Managers, Professionals and Support roles. Each category is than divided into career levels. For this analysis Radford reviewed the Professional category― typically, these are individual contributor roles, where a university degree or equivalent is required). This category is levelled as follows:
y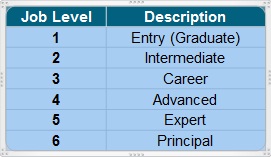 Analysis
Using Radford's Global Technology Survey, company identified jobs where median base salary and target total cash figures exceed functional (e.g., marketing, or product development) average median figures by more than 10%.  Radford's analysis was conducted on a level-by-level basis, the result of which are charted on the next page for Professional Levels 2, 3 and 4.
Technology jobs of interest
Key findings from Raford's analysis, illustrated in the accompanying charts, are summarised below:
Network Engineering
Within the Information Technology function, Radford has identified the Network Engineer role as a job where median base salary is on average 20% higher than the broader IT function average. Base salary plus target short-term incentives exceed the IT functional average by 18%. This trend is observed mainly for Network Engineers at Radford Professional Levels 2, 3 and 4.
Marketing
For Marketing jobs, Radf0rd has identified the Product Marketing and Channel Marketing roles as jobs more than 10% above the average for the broader Marketing function for base salary. Base salary plus the target short-term incentives exceed the Marketing functional average by more than 12%. This trend is observed mainly for Radford Professional Levels 2, 3 and 4
Product Development and Engineering    

In the Product Development function, Radford find Design Project Managers and Software Engineers across Radford Professional Levels 2 thru 6, on average, to have the highest levels of base salary and base salary plus target short-term incentive. These jobs are paid 13% higher when compared to the broader Product Development functional average.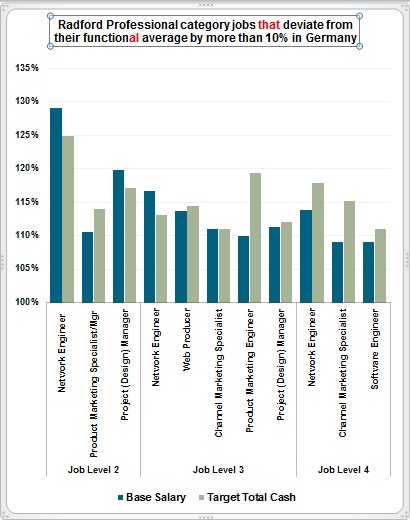 About Radford
Radford, an Aon Hewitt company, is the leading global provider of compensation intelligence and consulting services to the technology and life sciences sectors. Our market-leading surveys, equity valuation expertise and strategic consulting help Compensation Committees and human resources leaders address their toughest challenge: attracting, engaging and retaining talent in innovation-based industries.
Radford offers clients a comprehensive suite of solutions, integrating unmatched global data capabilities with high-powered analytics and deep consulting expertise to deliver market-leading guidance to more than more than 2,000 organizations annually— from Fortune 100 companies to start-ups.
Headquartered in San Jose, CA, Radford has professionals in Bangalore, Beijing, Boston, Brussels, Frankfurt, Hong Kong, London, Philadelphia, San Francisco, San Diego, Shanghai and Singapore.