Original post by @FForwardin via fforward
1. Meetup and networking events
This is the most obvious way to meet a startup co-founder. Depending on your geographic area, there should be at least a handful of business, technology or startup-related Meetup events going on every month.
For example, I searched Meetup for the terms "startup" and "entrepreneurship," filtered by "within 5 miles of NYC," and got the results below. You would then find out when these groups meet, mark them down on your calendar and get ready to mingle!
Believe it or not, I met my first co-founder this way and we went together to build a music-related website while in college and also launched a small a web development business.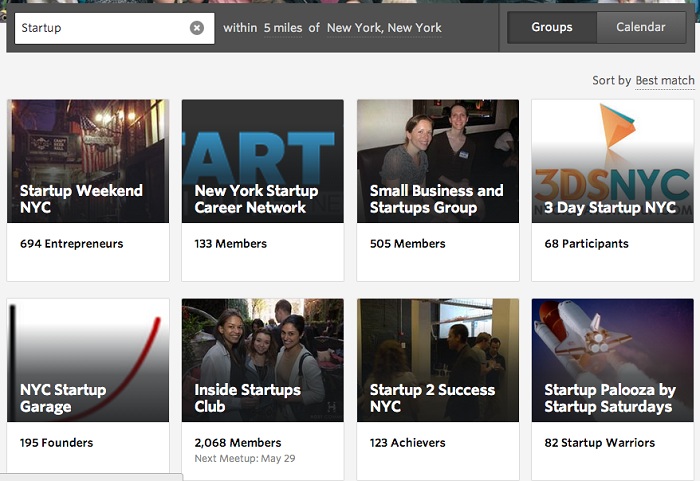 You can also seek out other networking events to meet potential technical or business co-founders. The first time you meet someone that is part of your local area ecosystem, I'd ask if there are any events, listservs, newsletters or organizations that you should be aware of.
Usually, if you don't know where to start, local incubators, accelerators and technology-relatedcoworking spaces will put on events or help you find the organizations that do. I also find that Eventbrite is a great way to find networking events, though they usually cost money.
I've included a snapshot below, where I searched "entrepreneurship" and filtered by my location and most recent upcoming events.
You could also subscribe to Startup Digest to see the startup-related events that are happening in your area each week. This list compiles events all over the world, including USA, Europe, Australia, Russia, Asia, Canada and more.
2. Founder matching websites
Some of the top co-founder dating or founder matching websites include:
1. CoFoundersLab – Join the largest community of more than 25,000 founders, advisers and interns to help launch or grow your business. CoFoundersLab also puts on events around the US to help entrepreneurs find a co-founder.
2. CollabFinder – CollabFinder Groups give your community members a place to team up and launch projects.
3. FounderDating – FounderDating is the premiere online network for entrepreneurs to connect with co-founders and advisors and find co-founders to work with on their next venture.
4. Founder2Be – Find a co-founder. Founder2be is the largest startup community for developers, web designers, marketers and anyone looking to start a startup worldwide.
5. FoundersNation – "Find or Become a Startup Co-Founder in Israel, New York or London. Co-Founders Wanted."
Join our Tech Startups & Co Founders  @ G Bar at the Grosvenor Piccadilly, 3-4 Coventry Street , W1D 6BL London, United Kingdom, Tuesday, 19 May 2015 from 18:00 to 21:00 (BST)