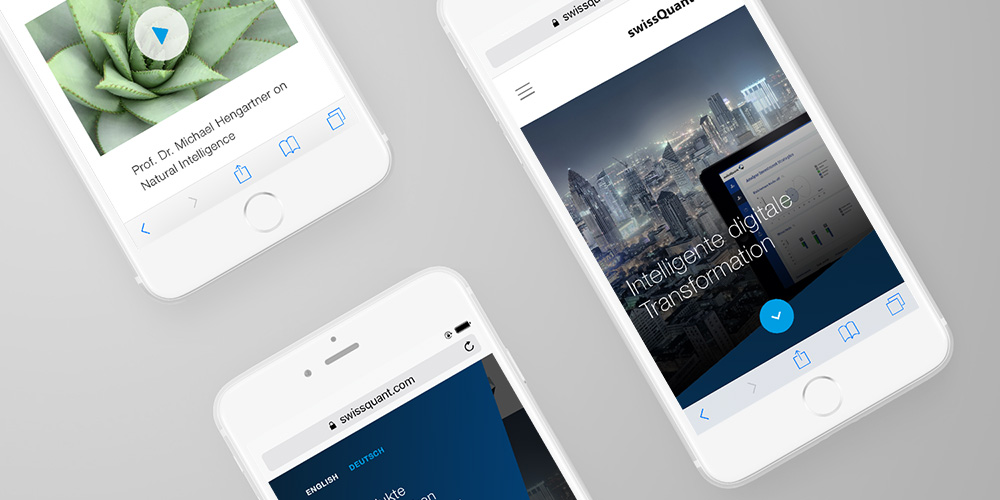 SwissQuant utilizes complex scientific methods to create digital instruments that predict consumer behaviour, market changes and collect specific and accurate data in real-time. They have created a vast product development project for banking, asset managers, housing and insurance companies in getting ahead the digital evolutionary curve.
The group is passionate about creating revolutionary ways to use state of the art technology to boost productivity, minimize loss and wastage and serve effortlessly.
At Techmeetups, we are proud to announce that SwissQuant will be joining us for the Zurich Tech Job Fair .
Check out the article below to find out more about SwissQuant activities, culture and products.
How do you stay abreast of the digital evolutionary curve? Regulatory changes, decreasing margins and digitalization have already changed the Private Banking sector. Only with Intelligent Technologies can you meet or exceed the fast-paced changes impacting tomorrow's market.
The swissQuant Group ensures our clients' digital evolution using efficient algorithms embedded in APIs as well as end-to-end advisory software solutions for Private Banks and Wealth Managers. A growing and international client base rely on our modular and scalable ImpaQt and RefleQt systems for powerful and accurate risk measurement, portfolio optimization, and historical and hypothetical stress testing. In addition, the systems include product risk classifications and dynamic policies for wealth management.
Our ImpaQt advisory solutions for Private Banks and Wealth Managers provide value to private clients, boost the efficiency of the advisory process and help the bank meet regulatory guidelines.
SwissQuant Group develops and delivers intelligent technology products and provides complementary or stand-alone services and consultancy surrounding these Quant-based technologies. Our focus on the core and long-term needs of our clients makes us the partner of choice for local and international financial and industrial clients, including a number of global Fortune 500 companies.
Having realized over 250 projects makes swissQuant a trusted leader in digital transformation. Our success lies in the strongly research-based application of client relevant Intelligent Technology, and the resulting translation into measurable, bottom-line value. Our exceptional Quant-DNA builds the foundation of a unique proposition to provide industries such as Private Banking, Clearing Systems, Asset-Management, Insurance and Health Care with the necessary tools to optimally shape their core business by streamlining processes, exposing hidden growth opportunities and avoiding unnecessary risk.
With currently over 90 committed quant engineers, mathematicians and physicists, we pride ourselves in taking the most complex business needs and transforming them into a customized digital strategy which provides our clients with a sustainable value proposition for tomorrow.
SwissQuant Group is a privately held company based in Zurich and London. Since its spin-off from ETH in 2005, it has been serving a diverse and international client base with non-biased and strong R&D based digital innovation.
INSIGHTS
SwissQuant Enhanced Investment
Private Wealth Management and Private Banking 
SwissQuant Finance Perspective
For more information on the SwissQuant system visit  A new kind of augmentation of infiltrations
Find SwissQuant at Website Facebook 
Looking for a job, your next co-founder or recruiting your tech talent? Zurich Tech Job Fair is an event to attend on 9th October 2019. Visit  Tech Events  for more information about the events and how you can get more out of the experience and also get yourself a ticket to an event!
Website: Techmeetups.com  visit and treat yourself to a community of tech business events and support!
TechMeetups.com 8 years. 21 cities. 68 job fairs. 1100+ hiring companies. 60,000+ job seekers.