TechMeetups organises Masterclass to help Startups in Berlin & London to understand why PR is so important to make it big!
What does PR mean to your Startup ? Is it getting into TechCrunch or Hacker News ? Or perhaps a friendly tweet from one of the Silicon Valley Gurus? Or perhaps being able to announce your entry into 500 Startups? Actually for a Startup that isn't ready with a loyal band of users PR can work against you!!
We're bringing together pioneering marketing and PR experts to give you practical advice and lessons they have learned in the trade.  Not only will you learn from their presentations, but they'll also be on hand to help you with specific questions and dilemmas you may be facing during a "5 minute clinics session" at the end of the Masterclass.
This event is being organised in Berlin & London on the 19th & 21st of March respectively.
BERLIN
Tue, March 19th 2013, 6-9pm
Rally Pad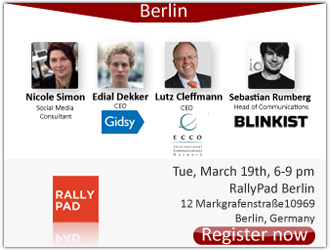 Besides PR experts Sebastian Rumberg from Blinkist, social media consultant Nicole Simon and Lutz Cleffmann from ECCO Düsseldorf/EC Public Relations GmbH, we will have Edial Dekker from Gidsy sharing how they managed to push their message through various channels and be featured in some of the best media platforms. Also, Elaine Jung from Venture Village will give press point of view and advice what startups should avoid when addressing media.
LONDON
Thu, March 21st 2013, 6-9pm
Google Campus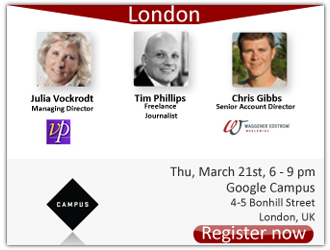 London PR scene will be represented by Julia Vockrodt from VP Communications, with over 20 years experience in IT corporate communications and marketing. We will also have Ian Jarrett from Pinnacle Marketing Communications, Jono Oates from Oates and Partners and Chris Gibbs from Waggener Edstrom. As experienced journalist, Tim Phillips from The Register will make sure that startups get insights and tips that will help them manage their PR strategy.