[vc_row][vc_column][vc_column_text]Removals are more than our job, they are our passion. In order to share this passion, we've made it our mission to provide exceptional removals at fair prices.
RELIABLE PARTNER FOR YOUR MOVE
Save time and hassle by avoiding home visits
You decide which services you require
Transparent prices for each service
BECOME OUR MOVING PARTNER
Grow your business with us
By becoming our partner, you will enjoy free access to all our confirmed moves. We take care of all the details, from order acquisition to volume estimation, leaving you open to focus on your core business. There couldn't be an easier way to save time and money.
Good for you, good for the planet
The free and easy access to all our customers will help you fill up your books and avoid any empty truck journeys. This has a positive impact on your business efficiency, but also on the environment.
Join Us!
Movinga's mission is simple: to bring the moving industry into the 21st century. We achieve this with a transparent and user-friendly online booking process. Our great customer service, combined with our use of technology, has helped us to improve the experience of moving house for thousands of customer. In order to keep up with our tremendous growth, we are expanding our team with the sharpest talent we can find. Our positions range from sales agents to market managers, from designers to developers, and everything in between.
OUR BENEFITS
Attractive office space
Our office is beautifully situated in the heart of Prenzlauer Berg. Here you'll get to enjoy free fruit, cereal & drinks.
Room for growth
We are a young company, which means we love to see people grow with us. We offer workshops and training for all employees.
Regular management catch-ups
You are encouraged to raise questions and give feedback – both at official management catch-ups and anytime in between.
Social events & more
We want our employees to be as happy as they can be. We, therefore, offer Yoga classes, a football league, parties and team events.
This year once more, Movinga joins us at Tech Job Fair 2018, having great results in the past year and finding great talents with us! If you want to meet them, come in Berlin on 26th of April, and meet them. Get your tickets HERE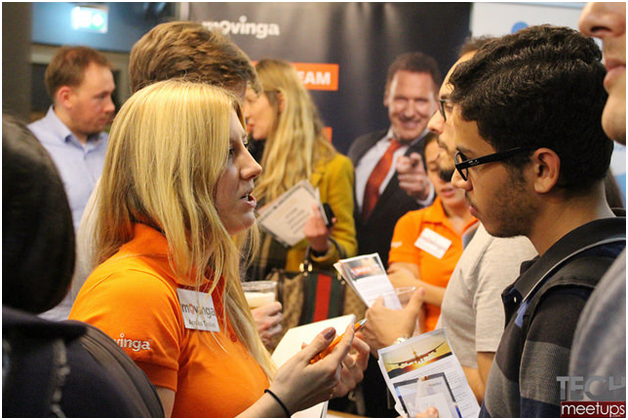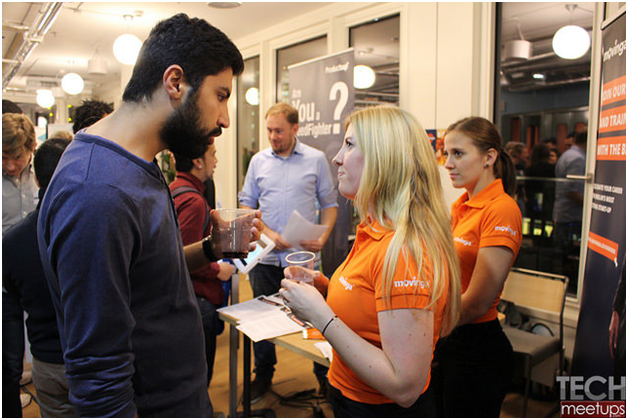 Keep up with us to have a chance to meet with Movinga team and, why not, join them!
Plan ahead & Meet them on April 26th!
TICKETS AVAILABLE HERE[/vc_column_text][vc_separator][vc_column_text]