We are all aware of how technology changes the world. It is helping us a lot! From the way we maximize our time to the way we connect to other people – everything seems effortless. With the help of the internet, we can now shop with the use of our fingertips and communicate with other people whenever we want. Everything seems to be one tap away! But, have you ever wondered that there are people behind the improvement of these technologies?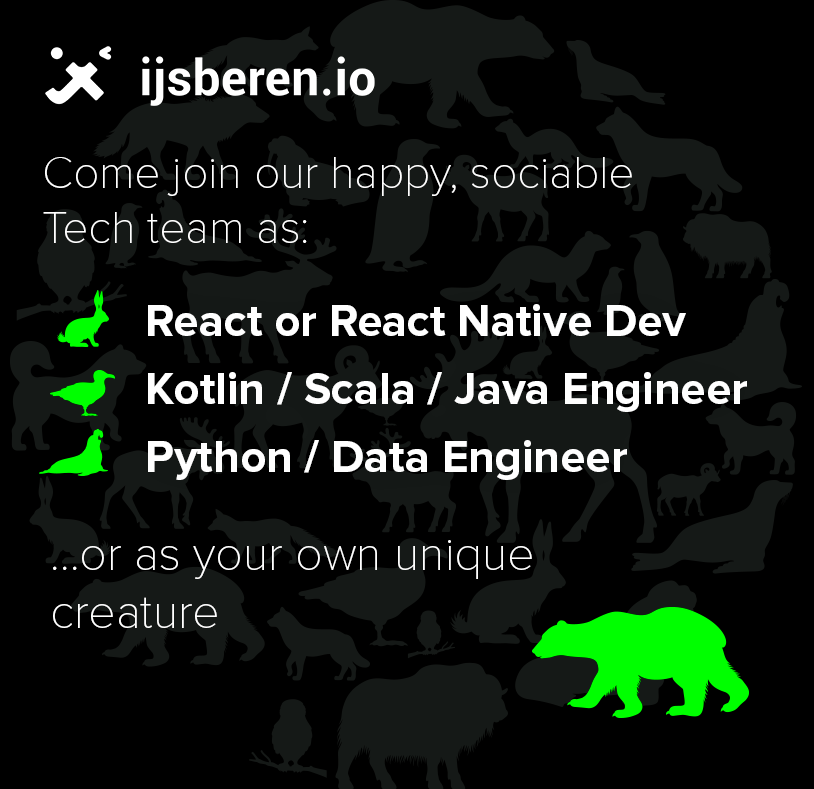 Our Amsterdam Tech Job Fair will be happening this 11th of April, and IJsberen will be there with us! Their goal is to build an advanced data science backend to invisibly power a mobile frontend of exquisite beauty.
IJsberen is Amsterdam's coolest mobile-first data science incubator. They are an internal startup – a bubble of startup energy within a larger business disrupting from the inside. They started their journey by building a large and loyal following of customers who love their product. Innovating and delivering on all kinds of ingenious ideas is in their DNA. This time, they have the backing of a multibillion-euro, Europe-wide business – allows them to have no limitations on what they want to create.
They are a strongly values-led team. It's important for them not just to do outstanding work, but also to enjoy the job. They also want a diverse team of individuals who can bring something unique and special to the company.
IJsberen is building a team and environment where they can constantly learn from each other. Where they can have the chance to use the latest tools and ideas to build innovative and breathtakingly beautiful new technology. They want to be a place where people flourish because all their successes come from that.
They are patient in finding the right people to join their team. Their CTO has been building small crack teams of exceptional technologists for years and believes the very best technologists generally want these three things:
To work with smart people who are at their level
To work on hard problems with the right tools
And to have a no bullshit environment
These things are what they provide for their developers. They can't say it's perfect because the company is still in a state of change, but these are the values that guide them.
And now, IJsberen is looking for someone who's disciplined, organised and with a high standard of interpersonal communication. They are looking for individuals who can communicate well while providing quality solutions to a team of hard-working people.
Want to be a part of their team? Prepare your CVs now. They want you in! Meet them in person at our Amsterdam Tech Job Fair. Their brand is continually growing! Be part of their success today and in the future.
You can learn more about them on their website. Click here to sign up and meet us in Amsterdam!