Do you know what you absolutely can't skip in your preparations for the Dublin Tech Job Fair? It's learning more about Ergo – one of the exhibitors that will look for new employees at the event. We're happy to share an interview with their team – have a look below and remember: you can still book your event ticket.
What's your current view on the market you work in? What makes you feel like your brand stands out?
The market is very buoyant, there are a lot of roles out there, but limited resources to fill them.
The competition is fierce for good talent, with excellent skills and you have to move very quickly to secure the candidate you want for your role. Things move very quickly and if you snooze, you lose!
For us, we feel that what stands out is our approach to how we reach and deal with people. When people are at the centre of your business it should always be personal, not transactional. In terms of how we stand out, our knowledge of technology means we can quickly fill people in the roles they want, without compromising on career, salary or anything else. We have a wide range of clients spanning across multiple sectors, meaning our roles on offer are varied, interesting and challenging. One thing we guarantee with working with us – you will never be bored.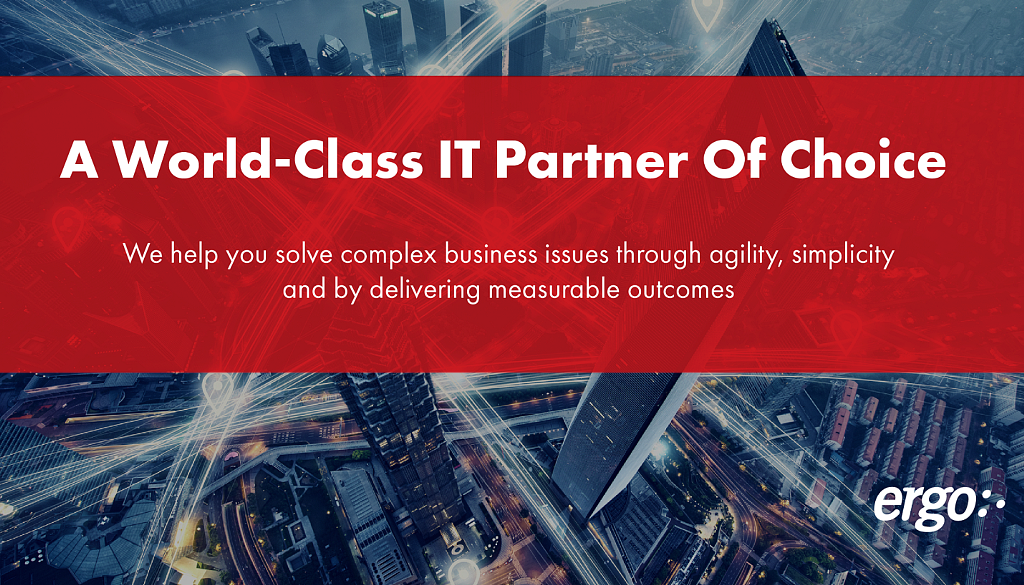 What's the thing that you appreciate/value/cherish more about what you do as a brand?
Put simply, we are a people brand. The thing we appreciate most is our staff, permanent and contractors. Our success has been firmly reliant on the expertise and focus of our talent, so we do our utmost to make sure they are equipped to do their job and to make sure they are constantly trained and upskilled. Our value comes not only in the services we provide but in the people who provide them. Our people are our biggest strength and they always will be. We thrive on that and make sure they are always treated right above all else, something we are happy to say makes our brand that extra bit remarkable.
Do you have a special story of something unique you did for a client? Something unusual you did as a team, something memorable you'd like to share?
A number of years ago Ergo was involved in the provision of Windows 7 Deployment Support, this was with a major financial institute here in Ireland and the UK involving over 1,500 users, across multiple locations. Ergo recognised the importance of having a smooth transition without any disruption to customer services while we provided on-site support during the cutover at each office. Prior to the migration, we assembled a team of 20 engineers and a coordinate to schedule the movement of engineers from one location to another around Ireland.
It required the engineers to be on point prior to business start times and move to multiple locations in the one day and depending on the number of users there were working alone or in a group. The Ergo team worked very closely together, scheduling the engineers' locations, time to be on site and the point of contact when they arrived and also accommodation if required. 
We also worked closely with the client to ensure that any changes were communicated to our engineers so as not to disrupt the rollout. The project ran smoothly we were praised on how efficiently it was managed and executed. When the rollout for Ireland was completed, we were then asked to do the UK as well, expanding our brand to UK territory and further cementing our capabilities in putting the right people in the right IT role.
For another company, Ergo was asked to supply 2 engineers that were to travel to multiple countries in Europe to assist the on-site engineers with the migrations. Our engineers were again on point when required and delivered a very high level of service. One of our engineers even travelled from his home country to Germany on New Year's Day to be on the client site for the 2nd January to start the migration. The client was extremely grateful and remarked how willing we were to go the extra mile for them.
What's your company culture like? What is that you want to represent?
There are many IT companies in Ireland, but none quite like us. There are two elements to our culture depending on whether you work with us from a contractor or permanent position aspect. Either way, we put our people at the very core of what we do and always strive to ensure that we're doing the best we can for them. Along the way, we have picked up plenty of awards; we currently rank 3rd in the Great Place to Work's Best Workplaces and have been a Deloitte Best Managed Company for over 10 years. We are meticulously focused on maintaining a hard-earned reputation as one of the best places to build a career in the tech sector and attracting the best talent self-starters with the ambition to grow through the ranks.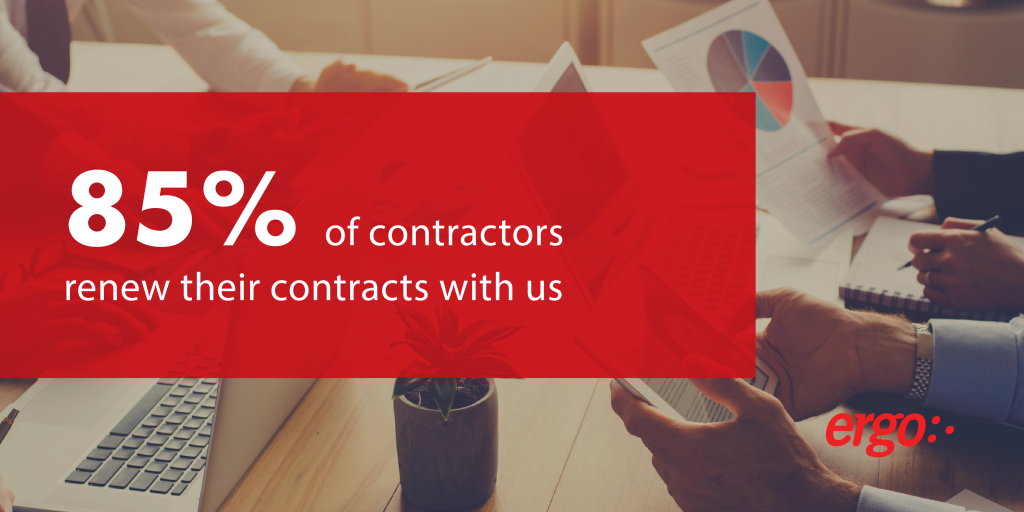 Alternatively, we also ensure that we hire the best people possible for our customers, which means we are always focused on finding, hiring and building key relationships with people who are looking for contract roles. The Ergo people are often what our clients say is our key differentiator, and this includes our contractors. We treat you as one of our own. We will make sure we get you the best position, conditions and remuneration that meet your ambitions and lifestyle. 85% of contractors renew their contracts with us every Year. Whether you're working internally with us, or externally on a client site, we make sure that you are constantly being upskilled, reinventing your career map and given the resources you need to consistently excel in the IT sphere.
What kind of people are you looking for? Who's the best match for your team?
We're looking for people who are willing to change the game. It's important that whether you're working in our offices as permanent staff, or out on a client site as a contractor, you represent the Ergo culture. We look after our people and want to make sure in turn that they do the best for us to keep our business driving forward. We want staff that thrive in a fast-paced environment and manage to combine our fun, personal culture with a relentless focus on customer satisfaction. You need to be a self-start who brings personality and flare to the role, someone who doesn't want to be pigeonholed and is ready to grab career opportunities as they arise. Boring, easy, monotonous jobs are not what we're about!
What benefits and perks do you offer your employees? What's the biggest plus of working for you?
Our people are the most valued part of our business, which is why we do our best to take care of them. As a permanent employee, you can enjoy benefits and perks such as life assurance, pension plans, home and car insurance, child care and paid gym membership. As a contractor, we make sure you are consistently given what you're looking for; job stability, proper remuneration and a social aspect unlike any other. Become part of our community and enjoy our quarterly meetups and parties – a chance to connect, relax and socialise with others in your field.
What are your goals and plans for the future? What's your biggest ambition?
Ergo's future plan is simple: growth. We want to continue to pioneer the IT industry in Ireland, while also establishing ourselves as a global leader in technology – providing the best possible services with the best talent. Our growth plan is not slowing down anytime soon, and neither is our recruiting plan. We want to continue to hire, train, grow and house the best technical minds in the country, whether those minds be in our offices or out on client sites working directly with our customers and witnessing the real impact we can make. We are nothing without our people, which is why we will continue to invest in them while we continue delving deep into changing the Irish IT landscape.

Make sure to speak with Ergo team at Dublin Tech Job Fair this week! You can also get in touch with them by visiting their website, Twitter or LinkedIn!