[vc_row][vc_column][vc_column_text]
We believe in frictionless trade.
90% of everything we eat, wear, and use is shipped. But online sales and automation for the trillion-dollar freight industry are non-existent.
We believe that process of moving goods around the world should be smooth.
So we've created the online freight marketplace and SaaS software to usher the logistics industry into the digital era, making global shipping faster, more cost-effective and smoother.
We use a SaaS-Enabled Marketplace model, helping leading logistics automate their internal freight rate management, pricing/routing and business intelligence. This same technology also functions as the supply side for Freightos' online freight marketplace.
Instantly find the perfect freight quote and forwarder for your shipment.
Easily search across dozens of air, ocean and trucking freight shipping companies for the best quote, with live pricing, transit time and forwarder reviews to help you decide.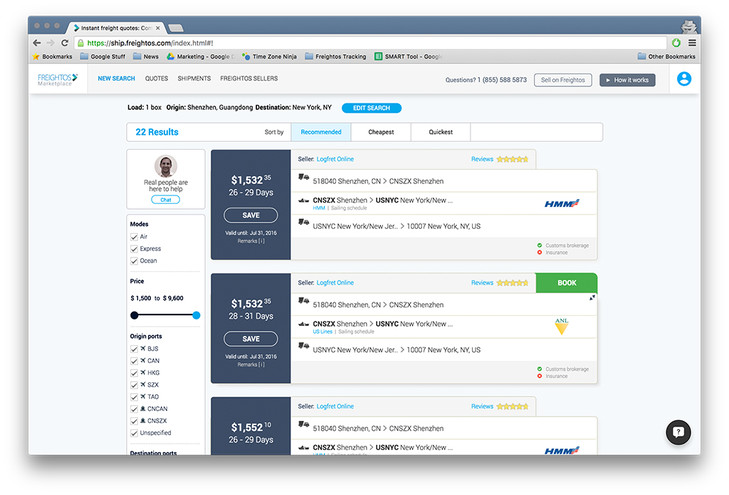 Forget hidden freight charges.
International freight shipping can be complicated. But it doesn't need to be. Our freight rates are all-inclusive, provided by freight companies you can trust. What you see is what you get, whether it's air, ocean or LTL freight.
Control your goods every step of the way.
Questions? We have answers. We're there for you with live, 24/7 support by phone, email and chat. Since you need to know where your goods are, our online freight tracking means full control over the shipping process.
How It Works: The Freightos Marketplace – Freightos
http://freightos.com
Learn how the Freightos Marketplace works, with instant freight rates, 24/7 customer support and support that will help you get ship done.
How It Works
Find Freight Quote
Compare air, ocean and freight rates from freight shipping companies in seconds.
Book A Quote
Book or save your perfect quote, enter details and finalize shipment.
After You Book
Sit back and relax. We'll be in touch to finalize pickup and delivery details.
Payment
Pay by credit card or wire to complete the process and get your goods on their way.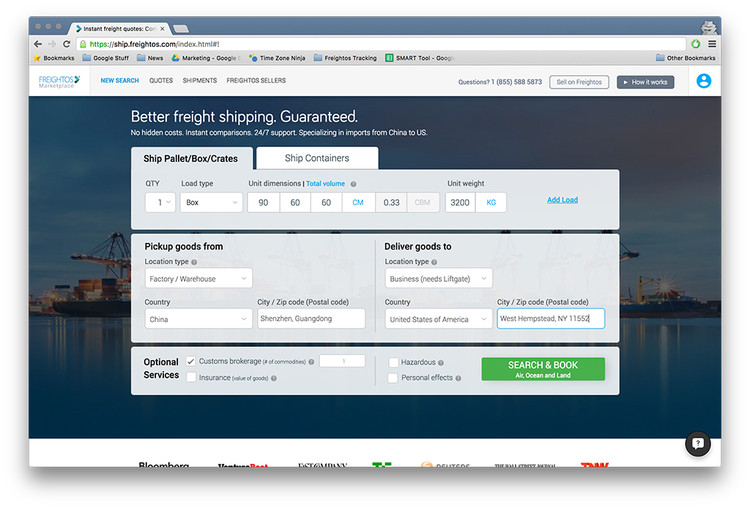 Our Vendors
824,387 international freight quotes have been generated online in seconds with Freightos by dozens of reliable forwarders. We've selected some of the best, like CEVA Logistics, Logfret, Eurasia International Group, TCG, Sinotech and others to offer top domestic and international freight shipping rates online, focusing on reliability, communication and competitive pricing.

Want to join the Freightos team?
Freightos's job listings www.techstartupjobs.com/author/freightos/[/vc_column_text][/vc_column][/vc_row]