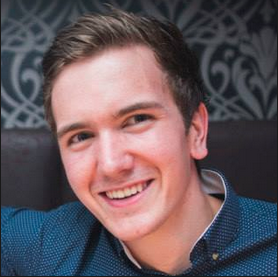 Here at Cloudreach, we believe that the growth of a great business can only be fuelled by greatpeople. Learn more, firsthand, from the people that have joined the Cloudreach family! This week, Lloyd Wyngard, Pre-Sales Engineer/Google CSM.
What is your role at Cloudreach?

Pre-Sales Engineer/Google CSM
How did you first learn about Cloudreach?
Recruitment fair during third year of uni at Napier university.
Before working at Cloudreach, what was the most unusual or interesting job you've ever had?

"Pheasant beating" which is actually a lot less sinister than it sounds… before I had a national insurance number I was doing 6 hour shifts in the freezing cold scottish hills with a rod beating bushes and trees while wailing like an idiot to scare out the pheasants for the hunters to cowardly catch their innocent dinner.
How has Cloudreach helped you in your career development?
I have worked with customers at an enterprise level which I would have never been able to do in my previous positions and would never have been able to do without the multiple opportunities that arose very shortly after joining Cloudreach (Google CSS, Pre-Sales)
What advice do you have for prospective Cloudreach candidates?
Join Cloudreach if you have a genuine interest in growing with a company and be ready to work in a continually changing (each time for the better and in response to business direction or needs) environment. From that, also be ready to latch on to opportunities (of which there are and will be many) as and when they arise.
What are 3 words to describe Cloudreach?
Opportunity, Growth and Family
Whether it's the awesome locations of our offices, cloudy lunch or beer in the fridge, what's your favorite Cloudy perk?
The open office environment – if you need to chill out against a hectic day grab a beer on a bean bag (unless it's before 5pm) otherwise a ice cold can of carbonated drink of your choice should do the trick also 🙂
What is your favorite cloudy lunch spot?
Burger Meats Bun for sure! (Haggis popcorn!)
What is your hidden talent?
I can fold my tongue in two separate ways at the same time…
What do you like to do when not working?
Most recently DIY as we have just moved home, from this I can confirm that it is indeed possible to have your breakfast/lunch/dinner in IKEA.
Keep it Cloudy!

Join our event 'TechStartupJobs Fair London Autumn 2015' at Central Foundation Boys' School, Cowper Street, EC2A 4SH London, United Kingdom on Thursday, 8 October 2015 from 18:00 to 21:00 (BST)