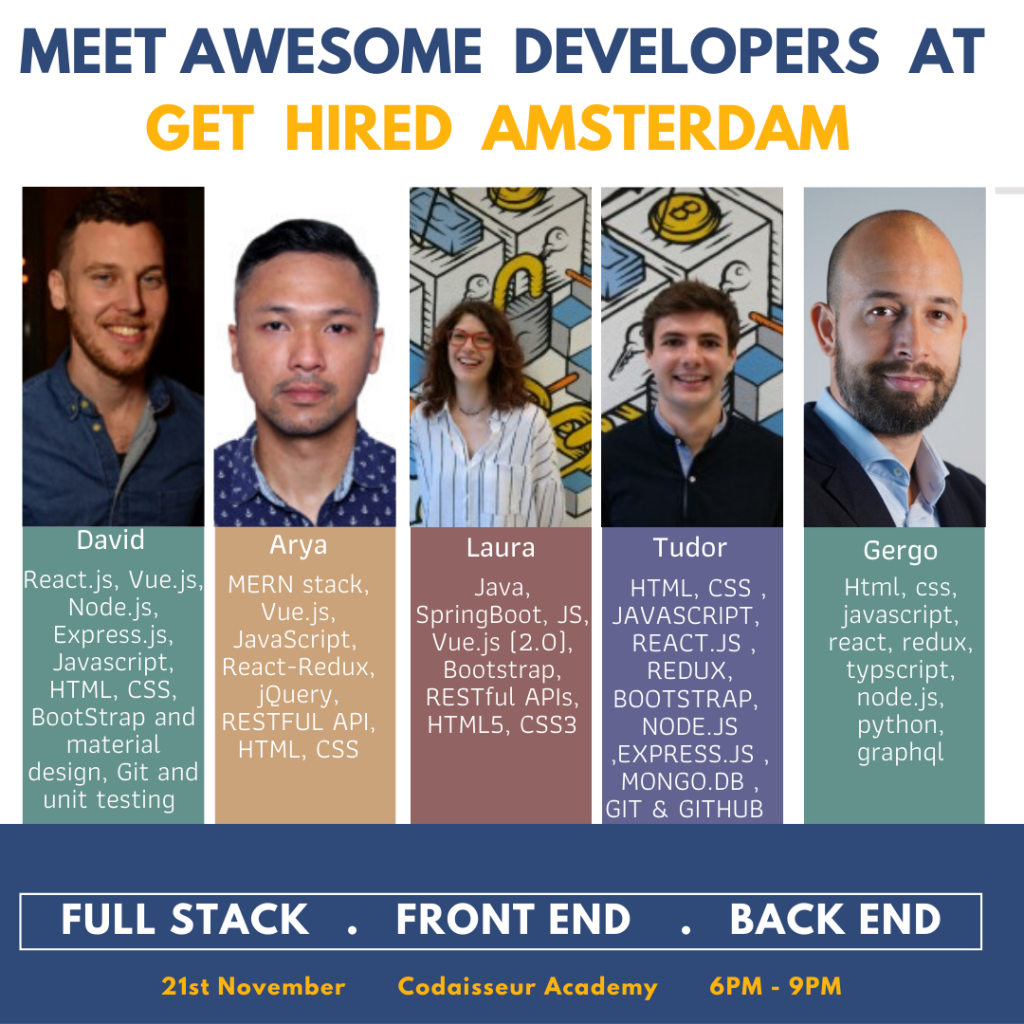 Get Hired Amsterdam 2019, the Invite Only Developer Speed Dating event, will be coming to Amsterdam this Thursday at Codaisseur Academy. This is the chance for great companies to meet and hire top developers in the city.
If you haven't grabbed a spot to this event yet, grab it here now. More details about this event below.
About Get Hired Amsterdam 2019                                                 
Only top developers in your city have been hand-picked, so you don't have to hunt around yourself. Meet face-to-face with qualified developers and make your next great hire.
Get Hired Amsterdam 2019 is organized in Developer Speed Dating format to keep interactions interesting, straight-forward and fun. This is so you can meet the most developers and engage in different recruiting techniques and personalities.
WHY ATTEND?
– Get in face-to-face interaction with developers and build a candidate pipeline – A stroll in the tech park attracting compatible talent first-hand compared to scouring the industry trying to find talent.
Showcase your company's brand and technologies to let the developer community know you're hiring. Find your missing talent link -create lasting business and professional impressions as a landmark for future recruiting and contact.
– After the event, you will get a list of registrations so you can scout and reach out after the event.
FAQ
Q: What should I bring?
A: We recommend bringing an iPad or laptop to show off your company's products and culture. You can send us a short demo. You're welcome to bring banners, other visuals, products, giveaways.
Q: How do you ensure quality?
A: To ensure quality, our events are invite-only for developers so everyone has a solid work history and background.
Q: Do you collect a commission?
A: No, we never take a fee outside of the ticket price.
Here are the hiring companies who will be joining us on that day.
1. SALTO KS

Mechanical keys are a thing of the past. There is a smarter way to open doors; from wherever you are, regardless of where your business is!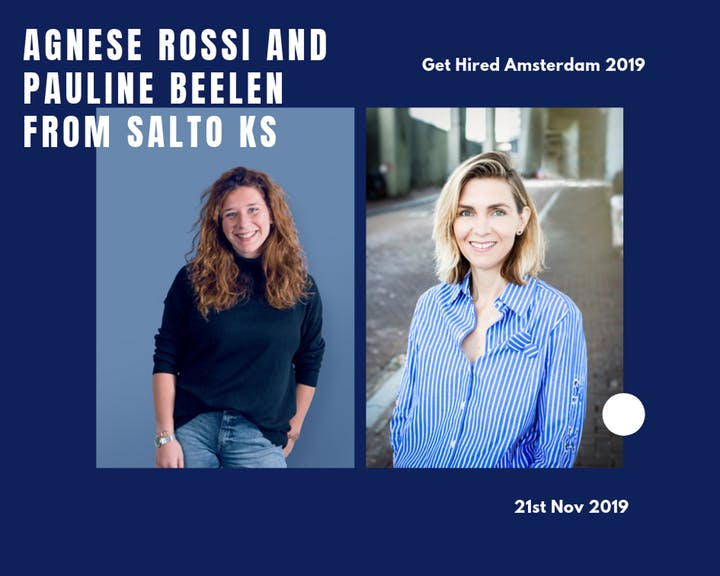 SALTO KS provides flexible, cloud-based, wireless access control that is easy and simple to use for businesses including Coworking Spaces, Coliving Buildings, Purpose Built Student Accommodation, Retail, Multi-Tenant Housing, Gyms and many more. They are looking for Front End Developers.
2. Starware

Starware specialises in software solutions for the Logistics and Supply Chain Industry.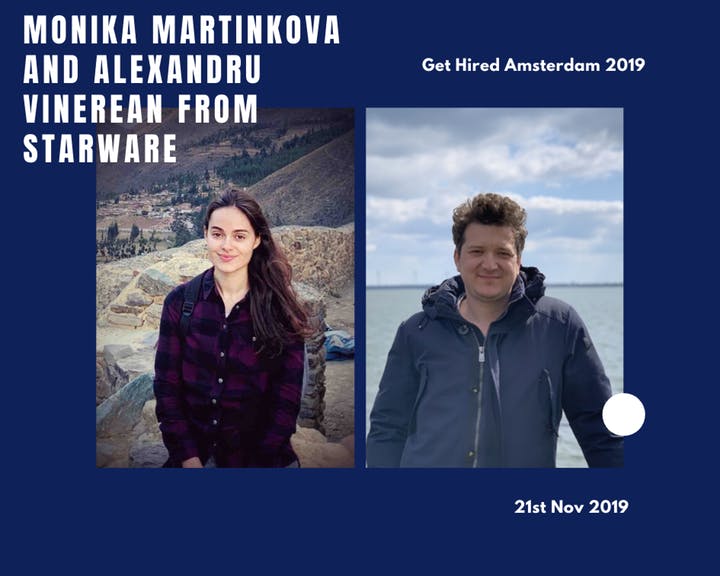 As a Developer at Starware you will get to design and deliver creative usable warehousing solutions for products you see in your everyday life. Therefore, the quality of your work will impact a wide range of users and numerous employees working with the WMS. They are looking for .net and web developers!
3. Miro
Miro is the leading visual collaboration platform helping cross-functional product teams to bring some of the world's most innovative products on the planet to market faster.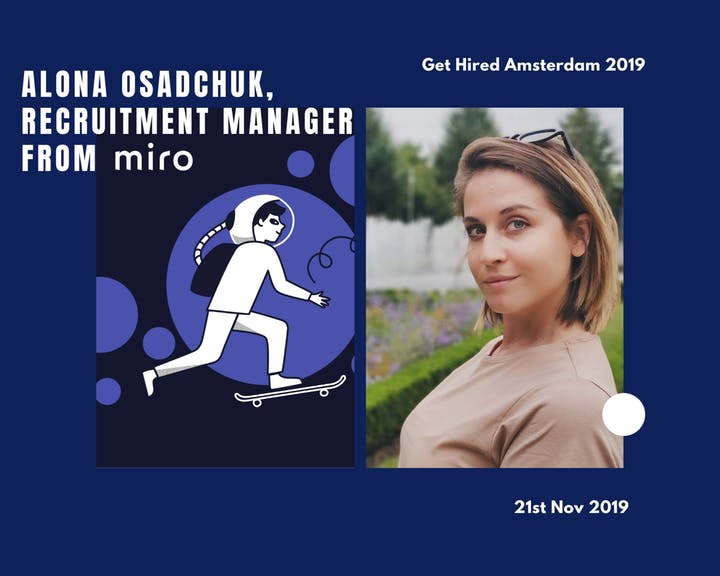 Their platform is already used by 3 million users globally including teams at Netflix, Spotify, Twitter, and Verizon. They're growing out development function in Amsterdam office and are looking for the Senior Back-end developer, DevOps engineer and Front-end developers to join their Enterprise Product, development team.
If you want to work for these companies, make sure to clear your calendar on the 21st of November. Don't forget to book your spot here.
Follow us on Twitter, Facebook, LinkedIn and Instagram to get real-time updates of the event.
See you in Amsterdam!
TechMeetups.com 8 years. 21 cities. 68 job fairs. 1100+ hiring companies. 60,000+ job seekers.