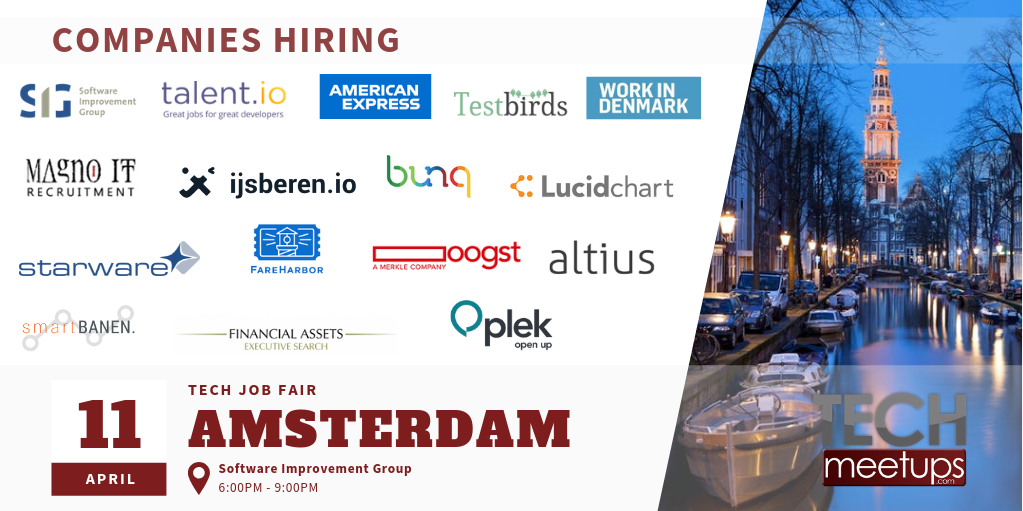 Looking for an employer is not easy, and landing a job makes you have to invest time and money. We can put an end to your searching because our event will surely help you. Let's achieve your dream job while saving the most out of your time.
This 11th of April, our Tech Job Fair will happen in Amsterdam, and together with us are these 16 great companies waiting for job seekers. Have your target company/ies now as we will provide some info about them. Grab this chance and discuss with them in person.
Don't forget to get your tickets here!
1- SIG
SIG gives technology leaders the visibility they need to address current software problems and prevent future ones from ever happening. They operate a unique software evaluation laboratory governed by the Quality Management System as required by the ISO/IEC 17025 international standard for testing and calibration laboratories.
2- Talent.io
Talent.io lets you work with their founders and country managers, take ownership of projects you care about, brainstorm with anyone on the team, design-thinking style, and make an impact by disrupting an entire industry.
3- American Express
American Express delivers an unparalleled standard of excellence in everything they do. They offer world-class Charge and Credit Cards, Gift Cards, Rewards, Travel, Personal Savings, Business Services, Insurance and more. They always deliver these innovative products as their customers always expect the best out of it.
4- Testbirds
Testbirds have the goal of supporting companies with the optimisation of their digital products. They support its customers through their expertise and innovative testing solutions in satisfying user's and their own demands for quality.
5- Workindenmark
Workindenmark offers you the shortcut way to start your career in Denmark. They provide international job seekers and Danish employers with the information, guidance and tools to find each other.
6- Magno IT
Magno IT provides the entire spectrum of resources needed in IT projects and IT "business as usual" activities; from strategy and architecture to development, testing, system administration and project management; with their high-quality international database, a dedicated advertising budget and use of social media.
7- iJsberen
iJsberen's goal is to build an advanced data science backend to invisibly power a mobile frontend of exquisite beauty. They are Amsterdam's coolest mobile-first data science incubator.
8- bunq
bunq is the only bank in the world that letting their customer decide what happens to their money- they can choose if and how their money is invested through the use of the app.
9- Lucidchart
Lucidchart provides an intuitive and collaborative diagramming solution for the entire organization and they currently have over 15 Million users. It is the only Visio online alternative that offers Microsoft Visio import and export, so it's easier to transfer the work to the cloud.
10- Starware
Starware love logistics. They are an IT service provider specialised in solutions for the supply chain industry. They continuously improving the processes of their customers' supply chain by implementing JDA Warehouse Management Software- the best WMS in the galaxy- and creating customised solutions with their Grid Software.
11- FareHarbor
FareHarbor is the best online booking and management software for tour and activity companies, but they go beyond software by saving the money and helping the business grow.
12- Oogst
Oogst provides a digital marketing strategy. They devise and create effective online campaigns. Their services and technology are all about reaching the right people, with the right message at the right time.
13- Altius
Altius help businesses to harness their data and use it to understand, model and predict business performance – delivering improved engagement, efficiency and profitability. Their vision is to design innovative solutions that transform the way people use data and that set new precedents within the industry.
14- smart BANEN
smart BANEN wants to be the HR platform for innovation and new technologies in the labour market. Where people and companies with smart ambitions can find each other. They are active in a rapidly changing labour market that is increasingly influenced by the application of technology and innovation.
15- Financial Assets
Financial Assets is active in the Investment sector, Banking & Insurance, Pensions and we work for the financial column of Corporates (the "CFO domain"). Their customers are both national and international parties, both large multinationals and specialized niche parties.
16- Plek
Plek connects people across teams, departments and organizational boundaries. It changes the way people communicate, collaborate and share. It has all the essential functionalities and more: news, profiles, groups, messages, chat, agendas, documents, a powerful search engine, a native mobile app and integrations with platforms such as Google Drive, Office 365 and SharePoint.
These employers are ready to hear what you have. Get your CVs done and discuss to them in person. They have opportunities for you waiting on their table. So make sure not to miss our Amsterdam Tech Job Fair and start your dream job.
Join us! Tickets are available here. See you soon!