Hi can you introduce yourself please ?
eGym develops, manufactures and sells the world's most advanced software and hardware products for the fitness market. We develop professional fitness machines for premium gyms in the German-speaking regions and rest of Europe. With our training software eGym PREMIUM, gym members achieve their personal training goals as fast and as effective as never before. On top, our innovative eGym Trainer App further supports trainers at the gym as well as personal trainers in assisting their members and customers. All data is accessible for our end customers through our website, iOS App as well as Android App and can be linked and connected to various partners.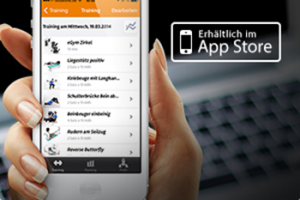 So tell us a bit more about eGym ?
eGym was founded in 2010 by Philipp Rösch-Schlanderer and Florian Sauter. They startet with a handful of employees in Munich but eGym grew very fast. By August 2015 we are about 172 employees. Most of them are in Munich and Berlin but we have also collegues in London, Madrid, Hettingen, Zürich, Paris and Houten. eGym develops, manufactures and sells high-tech products for the fitness market and developed the eGym Trainer App and the eGym Fitness App. Our Team is very international, young and dynamic. Common team events keep the growing crowed together like a family.
2 Can you provide screenshots of your Web / Mobile App
Our founder Philipp Rösch-Schlanderer spent a year abroad at Columbia University. There he went to the gym for the very first time and couldn`t understand why smart people could go to a place like that – a dark and stinky room in the basement without any windows and totally outdated fitness machines. So he got the
idea to revolutionize the fitness market and to develop smart fitness machines connecting hardware and software opportunities. When he told his school-friend Florian Sauter – our second founder and CTO – about the approach, he was excited to jump in and so eGym was founded back in June 2010.
 Can you provide a pic of your founder(s)
How many years have you'll been operating for ?
Since June 2010
Are you'll looking to raise funds ? How much & what round ?
Yes, the more the better
Where is the majority of your clients based ?
In Germany, but we are conquering Europe very successfully as well
Where are your offices ?
Our main offices are located in Munich and Berlin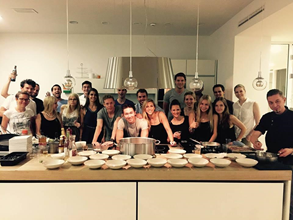 Can you provide a pic of your team in your office
This is only a small part of our eGym family
What are your plans moving forward ?
Expansion – International expanding in European markets and beyond the pond. Customer expansion from gyms to physio studios to …
Products – Constantly improving the mobile Apps and our Website (gym finder). Developing more value-adding high-tech fitness machines.
What are the key challenges eGym faces & how are you'll addressing it ?
Coping with the complex business model of hard- and software products. Managing the rapid growth of staff, countries and customers.
 Are there any landmark events coming up that you would like to tell us ?
FIBO 2016 (in-house exhibition)
Join our TechStartupJobs Fair Berlin Autumn 2015 @ FORUM Factory, Besselstr. 13-14 , 10969 Berlin, Germany, Thursday, 12 November 2015 from 18:00 to 21:00 (CET)