Last week, we had a very successful Drinks and Demo night at Techspace London! Cheers to Ifyouwanna, Ginicam, Spottinstyle, Time², Someday I Want, and Challenger Sudoku for presenting their startups. You can find out more about them here. There was a very positive turnout in attendees. In fact, there was so much demand that we are moving to an even larger venue for our February Drinks and Demo event. Stay tuned for details on Meetup.com for our future events!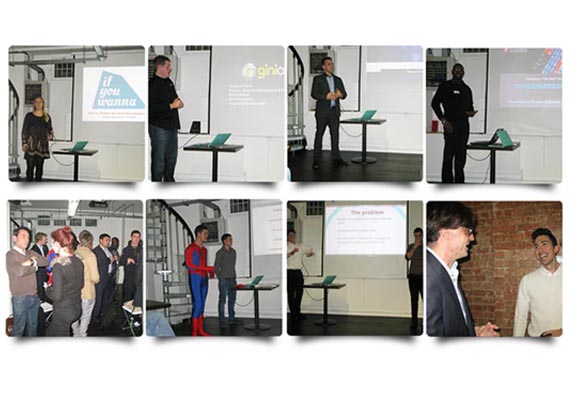 Our Drinks and Demo nights are a great way to get the community together. It allows for startups to present themselves to a casual and relaxed audience, and then receive feedback from attendees. This is event is a wonderful opportunity for community members to network over a bag of crisps and a beer. Ideas, business cards, and words of wisdom are always exchanged!


Our Presenters:

Ifyouwanna is a marketplace website for cleaning services in London. Cleaners can list their services, prices, photograph and availability on the website, and customers can book these cleaners directly through the website. Cleaner gets free web-presence and access to an online booking platform, and customers save time and can read recommendations and feedback from other users.

SpottinStyle is putting the spotlight on street trends creating a window into the fashion capitals of the world and offering a sense of inspiration with opportunities to shop. Our style-hunting photographers can be found spotting style at various events world wide and reporting fashion…as it happens. Get Spotted!
Ginicam is an interactive digital broadcast platform that utilises our patented HD video streaming technology called Gininet.  Ginicam provides a solution for content producers, individuals and e-Service providers to monetise their broadcasts in real time. Content can be delivered via live video in 1-to-1, 1-to-many or on-demand.  Our platform is also an ideal solution for corporations seeking new internal or external video communication solutions.  If you have any questions please contact [email protected]
Time²
Time² is a mobile app currently under development that offers real-time event suggestions based on where you are and how long you are free!
We take your calendars and suggest fun and interesting events to fill your time & make the most out of your day!
For example, you could have couple of meetings all over London, with a couple of hours in between two and an hour between another two. What can you do with your time? Time² will suggest places and events that fill your time with, so the nearest Starbucks could be suggested for a quick coffee break, or perhaps the local tea shop has a fantastic deal on offer and you should go there!If you have an afternoon free we could suggest a trip to the cinema or the theatre.
We are also building an API to allow for application developers to push their apps into Time², so a diary app could "request" 30 minutes every day to fill it in, and Time² will schedule the slotso users will fill in their diary!
With an excellent and motivated team behind it, Time² aims to be a unique suggestion app, taking your time and allowing you to do twice as much with it. It's your time. Squared.
Challenger Sudoku is the 1st real-time 2 player Sudoku app on Facebook. For the 1st time, players from around the world can challenge each other to live full games of Sudoku. Games normally last about 1 – 2mins depending on how fast you win or how quickly you are beaten. Never before have players been able to challenge each other on the same Sudoku board at the same time from different sides of the planet. There are 5 levels in total. All players start off as students and progress through the levels as they win games against other people. The more games you win, the higher the status you achieve until you eventually become a Sudoku Samurai. Only the skilled and the fastest players reach the top. Sudoku has now be brought into the digital 21st century. Challenge someone to a game of Sudoku today! For more information or to ask a question, please contact Simeon here – [email protected]
If you are interested in presenting at our February Drinks and Demo night, please send an email to [email protected]. Alternatively, you can submit your application here. All demo slots are first come, first serve, so don't delay in writing to me!
Event registration for February 2013 London Drinks and Demo #tmudrinks