On Thursday 16th October the London Smart City event took place at the amazing Digital Greenwich office based in the innovate area of Greenwich Peninsula in which the area of discussion was the future of big cities around the world in this area.
Around 50 attendees from different companies and backgrounds with a common interest in the term "smart city" and how to build future sustainable cities enjoyed the interesting speeches and had the opportunity to do some networking before and after the event.
Digital Greenwich, Schneider Electric and Innovate UK were the companies that exposed their solutions and ideas in the Smart City world that at the moment is facing several problems due to the fast expansion of historical big cities as London; but also Asiatic newer cities as Singapore or Beijing.
The companies and what "smart city" means to them
Trevor Dorling, Assistant Director, Employment and Skills & Digital Enterprise Greenwich Lead, from Digital Greenwich, focused his speech on the imperative need of Smart Cities around the world, especially in London, due to globalization and expansion which means more citizens, more cars and more buildings.
Charbel Aoun, President/CEO of Cities Business (Smart Cities) at Schneider Electric talked about the 3 areas of work in which the company relies on. The areas are the following: from siloed systems to smart infrastructures, from urban challenges to urban attractiveness and from stakeholders to engaged community.
Niraj Saraf, Lead Technologist for Urban Living with Innovate UK was the last speaker on the stage. He emphasized that a smart city for Innovate UK is a city with strong economy, a good quality of life and environment caring.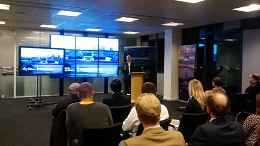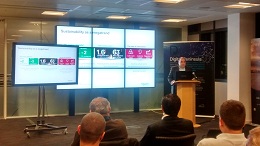 Trevor Dorling, Digital Greenwich                                  Charbel Aoun, Schneider Electric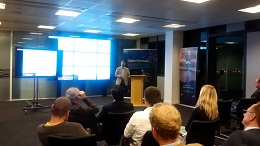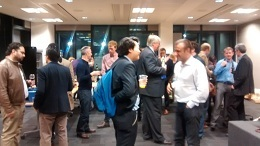 Niraj Saraf, Innovate UK                                                    Networking after event