Are you a fan of delicious snacks? Or maybe you're a  technology fan, and you are looking for people with similar interests? In both cases, you absolutely have to join us!
Every Wednesday Toscana Divino is hosting italian-style social hours with Tuscan appetizers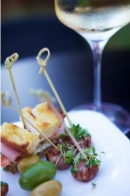 On August 29th, Miami TechMeetups will host Networking Happy Hour at Toscana Divino.
Miami TechMeetups members will get 1 free drink and free appetizers from 6-8pm (RSVP by August 28th 12pm), and all will take place in Toscana Divino– Mary Brickerll Village (900 South Miami Avenue, Miami, FL)
Enjoy great finger food and wine wile networking with like-minded people. Find out what's happening in South Florida tech scene, find potential partners, mentors, investors, and startups, techies, designers, marketers, and biz developers.

TechMeetups has been setup to create a global network of Tech communities from San Francisco to Sydney. We believe that Tech communities are isolated and great things can be achieved if we connect within our cities and outside our borders. Our goal is to create a global Tech cluster of over 50 inter-connected Tech communities by 2013.
Membership to our communities is free and anyone thinking about doing their own Startup and wanting to bounce ideas off each other, meet potential partners or investors in their city or even connect with like minded individuals in other parts of the world are welcome to join our groups! TechMeetups is all about YOU so come along, join us and lets connect to form a truly global tech community!