Contrary to popular belief, a break from work and technology doesn't put your career on hold. There are no breaks from life everything you consider off the records is just adding up to make you who you are. Look at a break as a way to get a new perspective, and reconnect with yourself with life as it has gone a little stale lately.
Maybe you love your job but are feeling just a little overwhelmed. There are various reasons to take a  break but most importantly, it is easy to lose a sense of self within a social and busy world with adverts telling you what you are missing and work taking up your mind.
In this article, we address the reasons why it is crucial that you take a break from the comfort of the mechanical lifestyle of work and technology and fall back into yourself and enjoy your own company.
WHEN TO TAKE A BREAK?
When you find yourself seeking deeper and meaningful relationships, it is time to take a break. It may feel as though you are fostering relationships by checking friends and family  social media feeds but you aren't. If your head is constantly buried in your gadgets, you aren't deepening relationships with the people that surround you and most importantly, yourself. Put your phone away and go away to a quiet personal space and reconnect with yourself.
If you start questioning your productivity and feel unaccomplished and all ideas questioning your self worth, it is time to step back. Everything is put on hold for a little peek at Facebook, Instagram, Twitter. There is nothing wrong with checking your social media unless you are using it as a distraction. It is a vicious cycle where you compare your life to that of others by their posts, then feel bad about your life, then continue to follow this trend to distract yourself from how stale you feel about your life. It is time to get back to reality where you have real goals to achieve.
The stress that comes from the need to have a glamorous life on social media is destructive, you pass through life like a zombie lost in the graphics of a device putting your health and business potential at risk. Take a break to observe your habits and adjust or throw them away completely, you will lose absolutely nothing. Real life is more fulfilling and not addictive because it is all there is.
The biggest mistake you can make when it comes to personal breaks is not taking one at all and missing out on the experience of a lifetime.
BENEFITS OF A BREAK
Change of scenery
Sure, you could decide to take a career break and stay at home, but where's the fun in that? Breaks are the perfect opportunity to fit a bit of  travel into your life and change up the scene you are used to. You can choose to travel to one country and really immerse yourself or just take a brief trip to a cozy quiet place, it is really up to you. You do not have to step out big and luxurious to enjoy your break, but if you can, go for it! You need just the right place, with the right services and programs to give you a fulfilling break.
At Techmeetups, we understand the trials of the tech industry, from trying to manage a business, to recruiting talent and improving tech products and services. It is a lot of work and takes a toll on entrepreneurs and alienates them from the basic joys of life. That is why we organised two spaces in Sunny beach and Bansko for our community members to facilitate a break from the tech world. Self contained spaces, well furnished to ensure a personal experience and a calm atmosphere.
SUNNY BEACH BULGARIA
There is no better place to reunite you with life in Bulgaria, there is every place and activity to engage you in a break of a lifetime. The perfect place to cut your mind some slack and relax in your body. From the expansive beach to the expansive horizon, you are reminded of the vastness of the world and the endless possibilities available in life to enjoy it to the brim.
The endless sandy beaches and nightlife are matched with a water park and amusement park, and by day you'll also find a range of activities available, like diving and day trips. Sunny Beach is one of Europe's party capitals where revellers will encounter clubs and bars that are full of party-goers in July and August makes sure you have all they could want for an action-packed holiday, yet within its confines lies a space to tune out the outside world and get cozy with your own company.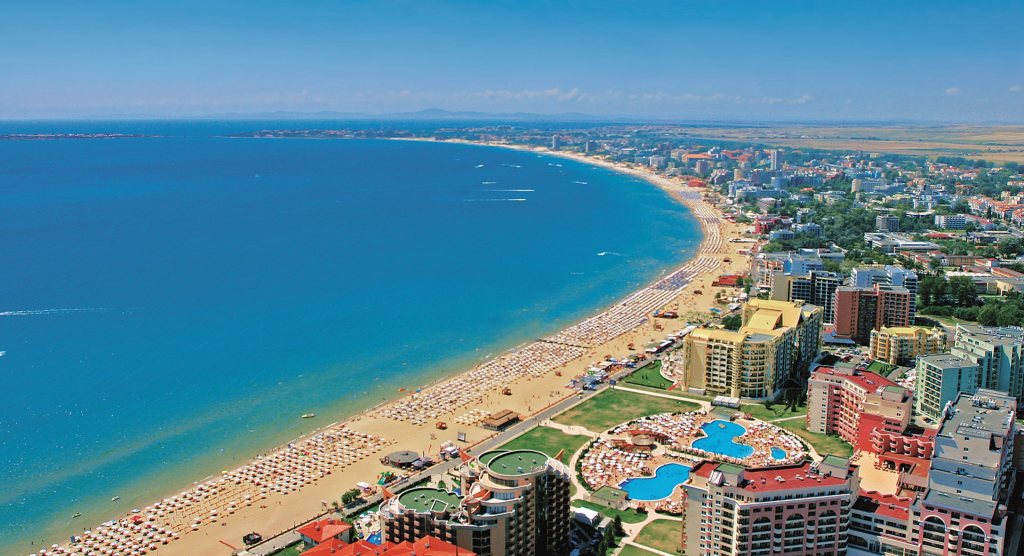 Check out these Tech break spaces near Sunny Beach for those days you want to tune out the outside world and relax:
COZY STUDIO, in 8.8 rated complex at Sunny Beach, Bourgas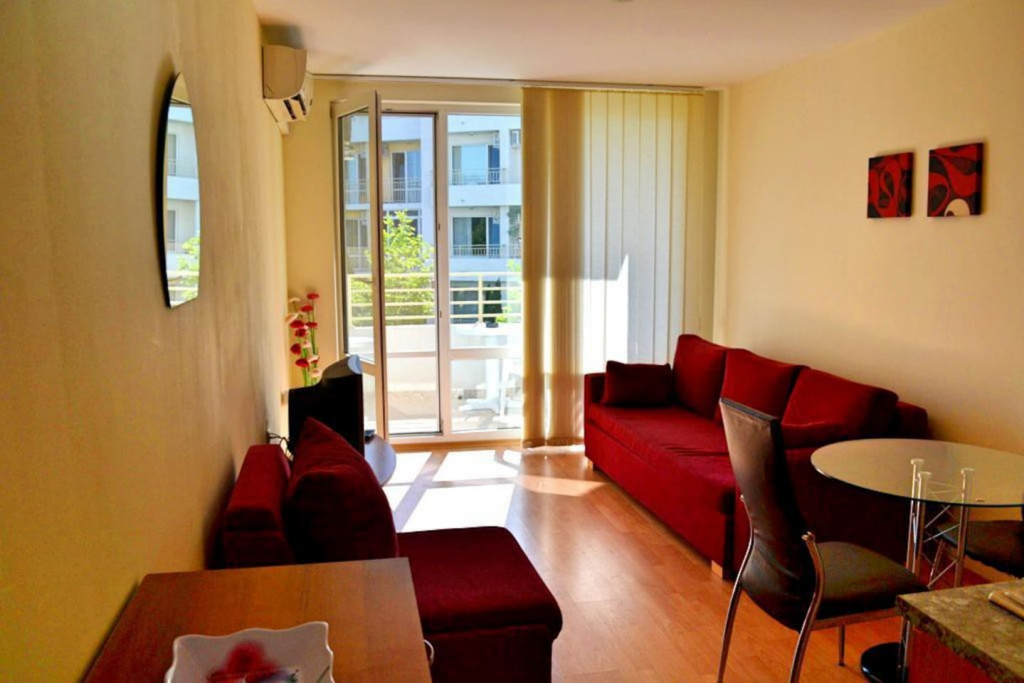 The studio is air conditioned and fully furnished and you will find a living room with kitchenette, sink, kettle, microwave, toaster and a fridge. There is a sofa bed, stretchable arm chair, a dining table with two chairs, a chest of drawers. A TV with 130 channels and High speed Wifi. Other items include iron, ironing board, hair dryer and a safe. The flat has a balcony with a table and 2 chairs.
The space
Nessebar Fort Club was built in 2007 and every year is proving to be one of the best maintained and well designed gated communities in the area. This is a studio on the first floor. The apartment has 36 square meters of living area, it is oriented to the west and has a view of the garden and the fields. There is a nice balcony with a table and two chairs and a view of the field. The studio can easily accommodate 2 adults +1 kid . The bathroom has a shower cabin and the room has one air conditioner.There are 6 swimming pools and the apartment has sun loungers that can be used at any of the pools. There are also playgrounds, crazy golf, tennis courts, gym & sauna, restaurants, shops and much more. Cleaning and Laundry service is available at a small charge.
Guest access
Entry to the complexYou can collect key and main gate fob at the office. Teodora and other office staff are very helpful and will be informed of your stay before hand. They can also be contacted if something isn't working in the Apartment. Please enter the complex and take a left. Walking by two pools one to your right to reach building 'A4'. The apartment is on the 1st Floor. Entrance to your right.Use the keys and turn left (anti clockwise) twice. Its double locked.
For more information visit: Tech a Break
STUDIO near Ski lift with SPA, Bansko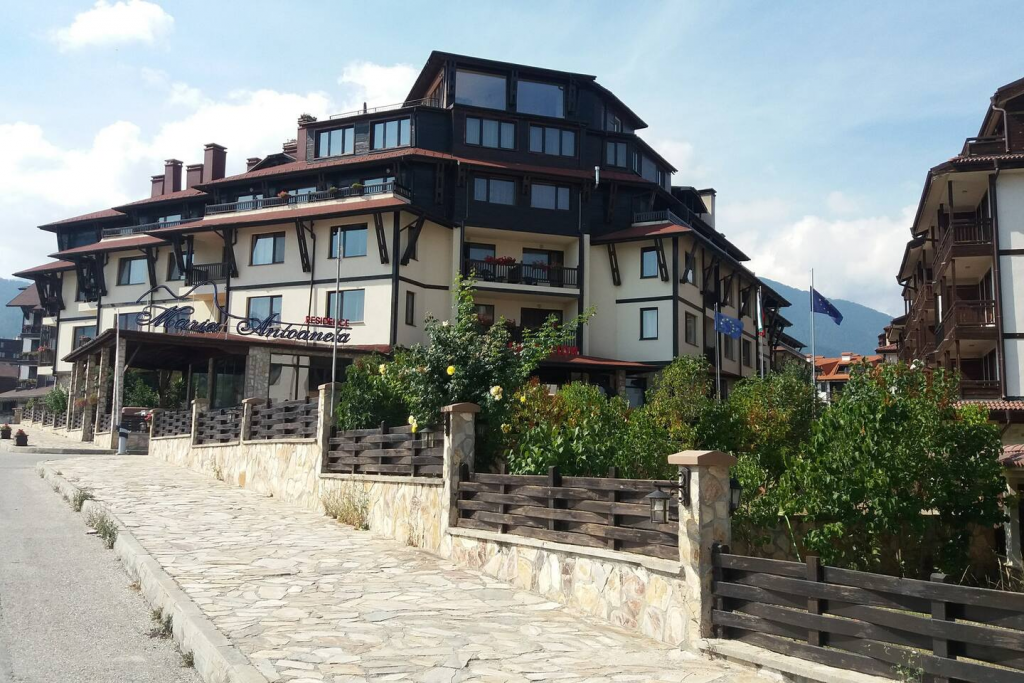 Maria-Antoinette Residence is an ideal place for family holidays, ski holidays or a romantic escape from the busy everyday life. Located next to a river, Bansko's Maria-Antoaneta Residence is just a 3-minute walk from the local ski lifts and Bansko Mall. The property has a large terraced garden with a seasonal outdoor swimming pool. Views of the river and surrounding mountains can be enjoyed from Maria-Antoaneta's dining area whilst enjoying breakfast.
The space
The apartment has a balcony with picturesque mountain view. A kitchenette and bathroom with shower cabinet. Guests have the option of free on-site outdoor parking or underground parking with surcharges. Airport transfers and car rental can be arranged upon request.
For more information visit:  Tech a Break
FRESH PERSPECTIVE
Working and social life with all their responsibilities can be stressful, and burnout is a real for people throughout life. So, use this as a chance to grab a fresh perspective! A break in a nice quiet space will refresh you and give you a new perspective on your life and career. Immersing yourself in self reflection and retrospection will help you make appropriate changes.
LEARN A NEW LANGUAGE
If you've always dreamt of learning Italian in Rome, or Spanish in Argentina, now's the time!Learning a new language is fun, challenging, and definitely takes you out of your comfort zone. And while you might not get completely fluent during  break, learning some new language skills will impress and can even open up whole new opportunities.
MAKE NEW BUSINESS CONNECTIONS
Interacting with other entrepreneurs is a great way to step out of your routine and get involved in someone else's story. Also easy to do over a short break. This is also one way to make friends.
GET CREATIVELY COZY
Pullout your paint, guitar, paper and create something. Engage your inner child or artistic side in creating something. Engage in some board games.
READ A BOOK
Have that book you have had your eye on? Have a genre that you like but have no time to read? Now is your chance, read for the pleasure of it. It is essential to your mind and intellectual growth.
TAKE A NAP OR MEDITATE
It is the next healthy thing to hydration. Get in the moment and just breathe. Observe how your thoughts and emotions push you around. Take a good rest and get  energized.
The options are endless with your break and you can your break  to re-evaluate what is most important to you in your personal and professional life, then focus and get excited about new opportunities. You deserve  a break and make the best out of your life. So, take the time to explore your quiet company, de-stress from your regular work and social life, and get a new lease of life. Hopefully, your break has rejuvenated you and you're ready to take a break from the same old daily routine of your job and technology with new ideas!
Are you looking for a job, your next co-founder or recruiting your tech talent? Tech Events is the place to be for all professional networking. Visit  for more information about the events and how you can get more out of the experience and also get yourself a ticket to an event!
Website: Techmeetups.com  visit and treat yourself to a community of tech business events and support!
TechMeetups.com 8 years. 21 cities. 68 job fairs. 1100+ hiring companies. 60,000+ job seekers.