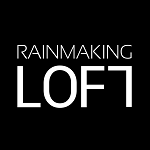 Rainmaking Loft just welcomed 300 entrepreneurs at a 3000 square meter former naval facility by the harbor area in the Danish capital. The Nordic tech community has traditionally been spread out, but many of its younger talents unite at the new co-working space. An additional number of seats are reserved for business angels and industry specialists.
"We want to create a full ecosystem here and that demands a range of different players. All the contacts you need as a promising startup to develop your potential faster and succeed globally," says Managing Director at Rainmaking Loft, Kristian Justesen.
Among the startups moving in are the equity crowdfunding tool Raizers, Snaplytics, an analytics platform for Snapchat, and AppMonk that focuses on self-development apps.
AppMonk CEO, Mathias Buch Iversen, has been missing a place in Copenhagen, where he can find collaborators:
"The environment at Rainmaking Loft brings us closer to a lot of people necessary to our business. Those who can invest in it, but also skilled programmers and other IT businesses ready to join forces on projects."
Residents have access to in-house services including a hotel room, an arcade hall, and a coffee shop. The top floor serves as an event space overlooking the old Holmen area to the East of the city. Rainmaking Loft will arrange pitching competitions and workshops that promote the knowledge exchange between residents, corporates, and VC's.
Kim Tosti represents BAC, a network of more than 60 business angels, at Rainmaking Loft. To him the place provides an overview of possible future investments.
"The regional entrepreneur scene used to be for entrepreneurs only. I've been looking for a place, where there is room for the investors as well as the guy coming in off the street with a skateboard and a crazy idea."
About Rainmaking Loft
Tech co-working concept with established sister hubs in London and Berlin used by 400 entrepreneurs. Home to the global accelerator program StartupBootcamp. Corporate partners include Tesco, Amazon, Google, and Microsoft BizSpark. The Copenhagen Loft occupies a cultural landmark building renovated at the cost of 1.3 million euros.
Run by the private company Rainmaking that has specialized in optimizing startups since 2006.
Website: rainmakingloft.dk
Further information
Managing Director Kristian Justesen: [email protected] / +45 42 61 00 42
Head of Communications Johan Vardrup: [email protected] / +45 28 97 83 60