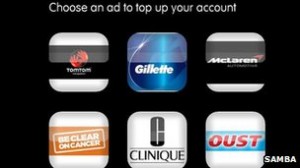 A service offering an advertising-supported 3G data service for mobile computers has launched in the UK.
Subscribers to Samba must first purchase a sim card – and optional dongle – and then watch video adverts to build up their credit.
It describes itself as being the "UK's first free broadband service for users on the go". Members are told their website visits may be tracked.
Analysts warn similar business models have struggled.
The London-based company was founded by Ben Atherton who previously worked at a separate marketing agency which offered users rewards in return for providing details about themselves.
"With Samba you earn the credit watching ads at a time that is convenient to you and then have access when you need it," he said.
"It also marks an end to that hunt for a coffee shop, pub, hotel or library to get online."