When you are in the fastest-moving city in the world, where do you go when you realize that you need to shift the direction of your career?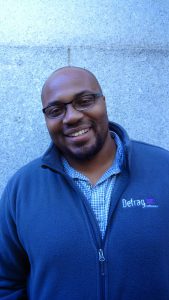 New York city's startup ecosystem is extremely competitive. You need to be a triple-threat, with the right skills, the right mindset, and the right network of people in your corner to nail down a position at a high-growth company that you are passionate about. Make your way over to TechMeetups' Job Fair on January 29th to meet Startup Institute Co-Founder and New York City Program Director Shaun Johnson.  
Shaun knows a thing or two about being dynamic in a team environment.  Shaun dabbled in management consulting before leaving the corporate world to mentor startup teams at Techstars. He and his co-founders built the framework for what is now Startup Institute when they realized that there was a need for a reformed way to train and educate impactful startup employees. Shaun loves to share stories of how our alumni have pivoted their career paths and now are crushing it at companies they care about.
Talk to Shaun to learn how Startup Institute can turn you into the triple-threat through training in:
1. Skills: Our lessons are hands-on and industry-relevant, shaped and delivered by experts in New York City's startup scene. You'll choose between four tracks to build bleeding-edge skills in web development, sales, technical marketing, or web design. You'll learn from NYC's tech greats, and connect with people looking for talent to grow their own teams.
2. Mindset: Our Core Curriculum consists of workshops designed to get you acclimated to startup culture. A group project will send you on-site to one of New York City's hottest high-growth companies to experience startup life from the inside while you solve real-world challenges. Back on campus, our staff of startup experts and career coaches will work with you one-on-one to find you the job opportunities that best align with your own passions and goals.
3. Network: Startup Institute is the nexus of NYC's startup community. We know where you need to be and who you need to meet to land a job you love. Our massive network of partners and alumni will give you a network that will follow you throughout your career.
Stop the malaise on the morning commute to a dead-end job that is getting you nowhere fast.
Startup Institute's spring program is fast approaching. The application deadline is on February 9th. So, swing by the TechMeetups Job Fair to say "hey" to Shaun and find out if our program is right for you, or apply now to start that conversation sooner.
Alison Tugwell, community marketing manager at Startup Institute New York