Be a Hit at the Job Fair
Job fairs and similar events are not rare these days. Be part of Tech Job Fairs by Techmeetups.com in London, Dublin, Barcelona, Zurich, Amsterdam, Berlin, Munich, Stuttgart, Frankfurt, Lisbon, NYC https://techmeetups.com/events
However, you don't want to waste your time and money, and as a result have a dull, ineffective day and a headache as a bonus. Here are some tips on how to make a job fair stand out.
ALL YOU NEED TO KNOW TO MAXIMIZE YOUR RECRUITMENTS ON A JOB FAIR AND MAKE YOUR PRESENCE A SUCCESS.
1.  Let people know you are going to be there.
Doesn't matter how hard you work, how great presentations you make, how creative ideas you have, this all worth nothing if no one is paying attention. So a piece of good advice is to let people know you are participating in an event. You should also give them some hints about what they will see there, what are the benefits of coming there and create some intrigue around the job fair. This will make more and more people come to see exactly what you are going to show them. Just make sure not to let them down.
It would also be great to share pictures, results, and opinions after the event is done.
Make good memories for those who were there, and make sure more people come next time.

Here is the hashtag: #TechJobFair
Twitter handles:
@TechMeetups
@TechStartupJobs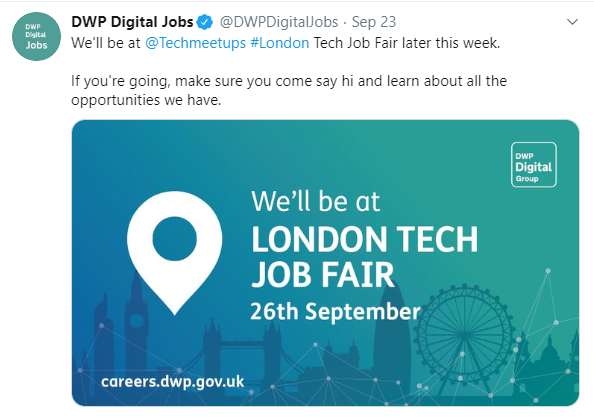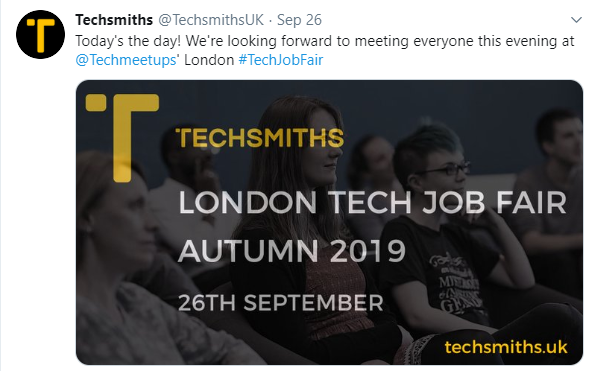 2.  Arrive earlier. Make sure to come earlier to have enough time to set up your stand. Surely you don't want to run around while participants have already arrived. Not only this will make them think bad about your company, but you will also lose some of your precious time.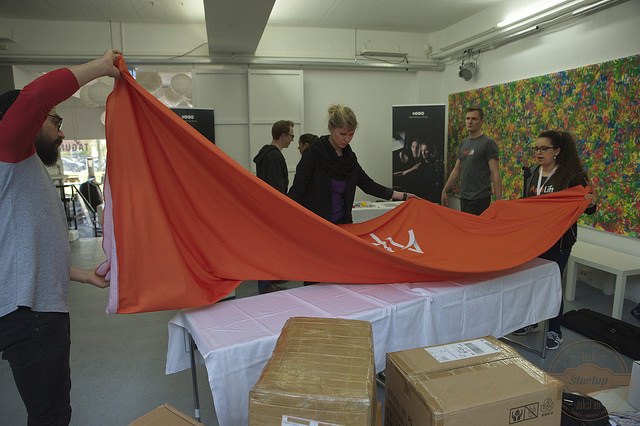 3. What about roll-up banners?
If you want more attention on you (and of course you want), then roll up banners are what you need. They look professional and make a big impact on the people around.

4. Bring printouts and promo material. You may make a good presentation, show videos and have a staff who is ready to answer any question, but it is a great idea to have all these printed out. Jobseekers will take them home, this will make sure you are remembered, plus people who were not at the event will come to know something about you.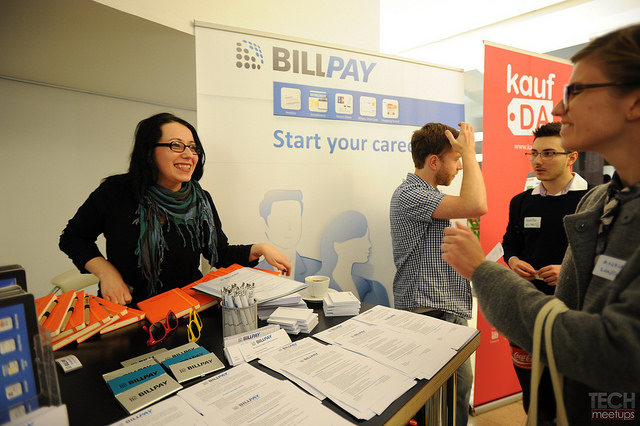 5.  Why so serious? It is completely understandable that you want to have a stand that looks serious and professional, but you also want to make your potential workers feel you are a lot of fun. Bring lots of giveaways and you will be remembered and as a bonus, this is a free advertisement, why not? bring even balloons, candy, chocolate… May sound crazy, but what about a popcorn machine?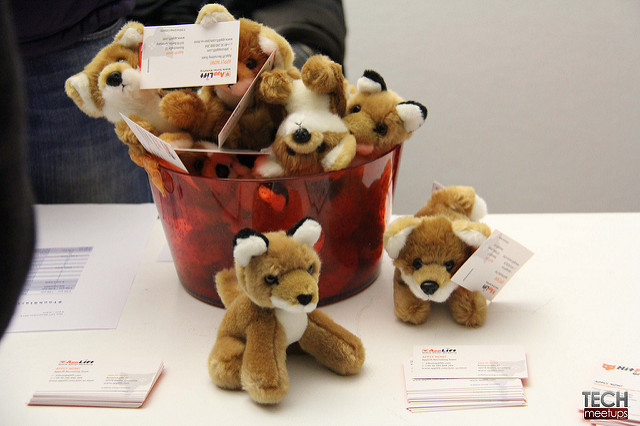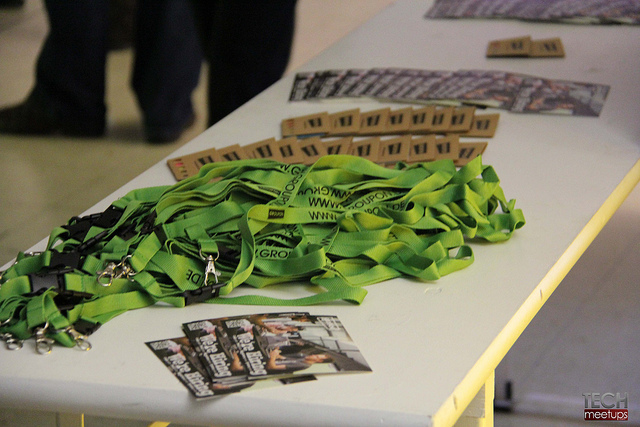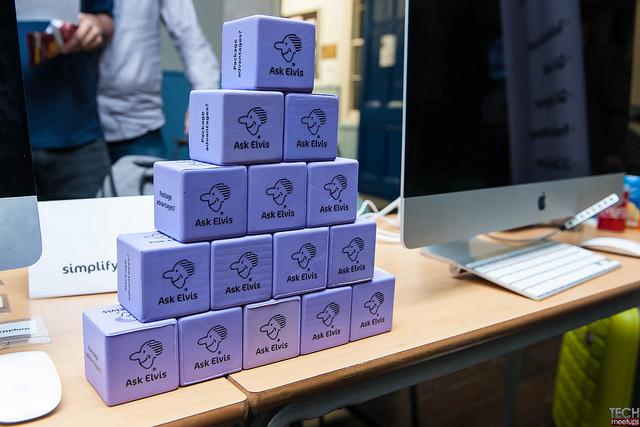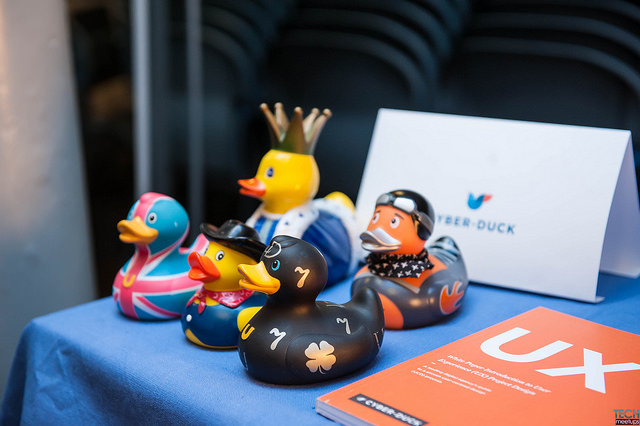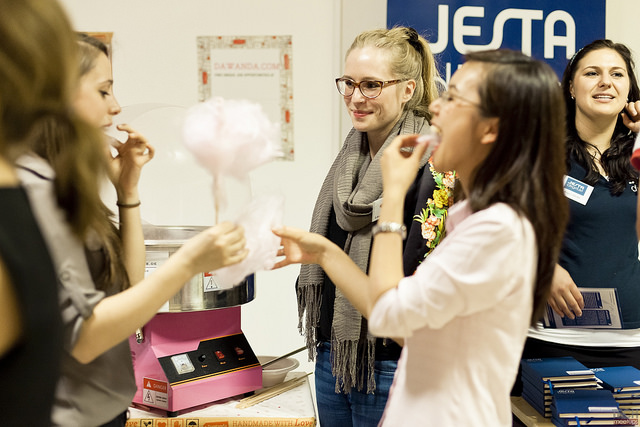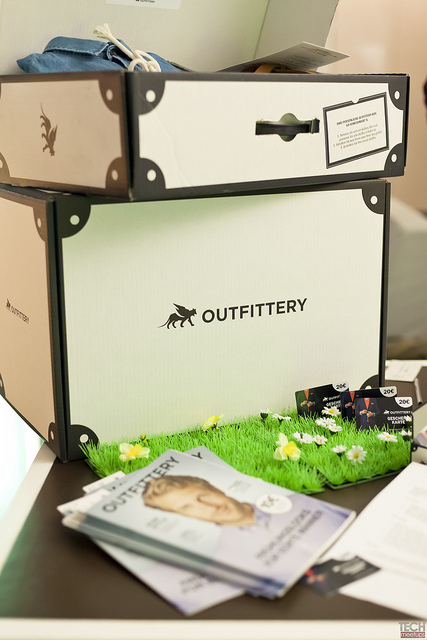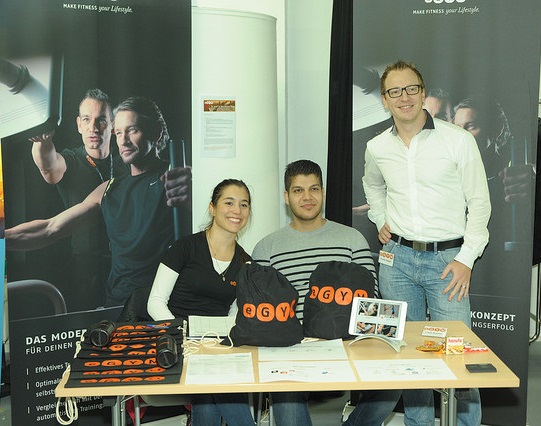 6.  Protect your collected CVs! They are the most valuable thing you'd have at the event – Guard them with your life.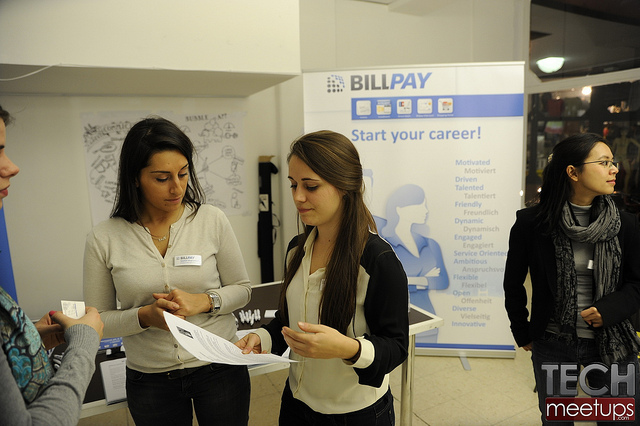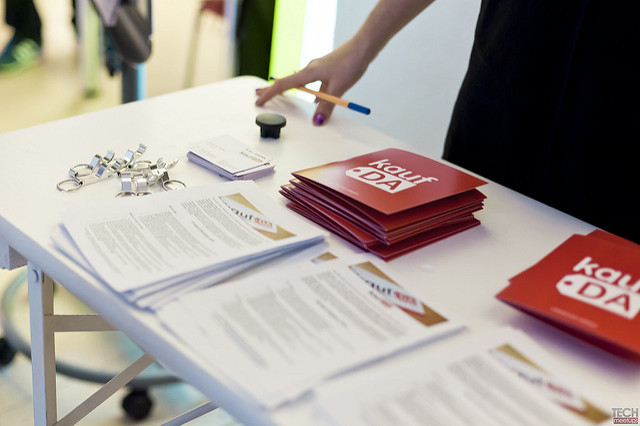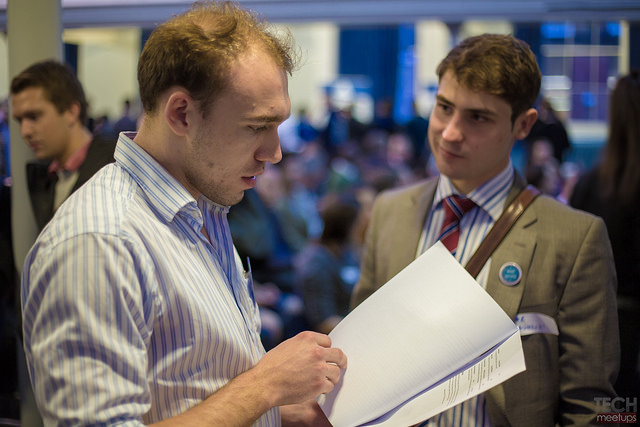 7.  Bring the electric extension cord if you'd need to plug in your monitor/electronic device. Remember what we said about technical issues?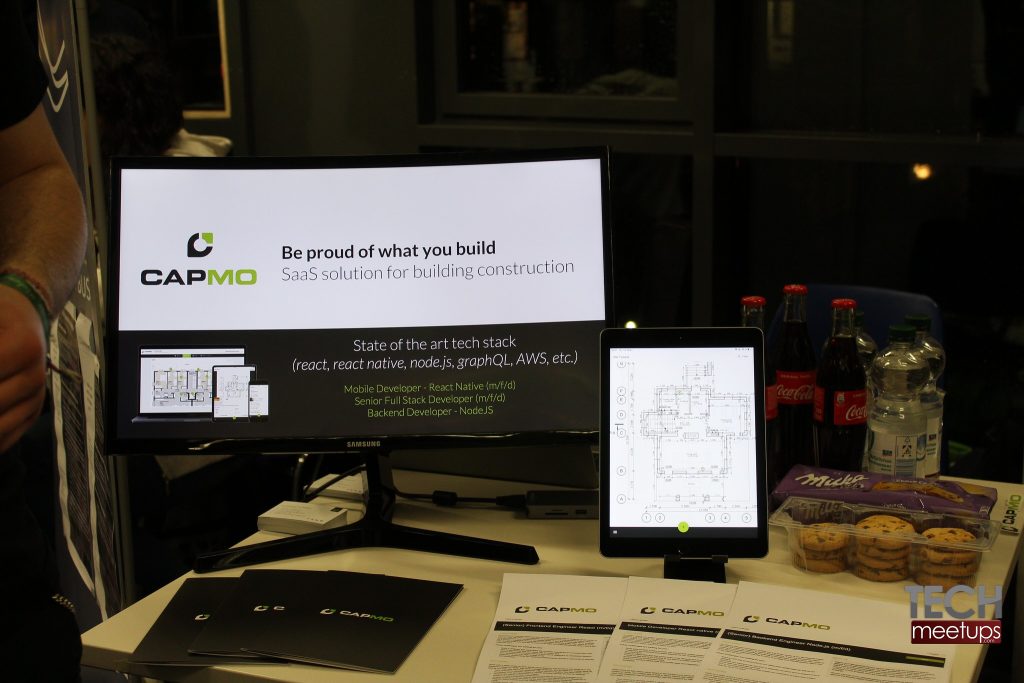 8.  Make sure you have a big enough team. While one of your team members is busy with the presentation, others should be there for jobseekers. So, it is a good idea to have more than 3 people there.
9.  Smile. Last but not least, make a positive atmosphere around your desk. Smile and be helpful. You don't want job seekers to be scared even with the thought of working at your company, do you?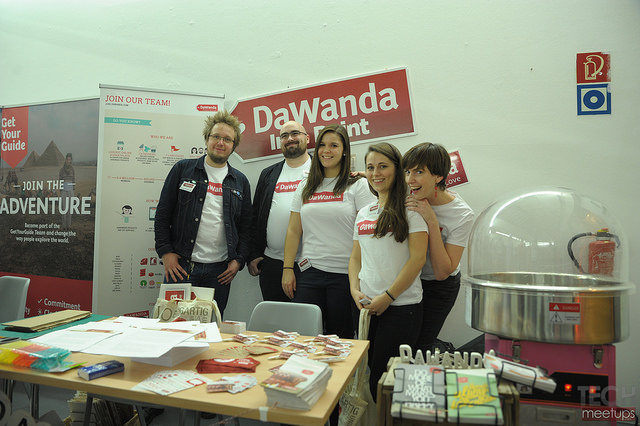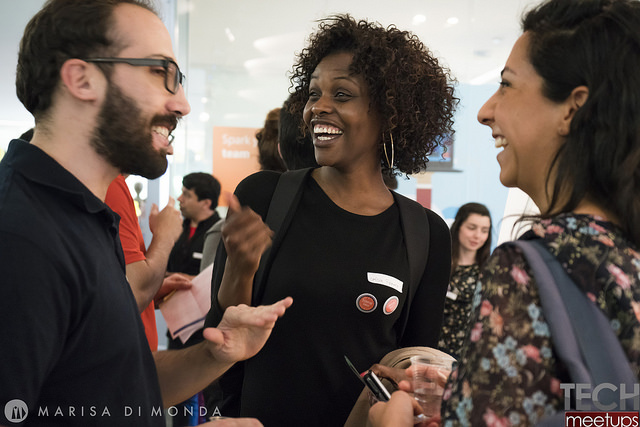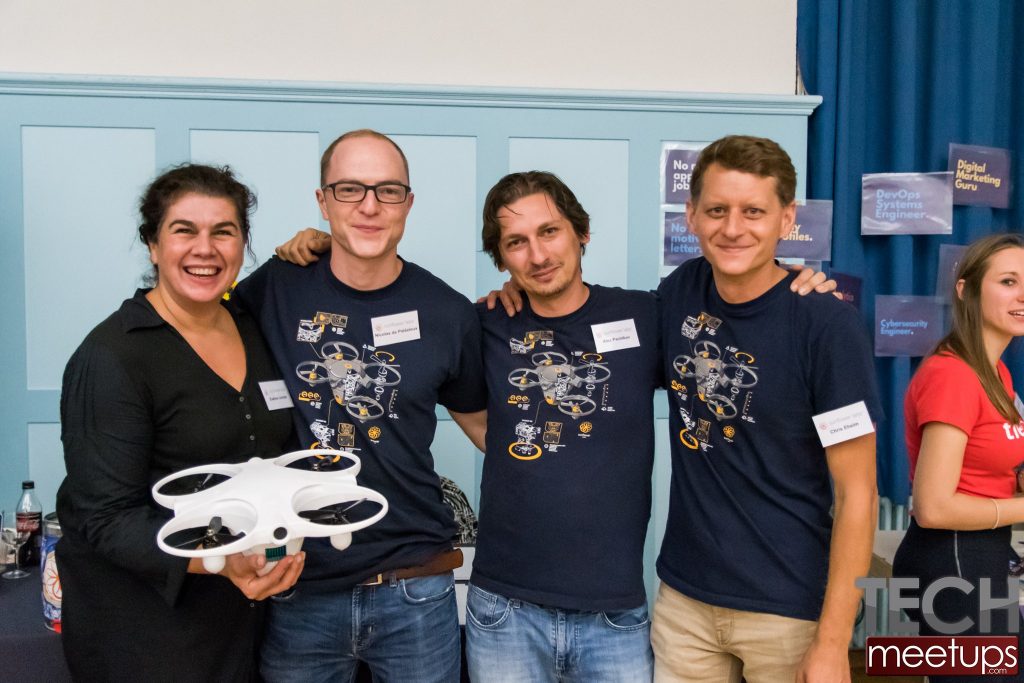 These are all pictures of previous job fairs that show what makes a good Tech Job Fair stand.
AFTER THE FAIR
Contact the candidates whose applications seem most interesting to you. Some candidates you will have met will contact you to thank you for having taken your time to discuss it with them. Answer them even if you have no position to offer them.