gyJoin Women in Tech UK and connect with Deutsche Bank recruiters looking to hire female technologists.
About this event

Deutsche Bank Open Evening
Deutsche Bank is the leading German bank with strong European roots and a global network.
The bank focuses on its strengths in a Corporate Bank newly created in 2019, a leading Private Bank, a focused investment bank and in asset management. more
Deutsche Bank is bringing together support for innovative IT solutions, social projects and female empowerment. Join Woman in Tech and connect with recruiters looking to hire female technologists.
Audience: women working in technology in the UK
FREE ADMISSION – If you love technology and you're looking for a job, you're in luck.
Learn more about what it's like to work at Deutsche Bank: our vision, values, and commitment to our employees.

Online via Techmeetups Zoom from 18:00 (GMT)
On the event day:
Presentations – Deutsche Bank
Q&A session
Presenters:
Ally Peace – Title of presentation: Returning to Financial Tech
Shephali Sillitoe – Title of presentation: Horizontal career moves vs Vertical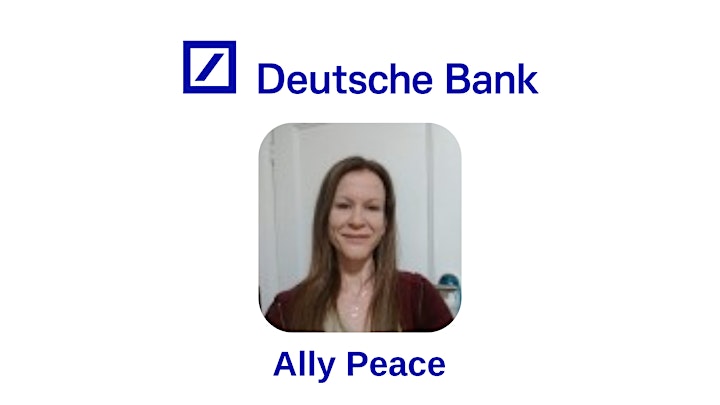 Ally began her Financial Technology career back in 1995. With the majority of the time spent working in both the Credit & Market Risk IT areas, before taking an extended career break to raise her children. After attending a Women in Tech event held at Deutsche Bank she joined the bank at the start of 2020 as a Vice President within the Group Architecture Engineering Team. As well as a passion for both encouraging the younger generation & women into STEM careers, she has a keen interest in inspiring others to follow the same route as her and embrace the challenges and rewards that returning to work & Technology entails.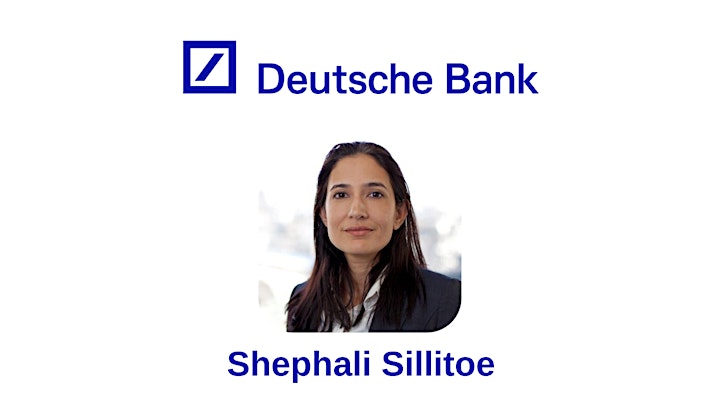 A highly skilled Business Executive, Chief Operating Officer and Programme Director operating at the C-Suite level in complex, highly competitive global environments. The consummate leader with a track record in managing €multi-million budgets. Extensive experience overseeing and managing transformation programmes with an excellent understanding of technology systems and solutions; first-rate communication and presentation skills; high degree of autonomy, cost-focused and results-orientated. Highly organised with significant management experience and accountability for portfolios in excess of Eur 1.4bn and 14,000+ staff. Host and Speaker at 'Women of Silicon Roundabout 2019', BAME and Graduate events. STEM advocate and seasoned mentor. MBA from Henley Business School, BSc. Honours degree in Computer Science from King's College London.
After the event:
The Deutsche Bank Recruitment Pitch will be shared with attendees
The attendee's list is shared with Deutsche Bank
Deutsche Bank can start to engage registrants for the first Interview
We want to meet YOU!
NOTE: We check registrations to make sure they are accurate and authentic. We can cancel your participation if we find false or misleading information. Deutsche Bank can decide to contact you after the event for an interview and possibly hiring. Deutsche Bank decides whether to interview or hire the best candidate for their qualifications.
Techmeetups does not guarantee job seekers any interview or hiring from any company. TechMeetups is all about YOU so come along, join us and let's connect to form a truly global tech community!
Let us know your need, and we'll let you know how we can help at [email protected]