"We are leaders in a movement that is bigger than ourselves."– Auterion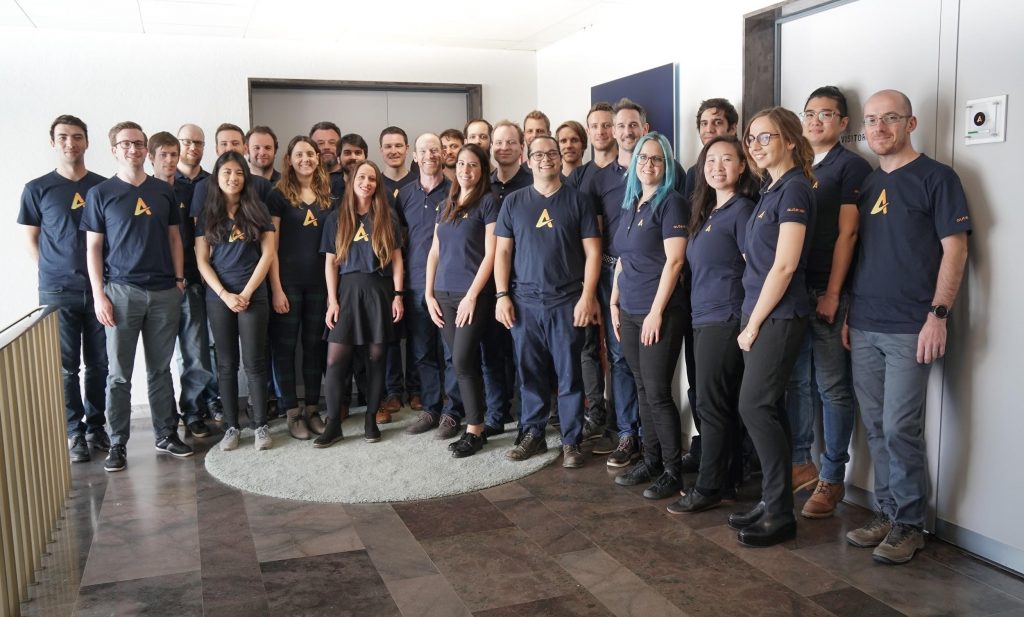 Our Tech Job Fair will be happening soon in Zurich this May, and Auterion will be joining us. They enable new business by creating better technology the open source way, and by connecting the community of developers, contributors and companies.
Today, we are glad to share more information about Auterion to you so that you'll know what kind of company and employer they are.  Don't miss the chance to meet their team in person this coming 8th of May in Zurich.
To join our Tech Job Fair, get your tickets by clicking here.
What's the story behind the creation of your company?
Auterion was founded in 2017 by Lorenz Meier and Kevin Sartori, but our story actually starts back in 2008 when Lorenz Meier started the Pixhawk project at ETH.
Soon after, the Mavlink and QGroundControl projects followed and in 2011 the open source flight control software PX4 was born. Having followed the growth of the drone market closely throughout, Lorenz and Kevin decided in 2017 to found Auterion with a clear mission of helping companies bring to market and operate safe, reliable drones with trusted software.
PX4 is like the Linux Kernel. Since the beginning, an estimated million drones (approximately 15% of the market and growing) are using PX4. PX4 is the core of the open source flight software platform. The long term vision is that PX4 will not only be used in drones but all Autonomous Robots and that Auterion will grow hand in hand with the PX4 customer base, similarly to Redhat in the Linux ecosystem.
What's your company culture like?
We are very ambitious on behalf of the drone community, we work closely with our customers and partners and we have fun while giving it our all!
Since December 2017, Auterion has grown from 2 to 40 employees. Needless to say, that's a lot of change over a short amount of time! It means that we continually work on setting in place processes while keeping the flexibility that's urgently needed when working with something as new and constantly evolving as open source drone software. Everyone in our team has contributed to our work processes and if you spot anything that could be done in a smarter way, then please speak up and take responsibility for implementing it. 🙂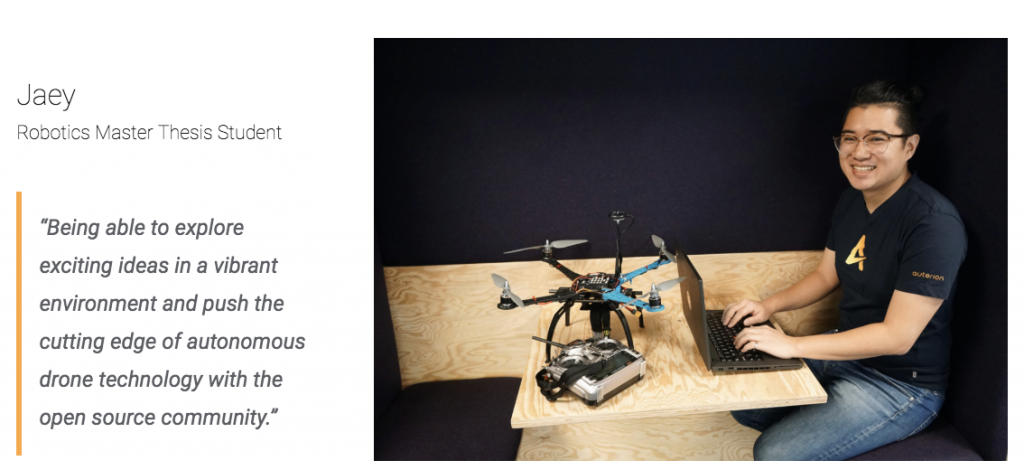 At Auterion, if you have an idea, you check in with your team and then run with it. It's easy to point to problems, and whilst that's important too, we really want you to spend most of your time developing solutions. We're a supportive team and if you need support or a second pair of eyes on something, your team is there to help.
Our company culture is dynamic and entrepreneurial, we have a focus on risk-taking and innovation, we pride ourselves on flat hierarchies, flexibility, and open-mindedness. One of the greatest drivers of our productivity stems from empowering our employees to innovate and work autonomously, by avoiding micro-management practices.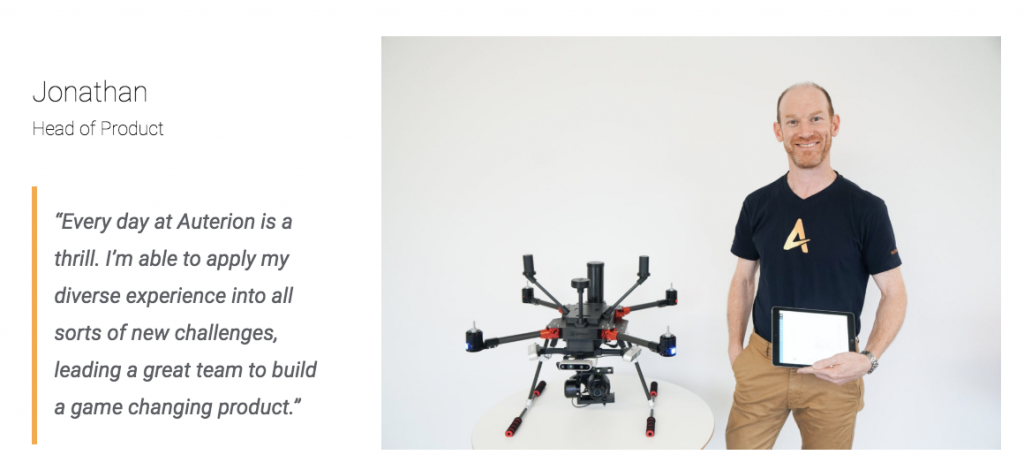 You will find a friendly and open-minded atmosphere at Auterion. We are a diverse and international group of people that take care of each other; we have lunch together every day and we inspire each other to do great things!
What is your team like? How do you work?
What you do here really matters. Not only does being 1 out of 40 in the team mean that you have a huge impact on Auterion's future. You'll also get to impact the thousand and millions of drones flying around out there with your work in it!
Being part of Auterion also mean wearing different hats and exploring new areas. Of course, you will get to hone in on your unique skills but you'll also get the opportunity to expand your technical skill set dependant on what avenues our customers want to explore.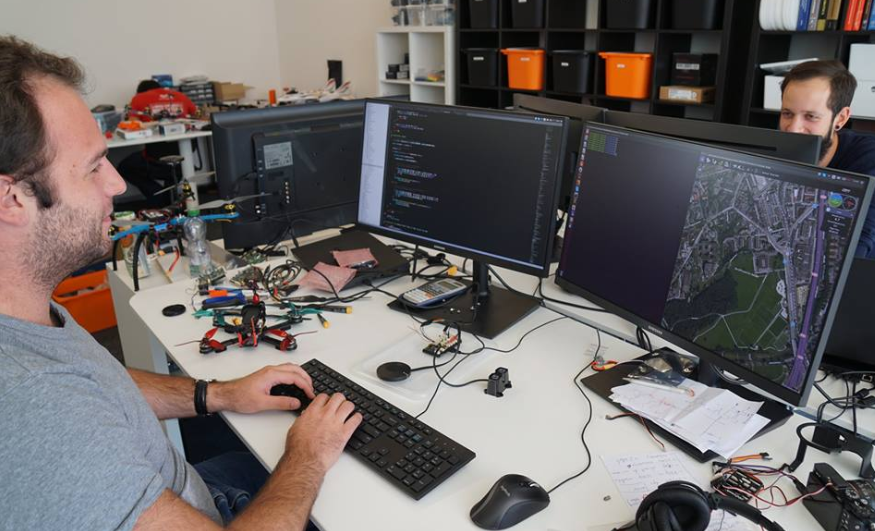 Being a startup in the new and fast-growing drone market, we highly value agility and flexibility in our way of working. Priorities will sometimes change, not only dependent on our customers' needs but also very much dependent on how we want to explore the endless possibilities for drone software! We have a close relationship to the PX4 open source community, to which we are also the main contributors, and we host weekly developer calls and work with the community to align software development strategy.
We work with a variety of different customers from OEMs and suppliers to government departments across the globe. Each project and drone prototype we work on is different and understanding how customer needs differ and change along the way is very important to us.
We pride ourselves in developing pioneering drones software in close collaboration with the open source community, however, we are not just another R&D department. We are curious and explore many different solutions, but always with a strategic view of the future of drone markets and a tactical view of our client's imminent needs.
Our project work is carried out in 2-week Sprints and we predominantly follow SCRUM methodologies. However, we are not orthodox in our choice of methodologies and we always take time to consider what structure and processes fit each project best.
What kind of people are you looking for?
Fellow drones enthusiasts, of course! That being said, it's not a must that you have your own fleet of drones at home (but you'll probably start building that fleet once you're at Auterion!).  If you're already a part of the PX4 open source community, then that's definitely a plus but it's not a requirement.
We are looking for people who want to make a real difference for the future of commercial drones. Our biggest impact is made with the solutions we develop and the problems we solve for customers and that's where we want our people to focus their time. While optimizing also is important, we always start with a customer problem and work our way back to a solution.
We are always looking to speak to great software engineers (C/C++), whether your interest lies in Web Application development and algorithms, Flight Control and Architecture or Computer Vision. In our Professional Services team, you have the opportunity to work on integrations in close collaboration with our clients' technical departments. If the business side of the software is more your thing, then we are always keen to speak to great communicators and tech-savvy Account and Customer Success Managers!
Academic backgrounds include, in particular: computer science, mechanical engineering, electrical engineering, physics and business. Essential skill sets in the drone industry include software engineering, mechanical integration, knowledge of embedded systems and system engineering.
Who's the best match for your team?
Curiosity and always having problem-solving at the forefront of your mind is the absolute key to being a true Auterion. If you're also a bright, independent, energetic and kind person, then there's a good chance you will fit in very well at Auterion!
What benefits and perks do you offer your employees?
We have all the perks you would expect from a great startup: an amazing industry (Robotics and Drones…need we say more?), incredible office space, a smart multidisciplinary team, a flexible workplace, plenty of food in the kitchen, and a pure mission that binds us all together.
Many opportunities to fly all possible drones in the field just 2 minutes from our office. 🙂
You will be based in the heart of Switzerland in Zurich's bustling city life, which is in close proximity to the natural beauty of the country and – of course – the Swiss Alps. We organize frequent team events, lunch and learn sessions internally, and external TechMeetup events. We create a supportive environment for you to achieve your goals and to be able to grow professionally and personally.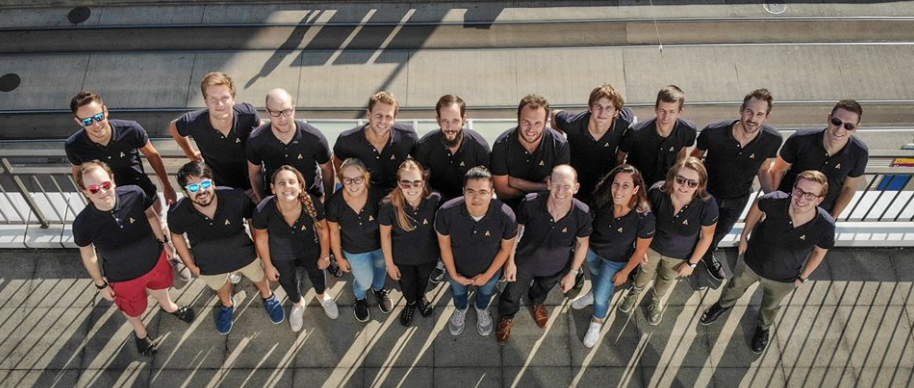 Their team is true full stack, from pushing electrons to pulling requests. They lay the foundation for a future of safe autonomous robotics, and they need more Auterions to join their team. Are you in?
Meet Auterion's recruitment team this May in our Zurich Tech Job Fair. We can't wait to see you there!
Visit their website and follow them on Twitter, Facebook, Youtube and LinkedIn for more updates.