Original post by NIKOS , Workable Blog
Spreadsheets and emails are not hiring tools
Everyone who's tried to grow a business knows that hiring the right people is probably the hardest part. You'd guess that companies use specialist tools to manage this important and tedious task. But you'd be wrong.
They do it already for every important aspect of their business. They have Trello for project management, Hootsuite for social media, Mailchimp for email marketing and Intercom for customer service.
But when it comes to hiring, a high-stakes investment where they'll choose their future team, what do they use? A tool built primarily for numerical data analysis. That old chestnut, the trusty excel. Why?
Does this sound familiar?
Chances are you know this scenario. You receive CVs into your inbox, you exchange some emails with colleagues to get their feedback and very quickly the CV is lost in your busy inbox or condemned to an email folder never to be found again. You waste time searching for CVs in email folders and lose track of your colleague's feedback and your own notes. Maybe the candidate's details have been entered into a spreadsheet for safe keeping, but maybe that's been forgotten and no one will check there again anyway.
A complete waste of time, but the worst part is it frustrates and distracts you from the real purpose of hiring: making hard people decisions. It doesn't end there. Without the right tools, it's hard to build long-term value from your candidate pool. There are gems to be found in those previous applications, but spreadsheets and inboxes are a sure way to never find them again.
It doesn't have to be this hard
There's a better, more efficient and more enjoyable way to manage your hiring. Modern, inexpensive recruitment software helps organise your hiring by keeping all the information in one place. They automatically store candidate details, feedback and communication online in an online, collaborative space where you and your colleagues can find and sort them out.
Need to check the resume of a candidate you spoke to a couple of weeks ago? Sure, there she is in your candidate browser, a few clicks or a search away.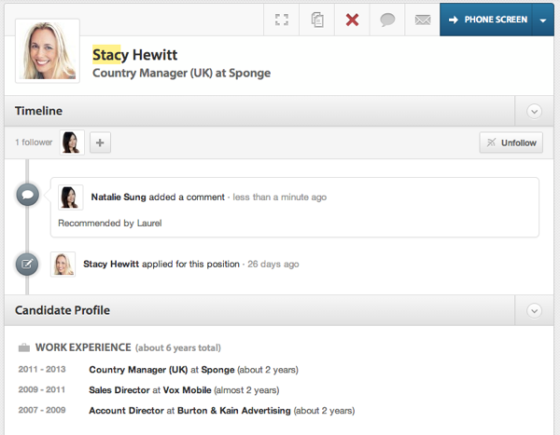 Need to see what your colleague Natalie thought of a candidate when she spoke to her? Sure, there is Natalie's feedback in the candidate's profile, alongside her work history and application details – all where it should be, stored together in one easy to find profile.
Join Startup Productivity Tools – Drinks & Demo Night! #TMUdrinks from 6:00 PM to 9:00 PM on 28 Nov 2013 @ Innovation Warehouse, 1 East Poultry Avenue, EC1A 9PT London, United Kingdom