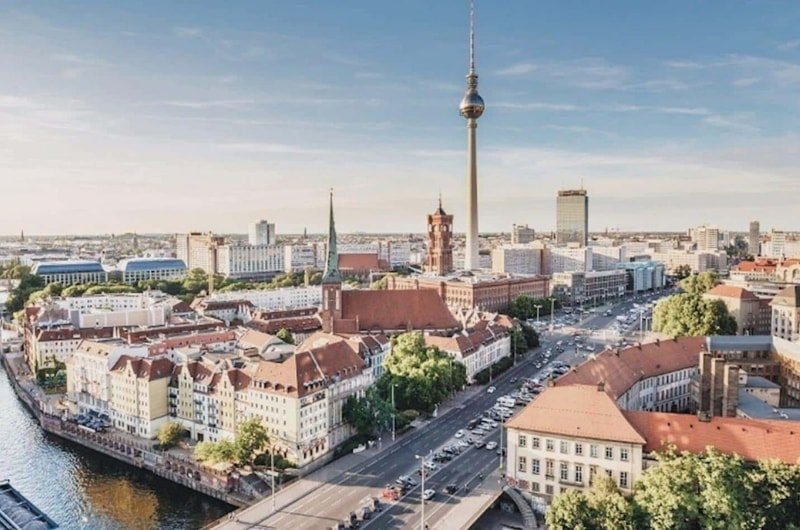 Berlin is a world city of culture, politics, media and science. Its economy is based on high-tech firms and the service sector, encompassing a diverse range of creative industries, research facilities, media corporations and convention venues.
Berlin serves as a continental hub for air and rail traffic and has a highly complex public transportation network. The metropolis is a popular tourist destination. Significant industries include IT, pharmaceuticals, biomedical engineering, clean tech, biotechnology, construction and electronics.
Berlin is home to world-renowned universities, orchestras, museums, and entertainment venues, and is host to many sporting events. The city is well known for its festivals, diverse architecture, nightlife, contemporary arts and a very high quality of living. Since the 2000s Berlin has seen the emergence of a cosmopolitan entrepreneurial scene, ever bustling with tech and startup energy. If you are looking to settle or set up work in the city, here is a list of the best coworking spaces to consider.
1. THUNDERBOLT COLLECTIVE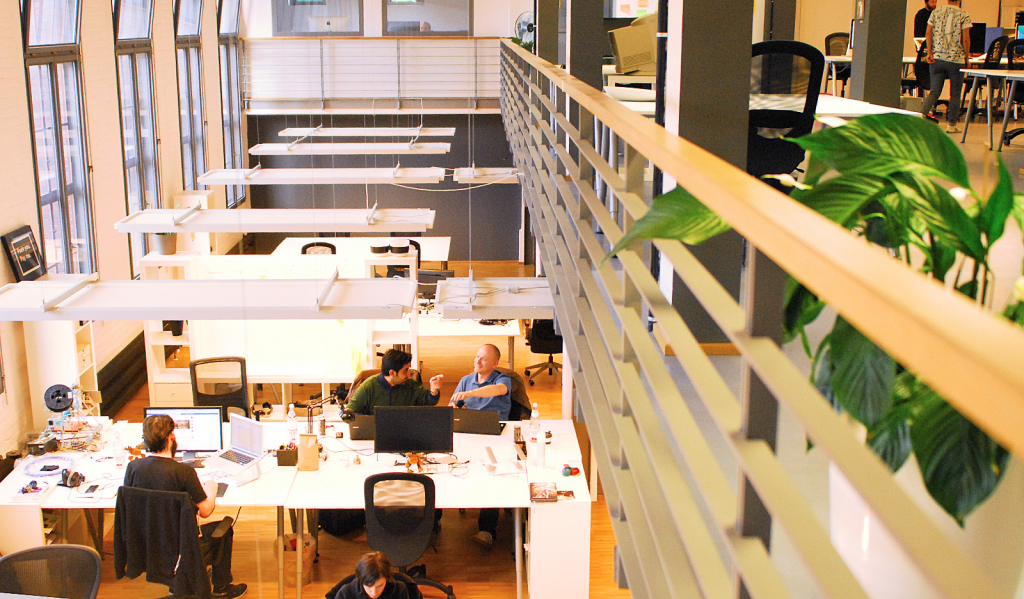 Located in 20 Paul-Lincke-Ufer, Berlin, Thunderbolt Collective sits in the creative and bohemian neighborhood of Kreuzberg in the heart of Berlin that is home to some of the top Internet companies in the city.
The area is a locals' favorite enclave because of its multicultural vibe, cobblestone streets, thriving art center and its dynamic bars and cafes. This is where the laid-back creative souls and culture lovers hang out.
Housed in a former electrical substation there is 600 square meters of open plan space. The space has quiet conference rooms for those essential private moments, a games area to get up to mischief when the brain needs a break from concentration and a napping room for when your brain totally implodes. You will also find a sumptuous living room with a fireplace, conference rooms for important meetings.
The coworking area has plenty of desks with elbow room so you can spread out while you work and you can use Thunderbolt's mailing address as your own. You will be joining an interesting bunch of creative souls from a diverse range of industries where collaboration and networking opportunities are plenty.
Their membership plan starts with a dedicated desk at 400 Euros a month.
For more information visit: Website   Facebook
2. WESERLAND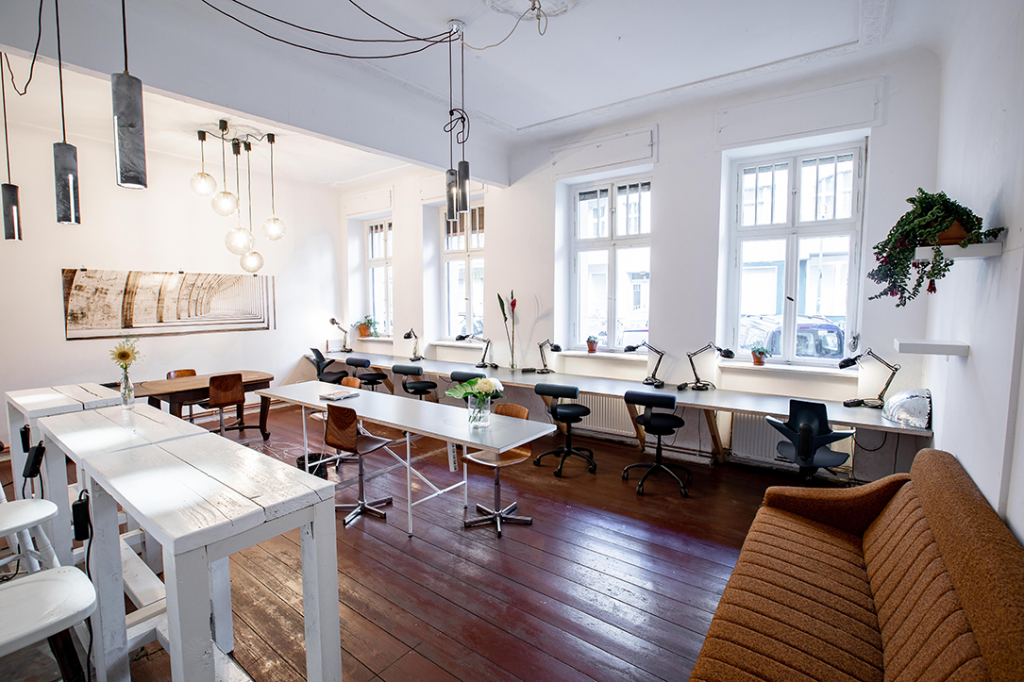 Located in Weserstraße 21, Neukölln, Weserland is a creative, active and collaborative shared space. For those seeking a unique coworking space, Weserland is where it's at. Open 24/7 throughout the whole year, they simply do not have a restrictive opening or closing time. They believe that people do work differently than others and that's okay. Whatever gets the work done!
Students, creatives, techies, entrepreneurs, freelancers, startups and even if you're someone who needs a space to get your tax declaration done, Weserland is a work environment where productivity is set on high. With much focus, you'll get your work done in a jiffy while still being able to have time for social networking. Weserland enables you to have work and life all in one
Membership plan; a hot desk at 15 Euros a day trial and 140 Euros per month. A dedicated desk at 250 Euros a month. A part time hot desk at 90 Euros a month, 2 weeks hot desk at 90 Euros for nomads.
For more information visit: Website  Facebook  
3. THE PLACE BERLIN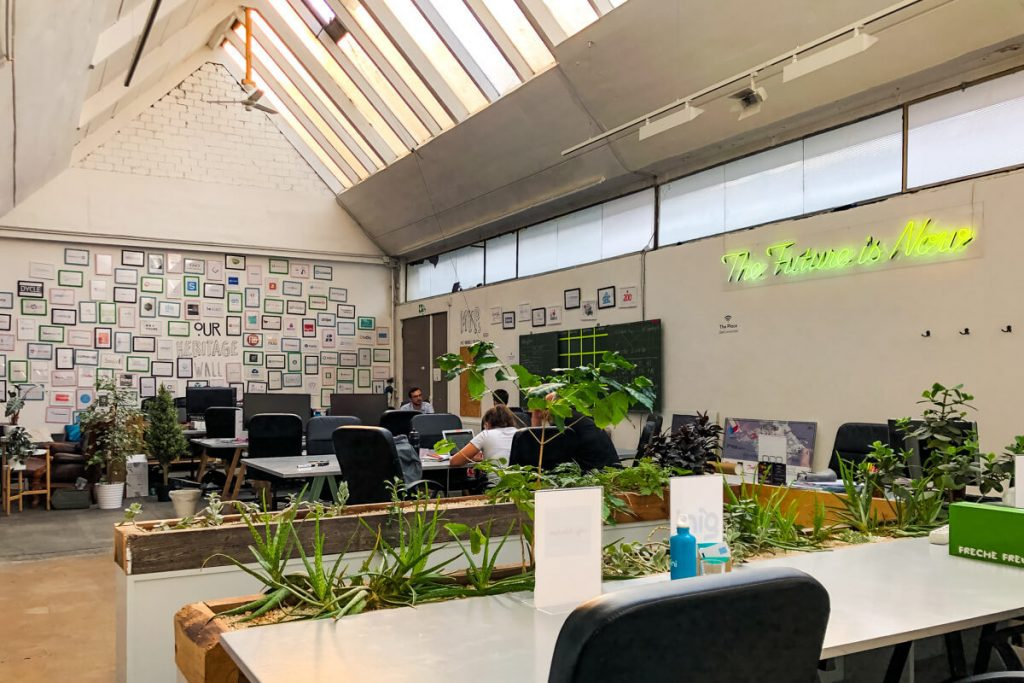 The Place is an international STARTUP hub,a stimulating spot within a former printing factory. Industrial ceilings and DIY-style space depicts how authentic and human-based the place is. Located in Charlottenstraße 2, Berlin and counting with diverse partnerships, The Place is definitely a key player of the Startup ecosystem in Berlin.
With five years of existence, a vast network of accomplished entrepreneurs and a unique free mentorship program, the space is focused on bringing only Startups in the house, as the main mission and expertise is to help founders get started.
Step foot into The Place and you'll instantly notice the dynamical rooms suitable for work and hold great events. The space proudly hosts more than 300 public or private, content & social-driven events as well as workshops per year.
Immediately you'll be surrounded by doers, thinkers, and kind souls; by people who have the craziest ideas and have come to Berlin to make them a reality. The members represent a bold voice in the startup ecosystem which means more than just good conversation—it means opportunities to connect, collaborate, and co-innovate.
Membership plan; a hot desk at 150 Euros a month, a dedicated desk at 250 Euros a month. A dedicated team table of 4 at 900 Euros and of 6 at 1300 Euros.
For more information visit: Website   Facebook 
4. B+ OFFICE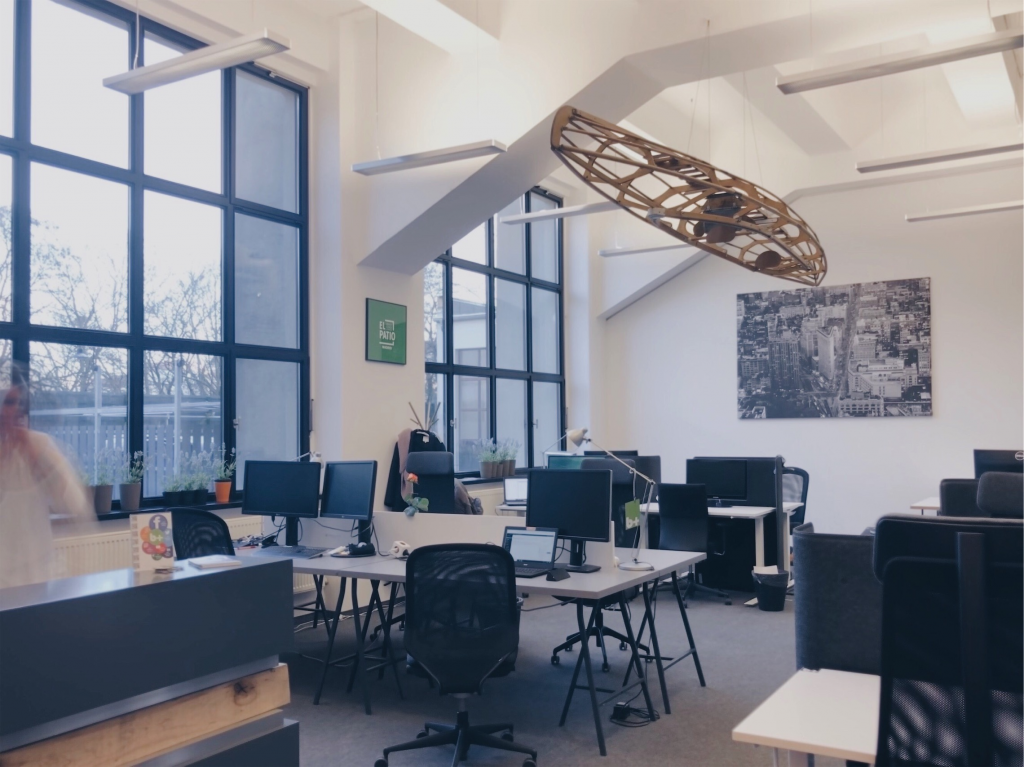 Located in 10 Dudenstraße, 1, Berlin not only is the historic Bauhaus loft a prominent and impressive setting, it is also easily accessible and convenient.
Having high ceilings, big windows and a floor area of about 50 sq metres, the space is light flooded and airy. A trendy and comfy place that makes the most of both design and function, easily enabling you to work creatively and efficiently as well as delighting your customers.
Amenities include; access to the conference room when needed, high speed internet connection, and so much more.
Membership plan; a hot desk at 17 Euros a day and 195 Euros a month. A dedicated desk at 275 Euros a month and private office at 1011 Euros a month.
For more information visit: Website  Facebook  
5. TECHSPACE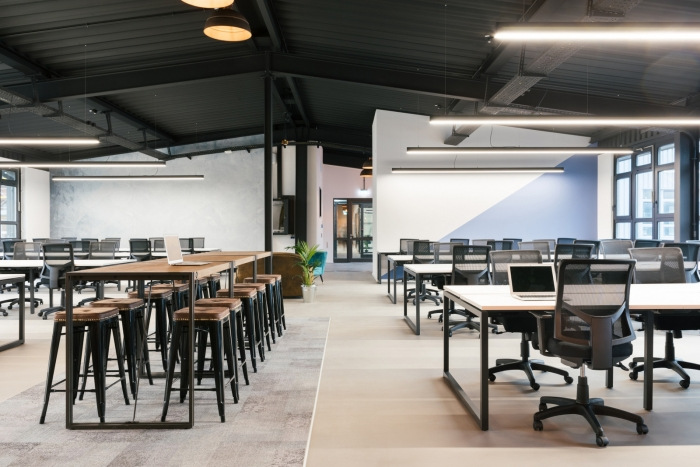 Located in  36 Lobeckstraße, Berlin, Techspace is a European network of coworking spaces where companies can innovate and grow together.
Techspace Lobeckstrasse is perfectly situated in the heart of Kreuzberg, South East Berlin, in an area bustling with personality and creativity. The old industrial building has been converted into a charming high ceiling office space full of natural light, a private courtyard and balcony for our team of 500+ members to enjoy.
Membership plan; a dedicated desk at 325 Euros a month, a private office  for 16 at 6,864 a month.
For more information visit: Website   Facebook 
6. ENKLAVE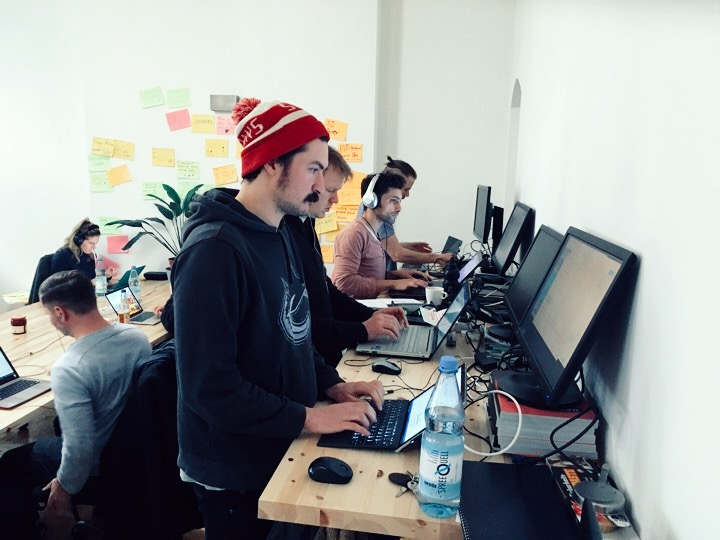 If you like to start your workday with a strong caffeine hit and stimulating conversation then Enklave is the place to be. Located near the U8 Station Boddinstraße, there are plenty of shops, cafes and restaurants to run to if the desire hits you, rather than work mode. The former airport Tempelhof – now called Tempelhofer Freiheit- is only a 2-minute walk away. Members have 24/7 access, so the workaholics will be grinning all day and all night as they can work when they choose to.
You can be as social as you want to be or work in your own little bubble if you like flying solo. The premises will have the design gurus in their happy space, as Enklave is a refurbished factory with 7 rooms of different sizes and unique designs to get you in that innovative mood. You will only pay for the actual hours of space that you use and you can cancel at any time, as there are no long contracts.
You can become a member on a full time basis, a flexible pay-as-you-go scenario or claim your own fixed desk for longer. The bonus is that you can enjoy a free day trial to check it out. Take note that Fridays are reserved as beer tasting days! Membership plan; a Pay As You Go deal at 29.99 a month or 0.99 Euros per hour, a hot desk at 149.99 Euros and  a dedicated desk at 299.99 Euros per month.
For more information visit: Website
7. JUGGLEHUB COWORKING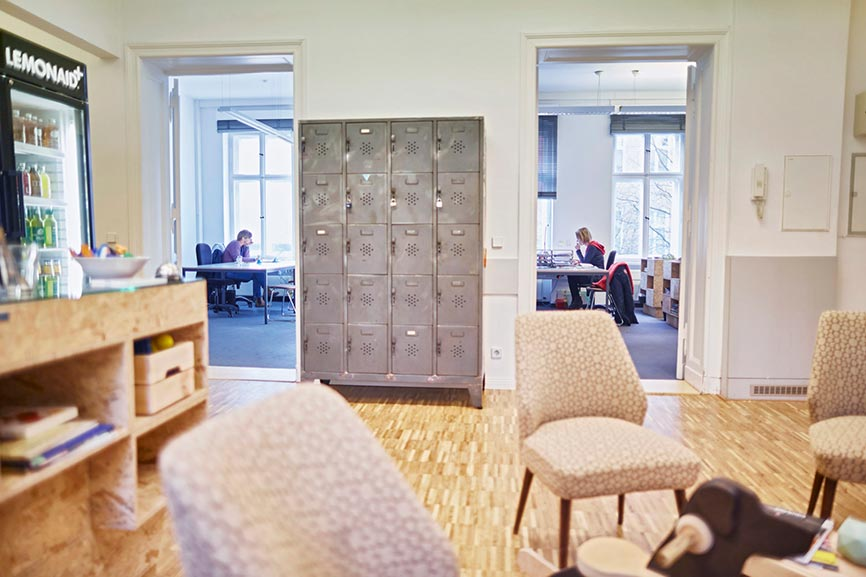 Located in Christburger Straße 23 , 1, Berlin, juggleHUB is a coworking space, event location, café and the perfect extension of your home office or company office.
In addition, juggleHUB is the first Berlin coworking and event space with flexible childcare. A place from which ideas and teams emerge and grow, where both budding founders and established entrepreneurs come together, where parents write business plans, develop apps and give workshops while their children can play or relax a few doors away. At juggleHUB people with a multitude of experiences, backgrounds and professional know-how come together, inspiring each other and finding room to work together.
Coworking and childcare can, but are not required to go hand-in-hand. Our childcare service can be booked flexibly and as needed within our childcare hours. It is also available for those offering or attending events
Membership plan; a hot desk at 15 Euros a day, 80 Euros a week and 119 Euros a month. A dedicated desk at 269 Euros a month. A private office for 6 at 1800 Euros per month, and a 6 months deal at 1620 Euros per month. A private office for 2 at 600 Euros a month.
For more information visit: Website   Facebook  
8. TECHCODE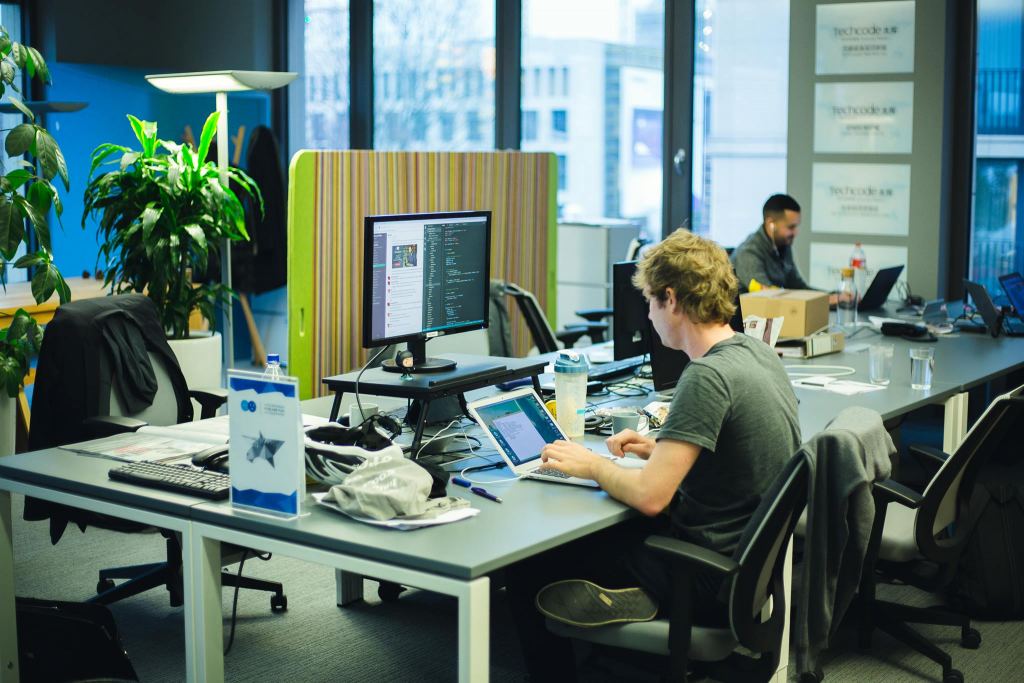 Located in Karl-Liebknecht-Straße 5, Berlin, neighboring Alexanderplatz, literally a few paces away from Hackescher Markt, Berliner Dom and Museumsinsel , with your mind immersed in the most Berlin scenario and your heartbeat synchronized with its vibe: maximize your productivity inside TechCode, quench your thirst for historical, cultural and culinary Berlin outside! 1400sqm bright and cozy co-working space awaits your brilliant startups and companies. Feel as comfortable as in your own living room, unfold your creativity and raise the next unicorn here!
Whether you are entrepreneurs, startups, freelancers or bootstrappers: focus on your business, we take care of the rest.
As one of China's most famous Tech Investors with accelerator programs all over the world, Techcode is located in Seoul, Tel Aviv, Helsinki, Silicon Valley and of course throughout China in Beijing, Shanghai, Shenzhen, etc, giving you access to a truly global network. If you happen to be interested in entering the Chinese market, you are welcome to talk further about their acceleration programs and your path to China.
Membership plan; a hot desk at 160 Euros a week, 280 Euros a month. A dedicated desk at 400 Euros a month. A private office for 2 at 800 Euros a month, for 4 at 1600 Euros a month, for 6 at 2400 Euros a month.
For more information visit: Website  Facebook
Whether you are looking for inspiration, your next co-founder or demonstrate your startup,  Berlin Drinks And Demo Night  is the event to attend on 18th September 6PM and the Berlin Tech Job Fair on 7th November . Visit Techmeetups.com   for more information about these events and how you can get more out of the experience and also get yourself a ticket!
Website: Techmeetups.com  visit and treat yourself to a community of tech business events and support!
TechMeetups.com 8 years. 21 cities. 68 job fairs. 1100+ hiring companies. 60,000+ job seekers.