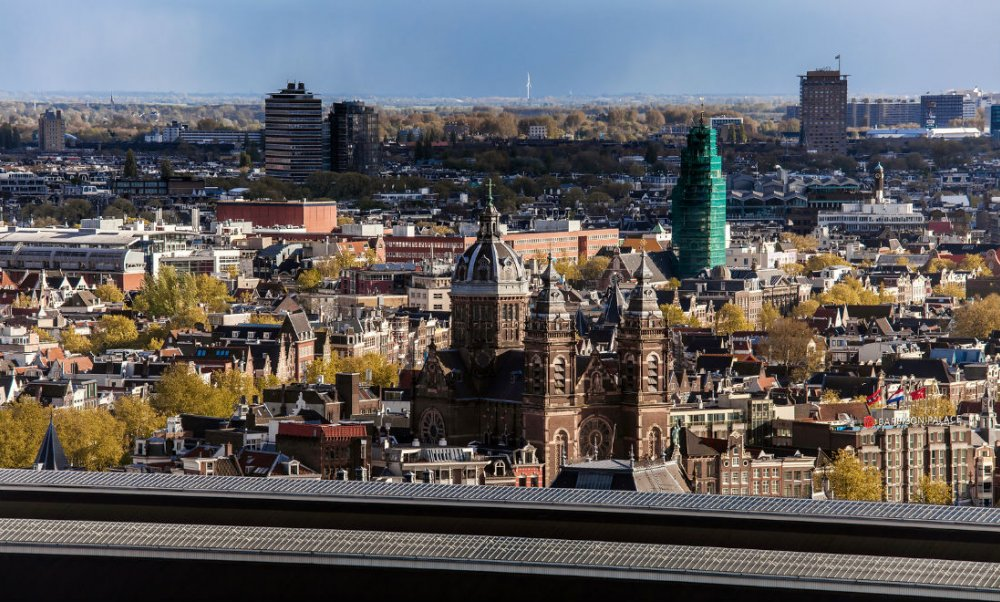 As the commercial capital of the Netherlands and one of the top financial centres in Europe, Amsterdam is considered an alpha- world city by the Globalization and World Cities (GaWC) study group. The city is also the cultural capital of the Netherlands. Many large Dutch institutions have their headquarters there, including Philips, AkzoNobel, TomTom and ING.
Also, many of the world's largest companies are based in Amsterdam or established their European headquarters in the city, such as leading technology companies Uber, Netflix and Tesla. In 2012, Amsterdam was ranked the second best city to live in by the Economist Intelligence Unit (EIU). The city was ranked 4th place globally as top tech hub in the Savills Tech Cities 2019 report (2nd in Europe).
The forward-thinking and technology-driven city that Amsterdam has become makes it a prime area for startups to start, grow, and flourish. There are quite a few incubators in Amsterdam to help any startup get off and running. Plus, with Amsterdam being a magnet of tech talent, it makes it nearly impossible for companies to not open up in Amsterdam to take advantage of the vast amount of tech talent. Here are the best coworking spaces to kickstart your tech business in Amsterdam.
1. MINDSPACE DAM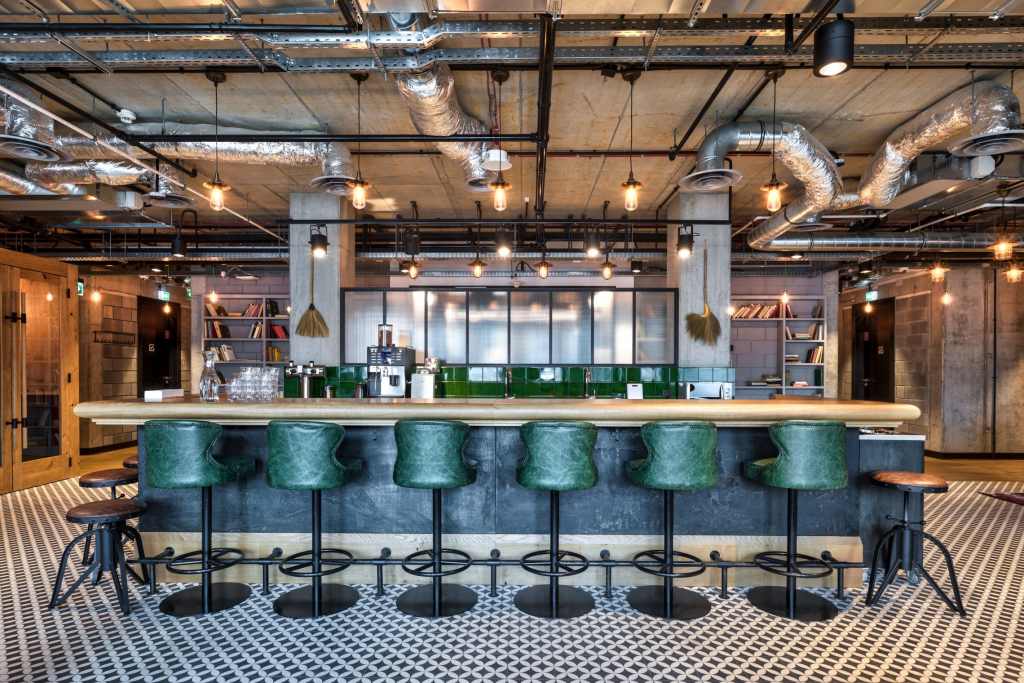 Located in  162 Nieuwezijds Voorburgwal, Mindspace is a global-boutique coworking provider and the most member-centric operator in the world. At Mindspace, people are  excited about coming to work so their business can thrive. Member companies see better employee engagement and satisfaction, drive higher productivity and innovation, attract and retain the best talent, and have the peace of mind to focus on their business.
The Mindspace Experience combines boutique personal service, inspiring and beautifully designed offices, vibrant and professional communities, and wellness, lifestyle and professional programs. Mindspace workspaces are in a class of their own: primly located, uniquely designed, and extremely loved by  members. Visit their website or come experience Mindspace in one of the 28 locations in Europe and the US.
Membership plan; starting at 320 Euros per month for open seating, private office of 2-4 seats at 1200 Euros, 6-7 seats at 2700 Euros, 8-10 at 3600 Euros, 20-30 seats at 13000 Euros.
Amenities include; fast internet, a solid global network, professional events, weekly yoga, showers, pet-friendly space.
For more information visit: Website  Facebook  
2. STARTDOCK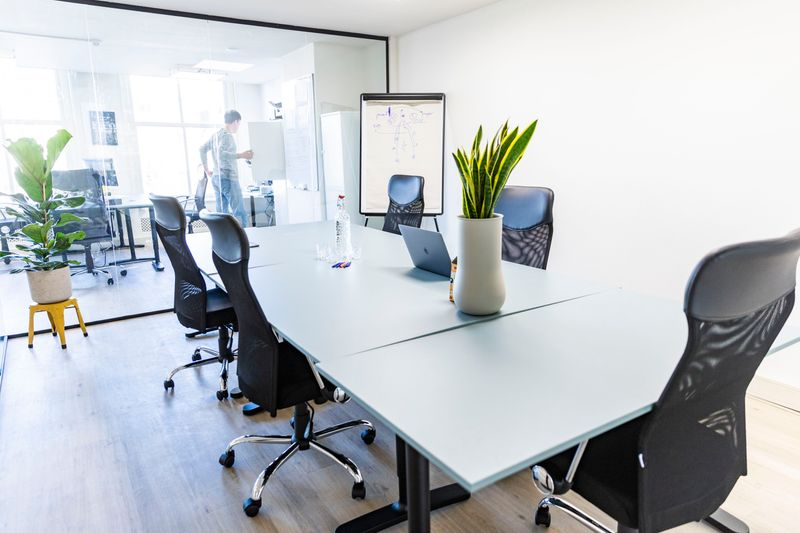 Located in  420 Herengracht, Amsterdam, at StartDock, they embody what coworking is about: collaboration over competition, standard Friday afternoon drinks together, living as a warm community of like minded entrepreneurial people that help each other grow.
At StartDock, work life is better. They have created an optimal ecosystem for you and your company, based on five core values: collaboration, community, openness, cosiness and accessibility. Companies to naturally grow fast, and StartDock stimulates this growth. You alone can do it, but you can't do it alone.
What makes StartDock unique is the tightly knit community. It empowers you in your daily endeavours and long-term ambitions. Furthermore, when we work, we work. You can't strive to be the best and don't put the hours in. So that is what the space does, and aids you in doing. StartDock has another office at Keizersgracht 4821017EG, Amsterdam.
Membership plan; starting at 69 Euros a month for a flexible desk. A basic desk at 219 Euros a month, a premium desk at 329 Euros. A private office at 700 Euros per month.
Amenities include; company registration, printing facilities, meeting rooms, fast internet and unlimited tea and coffee.
For more information visit; Website  Facebook
3. TRIBES AMSTERDAM AMSTEL STATION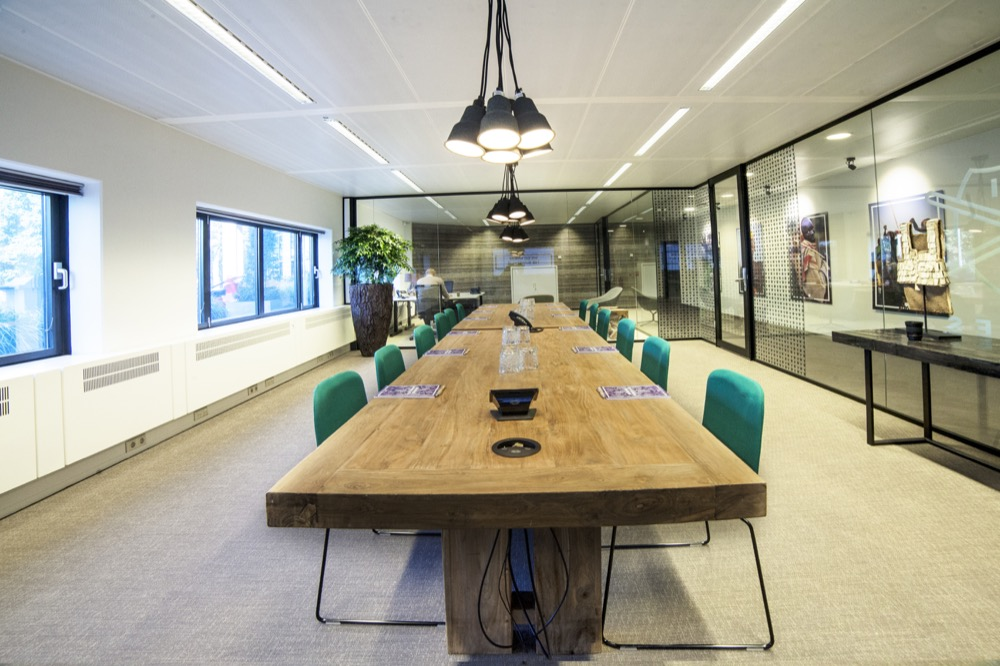 Located in 200 Prins Bernhardplein, Amsterdam, a coworking space that goes the extra mile to keep your working environment perfect, Tribes Amsterdam refresh the air in the office 8 times per hour! Add in light steering to ensure that you don't succumb to headaches and migraines and this is the perfect place to work in.
This is only 1 space under the umbrella of "Tribes" where you can rent a workspace, languish in your own personal office or create a virtual office. The decor is inspired by the Suri tribe whose fascinating traditions and artifacts will be a constant source of inspiration. Other locations include; Tribes Amsterdam Schiphol 1-3 Thomas R. Malthusstraat, Amsterdam and Tribes Amsterdam South Axis SOM  7 Claude Debussylaan, Amsterdam.
There are over 194 workspaces at Tribes Amsterdam catering to local professionals, digital nomads of the wandering kind, startups and entrepreneurs. You can rent for a day, a week, a month or longer whatever suits your needs. There are numerous decked out meeting rooms to invade equipped with top quality audio and video materials for that conference or brainstorming session. Or, you can enjoy the benefits of a Tribes' business address without having to be there as they offer fax, mail and phone handling services for virtual offices.
An inspiring workplace you will have a fully equipped work area with high-speed Internet and all the IT and telecoms infrastructure you need to get creative amidst 5-star amenities. Perks include a great library lounge, dry-cleaning services for when you drop your lunch in your lap and even a shoe repair service if the sole of your shoe disappears on the way to work.
Once you become a member of a tribe, you will have access to Follow-Me printing, scanning, faxing and copying, so when you forgot to print your documents, you can get them at the next Tribes location you're visiting.
Membership plan; you can purchase a business card at a one time fee of 99 Euros for 10 times access to all locations and a community card at 149 Euros per month for unlimited access to any Tribes location.
For more information visit: Website  Facebook  
4. MERKSPACE ZUIDAS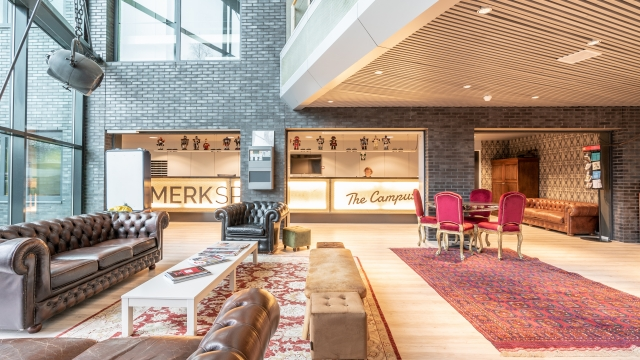 Located in 12 Professor W.H. Keesomlaan, Amstelveen, Amsterdam, Merkspace is a boutique co-working and private offices complex and a home to start-ups, project teams, freelancers and creative entrepreneurs.
The office on Herengracht is the first international expansion of the Merkspace concern, which originates from Tel-Aviv, where Merkspace was created to serve the booming tech start-up scene. Now Merkspace expands even further with the new Amsterdam/Amstelveen location and even more to come. Besides offering a desk in an inspiring working environment, Merkspace offers a chance for you to connect to an international network of other co-workers!
Membership plan; a hot desk at 150 Euros per month, a dedicated desk at 180 Euros and a private office starting at 800 Euros per month.
Amenities include; flexible membership, In house restaurant, shuttle service, business lounge, gym and spa facilities.
For more information visit: Website   Facebook  
5. HACKERS AND FOUNDERS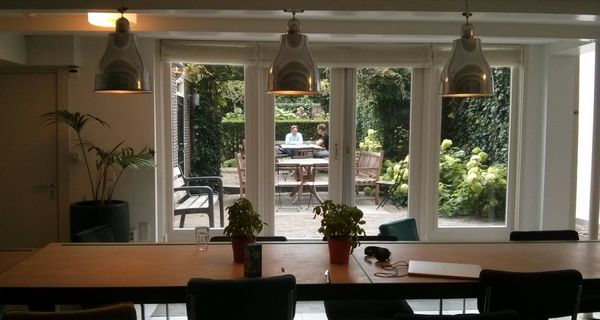 Located in  Herengracht 504 , Amsterdam, hey techies, Hackers & Founders have an exceptionally wide connection of technology entrepreneurs and developers – biggest community in the Netherlands so you might want to get a head start and keep reading to know more about them. Get into the circle of awesome forward thinking techies who know when to get work done and have time to develop new innovations.
Located in central Amsterdam in the Golden Bend near Vijzelstraat, Hackers & Founders is a fully equipped coworking space with great sturdy desks and comfy seats. You'll also enjoy kitchen access, super speedy internet, great coffee by Lot Sixty One Coffee Roasters and even be able to join a barbecue session in their sunny south side facing garden. They even have Yoga every Wednesday. It is also a great place to host meetups.
They've got a big connection of techies but they're also friendly and supportive. With such a community, you'll find yourselves among professionals who share the same values and outlook in work as well as life. As like minded individuals in one conducive atmosphere, you can't help but to produce greater results in your work as well as grab opportunities for collaboration. Get in touch and give Hackers & Founders a nudge.
Membership plan; 250 Euros per month for a desk.
For more information visit: Website  Facebook 
6. WICKED GROUNDS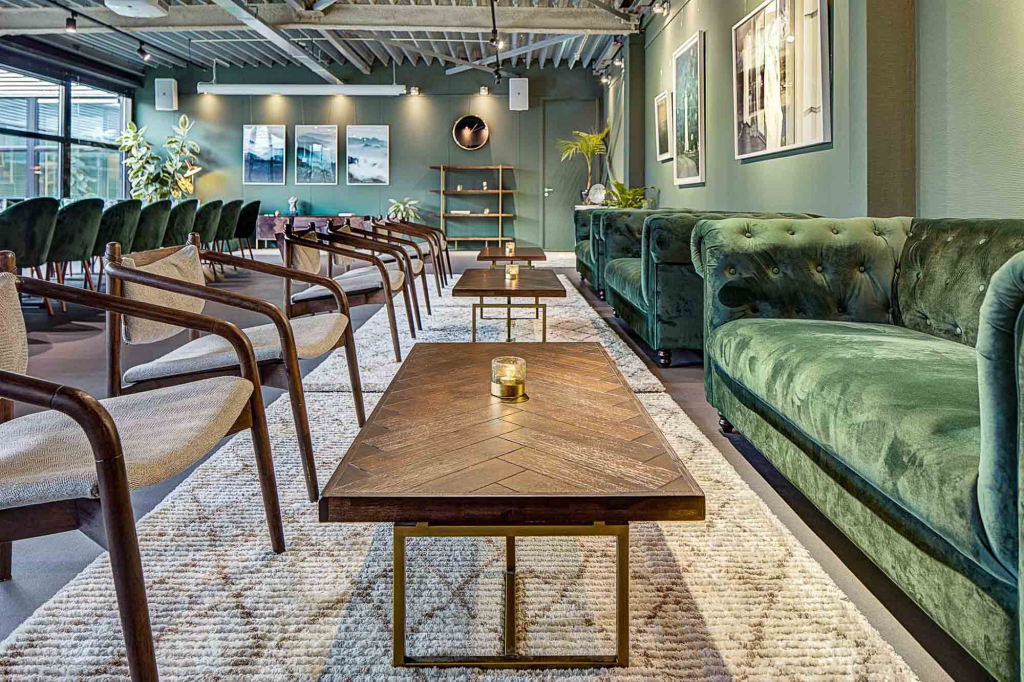 Located in  Schinkelkade 30, Amsterdam, the space is about environment, diversity and community, at Wicked Grounds professional independents from various industries work better together in a shared workspace where there's fully equipped facilities and dynamic members.
Choose from affordable day pass rates or monthly flexi plans perfect for different work needs. Members have unlimited access during weekdays, high speed internet access, use of the chill out canteen with free coffee and tea, bookable meeting rooms as well as member rates at the bar.
Not only is Wicked Grounds a place to get work done, it's also a space where you can connect with the community and engage in collaborations which help launch your professional growth forward.
Locations; Generaal Vetterstraat 551059BT Amsterdam where the Lounge, Warehouse, Suite, Apartment, Lodge, Cabin, are located. The boardroom located in Tweede Schinkelstraat 261075TT Amsterdam, a studio in Schinkel quay 301075VJ Amsterdam.
For bookings and more information visit: Website  Facebook
7. BAXTER BUILDING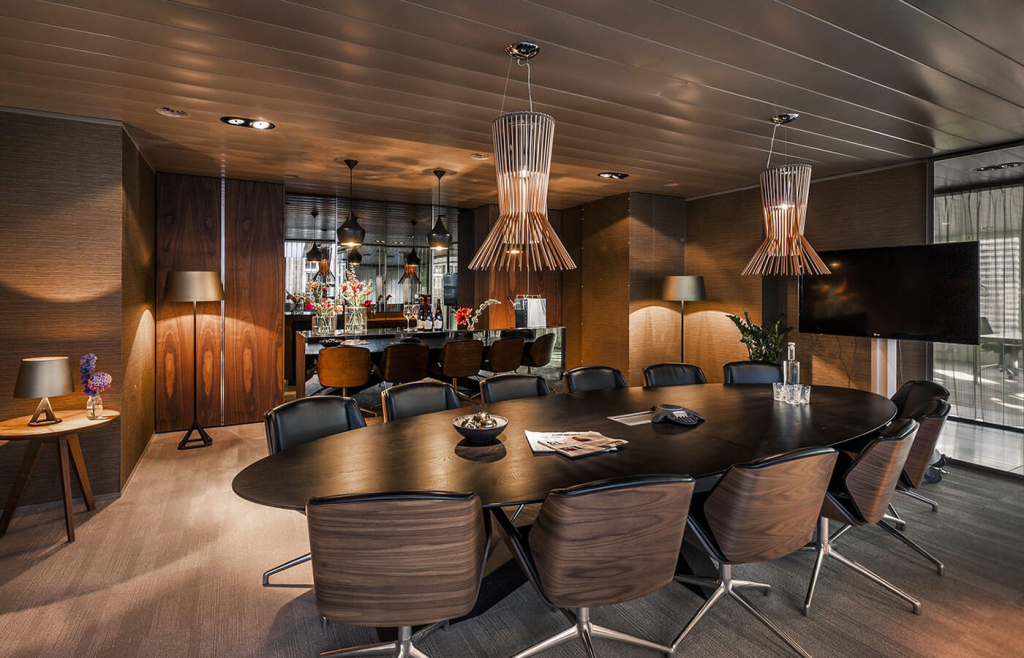 Located in  Muiderstraat 1, Amsterdam, imagine a high-end, flexible and comfortable business center. High-quality, shared-business facilities, a corporate look in an elegant and inspiring environment. And with a professional and at the same time personal service, tailored to your wishes and those of your clients. And all that in the middle of Amsterdam and yet easily accessible.
It exists. In the middle of the historic heart of Amsterdam, the iconic Baxter Building with its strikingly light and warm entrance forms an oasis of peace. Just steps away from Central Station and the A10 you will find the luxury and comfort of an exclusive five-star business office centre. But also ready-to-start, spacious business lounges and boardrooms, with high technical possibilities – and support, dedicated staff, culinary catering and underground parking.
The space offers opportunities for your own practice as well as a front office of your company or a corporate company. Here you reach the highest concentration, receive your clients and organize events, exactly as you wish. In your business suite or around our hospitality bar. Baxter Building creates the ultimate work environment for you, so you can concentrate on your core business.
Do you like to receive your customers in a special and professional environment? In Baxter Building you can have surprising and sparkling spaces for a business meeting or event.
The rooms of Baxter Building are versatile and therefore suitable for different purposes. From small board meetings, brainstorming sessions and large events to exhibitions, photo shoots and private parties, the possibilities are endless.
Membership plan; the executive suite at 1850 Euros per month, the company office at price on request and a virtual office at 275 Euros per month or 3000 Euros per annum.
For more information visit: Website  Facebook
8. WORKSPACE 6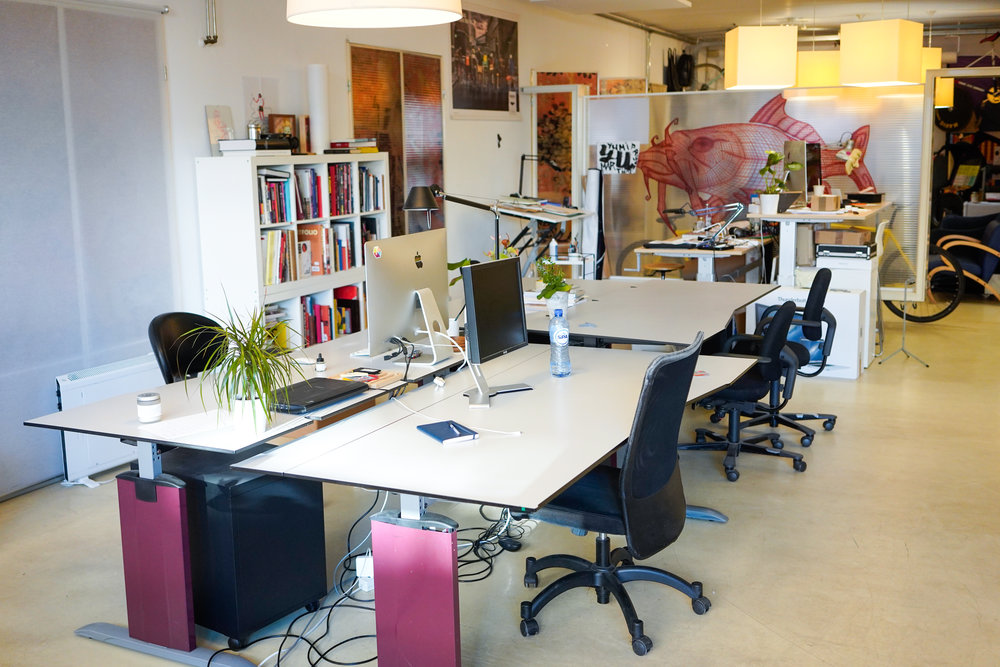 Located in  6 Tussen de Bogen, Amsterdam, Workspace 6 has been an inspiring place for productive and collaborative work for 8 years. The space is proud of fostering an environment for innovation and diverse ideas with tenants across a range of industries.
The coworking space is a meeting point for entrepreneurs, startups, freelancers, corporates and artists. It is much more than a collection of coworking desks. The most important thing is to create an engaging community in which the members can bring their ambitious ideas to life. Every day there's a community lunch in the space, which is a great opportunity not only for building relationships in a relaxed environment but also to create a friendly and community feeling for everyone.
The space has taken pride in creating an artistic environment since 2010 that mixes vintage art, a special collection of bicycles and diverse passions. If you have a passion for music, there's also a band room with guitar amps, keyboard, upright piano, mic, mixer and drums!
You can choose from different varieties of desks in the space for a flat rate. You can claim it for yourself or move around within the space as you like. And, if you are not the classic desk person, we have a standing desk and lounge area and several rooms with a cozy and friendly atmosphere.
Membership plan; a flexible desk at 250 Euros, a dedicated desk at 300 Euros.
For more information visit: Website   Facebook
Whether you are looking for a job, your next co-founder or recruiting your tech talent, the Amsterdam Tech Job Fair   is an event to attend on 20th November, 6PM. Visit Techmeetups.com   for more information about the event and how you can get more out of the experience and also get yourself a ticket!
Website: Techmeetups.com  visit and treat yourself to a community of tech business events and support!
TechMeetups.com 8 years. 21 cities. 68 job fairs. 1100+ hiring companies. 60,000+ job seekers.