Many potential new hires who have applied for, been interviewed for, or even been offered a position are now in limbo. Since social distancing, self-isolating and working from home has become the new norm, due to the coronavirus (COVID-19) pandemic, recruiting and hiring at this time and after, has its own challenges. The steps HR and hiring managers take today to avoid losing out on top talent and bolstering their employer brand will determine the future of most businesses post the COVID 19 outbreak.
Human Capital Management (HCM) Suites for High-growth Enterprises: The Ultimate Guide [Buyers Guide]
Your HCM System controls the trinity of talent acquisition, management and optimization – and ultimately, multiple mission-critical performance outcomes. Choosing the right solution for your organization….Download
Will the coronavirus outbreak turn the remote workforce into the new reality? Should hiring managers and employers invest in digital interviewing tools? Our panel of HR experts lead this conversation by weighing the pros and cons of the new workforce reality and share 15 unique recruitment strategies to hire talent and stay ahead of the curve.
As more and more employers look for alternative strategies to manage the workforce, here's your vital briefing on:
How companies need to pivot their recruitment marketing strategies
How to shift processes during this time of crisis
What role HR technology plays to facilitate the shift
1. Lean on HR Technology to Manage Communications, Productivity, and Recruitment

Lindsay Dagiantis, VP of human resources, Envoy Global
"Technology is a key aspect that can help all teams, particularly HR professionals, manage communications, collaboration, and productivity during this time of uncertainty of the COVID-19 outbreak and help HR teams shift processes to keep current talent on track. With an overwhelming amount of changes, like corporate office closures and the temporary suspension of visa appointments with the government, HR teams, foreign nationals and their attorneys have a lot to keep track of. Businesses can implement technology to combat these challenges and streamline immigration-related services, facilitating a clear line of communication between all parties involved. At Envoy, our technology solutions are optimized to manage and streamline the processing of all necessary information throughout the immigration process. Human resources teams are already tasked with keeping track of various documentation throughout the petition process, so when instances like these arise, our technology is pivotal to helping facilitate cross-team communication and functionality at the most normal capacity as possible."
Jennifer Ho, vice president of HR at Ascentis
"HR technology not only plays a key role in ongoing recruitment but can also be leveraged to keep current employees engaged and aligned during a time of social distancing. Fluid, timely communications during a time where we can't have the "personal" touch HR teams love, technology enables us to create more personalized experience for both new recruits and current staff."
2. Go Digital in Recruitment and Onboarding

Jeanniey Mullen, chief innovation officer, DailyPay
"Industries need to immediately shift to a heavy reliance on digital for all aspects from recruitment, interview, onboarding and even termination pay. The use of digital job boards has become more popular. Growth industries, including Supermarkets are supplementing digital with grassroots efforts including in-store posters to reach people where they are.
"We have accelerated recruitment timing at DailyPay. We're in a unique position. As a fast-growing startup we provide mission-critical services for over two million employees. Anticipating a re-emergence after the global health crisis calms down, we're not only focused on today, but hiring for tomorrow. We've pushed our HR Tech to help us thrive. We repurposed sales technology to enable video, chat, and TriNet, for seamless onboarding option."
Manon DeFelice, founder and CEO, Inkwell
"Since in-person recruitment is not possible now, processes are shifting toward digital recruitment approaches. Companies will inevitably rely on trusted referrals since they will not be able to meet their new hires face-to-face. It is essential for companies to think beyond traditional "boys' networks" and tap into more diverse talent pools for their referrals.
"Companies should make the hiring process like how the candidate will work at the company; they should mirror each other. Since we are all working virtually, interviews will need to be done virtually as well. Video conferencing technology enables organizations to connect with candidates in one-on-one chats and/or video presentations. Like in traditional interviewing, video interviews should be thoughtfully planned, with a formal structure and outline of areas to cover, with candidates well prepped in advance on the technology that will be used for the interview."
Learn More: 15 Free Tools to Streamline Remote Work During the Coronavirus (COVID-19) Crisis
3. Shift Focus to the Current Workforce Rather Than Hiring New Talent

Lindsay Dagiantis, VP of human resources, Envoy Global
"Recruitment has become increasingly difficult during this time of uncertainty, especially concerning foreign national talent. With foreign-born workers making up about one-fourth of the U.S. STEM workforce, HR leaders are not only struggling to maintain recruitment efforts, but also placing an increased focus on communication and care, shifting processes to focus on their current workforce. For companies who rely on bringing talent from offshore facilities to the United States on an as-need basis, such as IT companies, we expect to see this talent remain outside the U.S. and projects across several industries see a slow down on completion.
"The recent travel bans, closures and suspended visa appointments due to the COVID-19 outbreak all play a part in the logistics of foreign talent looking to secure and maintain jobs. Since there are so many unknowns when it comes to the impact of the pandemic, many HR teams are having to take a different look at their recruiting and talent acquisition activities and strategies. However, this gives HR professionals the chance to manage their current foreign talent and extend resources to help guide them through this unprecedented time. For example, over-communicating and empathizing with foreign talent through virtual lunch and learns, real-time updates and newsletters are all working to shift away from recruitment strategies to hone the wellbeing of their current foreign talent."
4 . Remote Hiring Is the New Future in a Post-Pandemic World


Chris Vennitti, president (mid-Atlantic), Addison Group
"Companies need to first let the public know they are still open, still hiring and moving forward. The available candidate pool will gravitate towards those firms who are active in outreach.
Additionally, companies should refresh and cleanse their job postings online, new postings will get the most traction and ones posted even a month ago will be viewed as potentially not relevant anymore. Once this is accomplished, it's important to live by a new process of "remote totality" which includes attracting, screening, recruiting, onboarding, training and developing a work routine for all new hires remotely."
5. Continue Recruitment Efforts Using Virtual Interviewing Technology

Peter Baskin, chief product officer at Modern Hire
"The Coronavirus outbreak has forced many HR teams and recruiters to work remotely, they're now relying heavily on virtual interviewing technology to maintain recruiting efforts. In-person interviews, conference calls and standard face-to-face meetings have now been shifted completely online. But while this pandemic is impacting the way we work, it's also impacting the needs of some businesses that need to hire more urgently than ever before. As a result, hiring qualified talent in a quick and efficient manner is crucial to fill open positions and continue providing strong business outcomes during this time.
"As more and more of the workforce is working from home indefinitely due to COVID-19, HR is relying heavily on video interviewing, which will lead to HR teams starting to either reevaluate or leverage the technology they are using at scale. While tools like Hangouts, Zoom or GoToMeeting are convenient, they're not designed to fit interviewing needs, as they're designed for video conferencing. As a result, HR technology such as virtual interviewing solutions have been vital in the role of providing recruiters with the tools needed to complete a quality interview that is efficient and enhances the candidate experience."
Tim Ihlefeld, president, Harqen
"Digital interviewing platforms like Harqen allow businesses to continue their hiring activities, including engaging and evaluating candidates, while also compressing their hiring timelines. In fact, Harqen has shown to deliver up to 70% improved time to hire, which ultimately enables organizations to win the competition for talent.
"HR technologies supports employers' efforts to focus on business continuity plans and strategies. Remote HR workforce management tools are crucial as businesses shift strategies and enable employees to work from home (or remotely) so quickly and efficiently. The fast pace of innovation in the HR industry makes the talent acquisition cycle faster, simpler and more effective even when face-to-face meetings cannot be conducted. Digital interviewing will continue to expand and grow beyond the COVID-19 crisis."
6. Pivot to Hiring Candidates for Flexible Roles

Manon DeFelice, founder and CEO, Inkwell
"Because of COVID-19, recruitment marketing strategies will need to pivot to focus on hiring candidates for flexible roles that can also be done from home. There are long-term benefits to having a more flexible workforce that will last well after this period is over. Flexible jobs help diversify teams by keeping parents – especially women – in leadership roles. Shifting to a more flexible workforce can also help companies save money by only paying people for the work needed in the moment during these turbulent times and beyond."
Dr. Iman Abuzeid, co-founder and CEO, Incredible Health
"COVID-19 has led to hospitals having to be more flexible during the recruitment and hiring process. Current hospital staff have been redeployed to areas facing the greatest need, like the emergency room (ER) and the intensive care unit (ICU), and out of the operating room because many elective procedures have been put on hold. It's expected that about 8% – 10% of COVID-19 cases will be healthcare workers, which is the percentage in Italy, so hospitals will need to prepare for a significant portion of their staff to become sick.
"As hospitals continue to rapidly hire healthcare workers, hiring managers can use digital platforms to enable automatic screening, automatic matching, and phone and video interviews. They might also remove the peer interview from the process to allow staff nurses more time on the hospital floor. Healthcare environments also need to adjust their workforce planning to enable more flexibility, and include adding more part-time and per diem roles to meet hiring demands."
Learn More: Coronavirus Pandemic: 7 Business Continuity Planning Guidelines for HR
7. Invest in Agile Assessment Solutions to Support a Remote Work Environment

Tim Ihlefeld, president, Harqen
"Recruitment and related marketing strategies that remain the same as before COVID-19 will likely fail due to the following reasons:
Shifts in the labor environment
Changes in regulations around how nonessential businesses can conduct daily operations
The pace at which hiring needs to happen in many industries

"The virus revealed the need for technologies that support a remote workforce environment, needs that were previously misunderstood, undervalued or unknown.
"Businesses must now account for this immediate shift, which includes updated and revised talent acquisition processes. Agile digital interviewing and assessment solutions deliver efficiencies and predictive insights for multiple HR processes, including candidate assessment and prioritization.
"For example, during the initial assessment process, Harqen's on-demand interviewing technology can analyze and recommend candidate compatibility from a single interview response, using machine learning algorithms. Hiring managers can then focus their efforts on those candidates most qualified and suited for the position."
8. Review Your Applicant Tracking System (ATS)

David Webb, CEO, BrightMove
"Good processes should work during this time. It's a great opportunity to review your processes to ensure they scale in this real-world test. Your strategy should be to rely on your applicant tracking system (ATS) more than ever. If you're fortunate enough to be recruiting for industries that are expanding, hiring additional recruiters should be part of your strategy.
"The right ATS partner is crucial to respond to market shifts. Your ATS should scale based on your needs with no disruption to your business."
Read the full version via https://www.hrtechnologist.com https://www.hrtechnologist.com/interviews/recruitment-onboarding/hire-talent-post-coronavirus-pandemic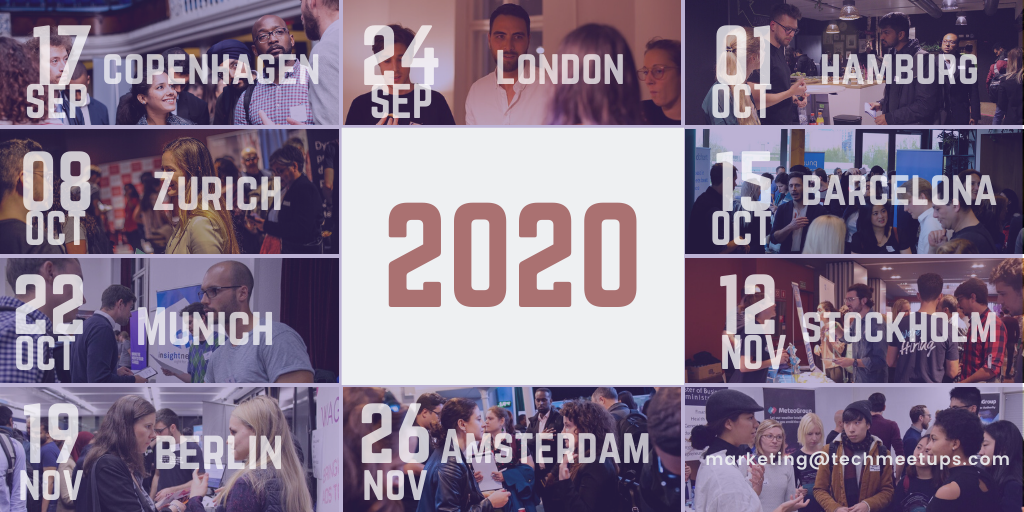 Techmeetups is a Global Tech Community existing 9 years, with 22 interconnected communities, 75 organized job fairs, 1100+ hiring companies and 65,000+ startups, students and graduates, professionals, coders, salespeople, financiers, marketers & developers across the world.
We help companies through Events like Meetups, Open House, Networking Event, Job Seekers Night, Drinks & Demo, Pitch night, Candidates Interview Event, recruITech, Workshops, Hackathons, Job Fairs, Developers Speed Dating, Matchmaking Event.
Join our events and communities in London, Berlin, Amsterdam, Barcelona, Paris, Lisbon, Stockholm, Madrid, Copenhagen, Hamburg, Munich, Dublin, Bern, Zurich, Stuttgart, Frankfurt https://techmeetups.com/events & jobs http://www.techstartupjobs.com