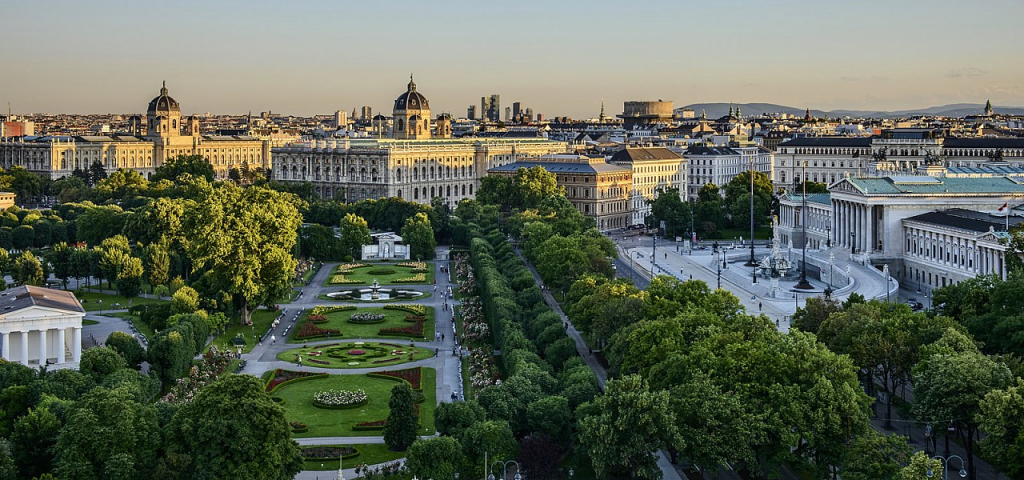 Vienna is one of the wealthiest regions in the European Union. The city improved its position from 2012 on the ranking of the most economically powerful cities reaching number nine on the listing in 2015.
The city is one of the most vivid, diverse and fast-growing tech scenes in Europe. With Germany to the North, Vienna continues to profit from its high quality of life as well as its abundance of talented labour and high-level research. This balance between quality of living combined with affordable prices makes Vienna a city where one can enjoy working in the very best conditions.
Also, home to a number of international companies, among them is Hewlett Packard, Henkel, Baxalta and Siemens. Aside from many companies and start-ups, several technology labs are situated in Tech Gate Vienna buildings (a science and technology park in the City of Vienna, situated in the Donaustadt. It was built between 1999 and 2005) such as the Austrian Institute of Technology.
Having a healthy economy and focus on the service sector as well as specialist areas of research and IT, Vienna has numerous startups working on the solutions that will benefit society for good. If you are looking to settle or work, here are the best coworking spaces in Vienna.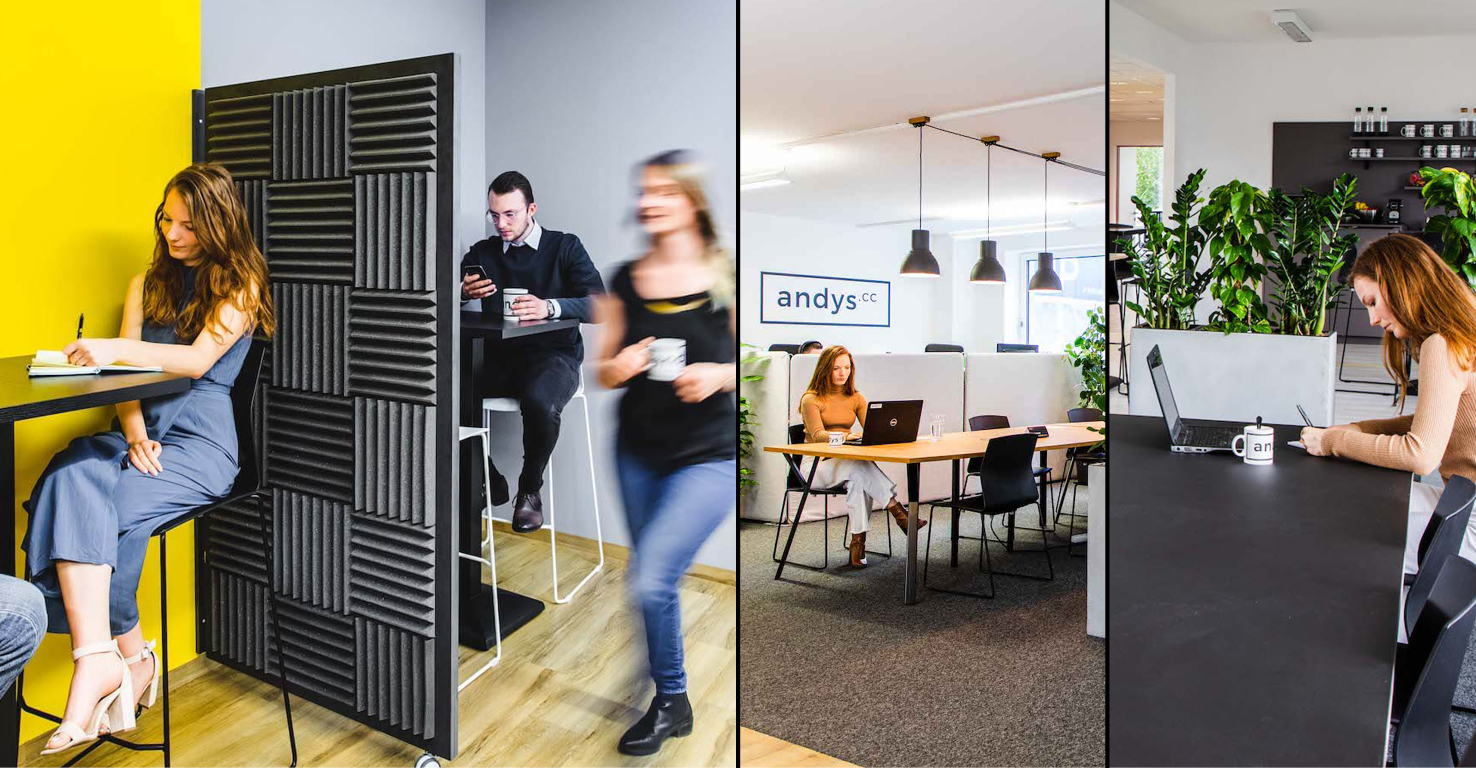 Experience efficient coworking in the andys Coworking Center. It's more than just a coworking space, it's an all-in Services with professional infrastructure and high-qualitative technologie where you can focus straight on your business! andys.cc has already six locations, five of them in Vienna. Many more are planned cause andys wants you to offer a professional working environment wherever you need it. You can get access with a flexible choice of the workplace from as little as € 180,- per month. Access 24/7 via smartphone, coffee, tea, printing & scanning, W-Lan are just a few of the many services that are already included free of charge with membership.
THE COLLABORATORY Co-Working and Events Space thecollaboratory.at
The Collaboratory is Vienna's #1 Co-working Space For Expats. They are the only co-working space in Vienna to offer to babysit to its members!
Affordable, fully equipped fixed and flexible desk space The Collaboratory is situated in the heart of Vienna's 7th district.
We have good news for you! The Collaboratory is the coworking space in Vienna that offers Virtual coworking and various regular events for the English-speaking community (language café, games evenings, etc.)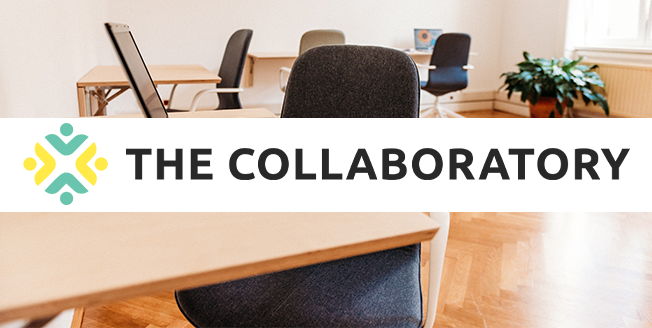 Their members enjoy free in-house legal counselling. With their help, you can navigate the oft-complicated Austrian legal system while building up your network in Austria and pursuing your dreams. Explore what works best for you – whether it is a monthly plan or stopping by for a few days a month.
For more information visit Website  Facebook
STOCKWERK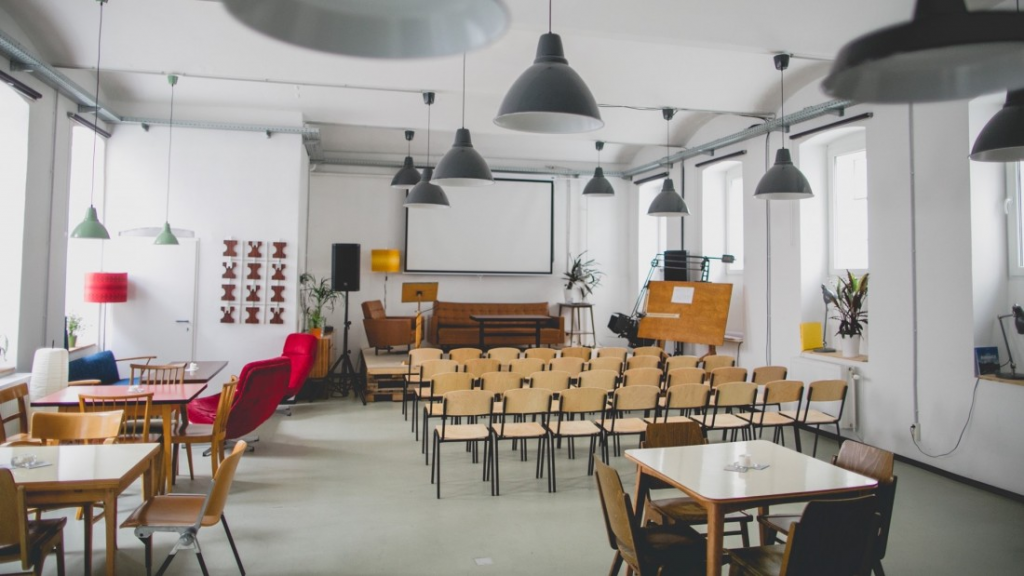 Located in 11A Pater-Schwartz-Gasse, Vienna, offering coworking stations, meeting rooms and the ability to create a virtual office, Stockwerk in Vienna won't mind if you use their address when you become a member. Attracting a diverse community of like-minded individuals from startups to entrepreneurs, local professional freelancers and small businesses as well as plenty of foreigners to its doors, Stockwerk is a modern enclave of coworking space.
The refurbished old factory has an inspiring urban event space that is a meeting point as well for coworking souls to discuss, develop, work and concentrate. Here it is possible to chill out, have some fun or do some impromptu networking showing off your dynamic personality. There is a bar area where you can grab a caffeine shot, have a game of table tennis or recline on a sofa for a quick nap.
Memberships on offer are flexible and the fees are affordable. A flex desk at; 15 Euros for one working day, 70 Euros for five working days, 120 Euros for 10 working days and 170 Euros a month will give you access every working day from 9 am to 6 pm but you will have to pack up your stuff at the end of the day.
A fixed desk at; 200 Euros per month for Junior, 240 Euros per month for an Extra and 290 Euros per month for Deluxe, will be yours exclusively with shelf space to stash your goodies and can be used by 2 people simultaneously. You will also have space to proudly put your name and access 24/7 so that the workaholics are smiling.
For more information visit Website  Facebook  
IMPACT HUB, VIENNA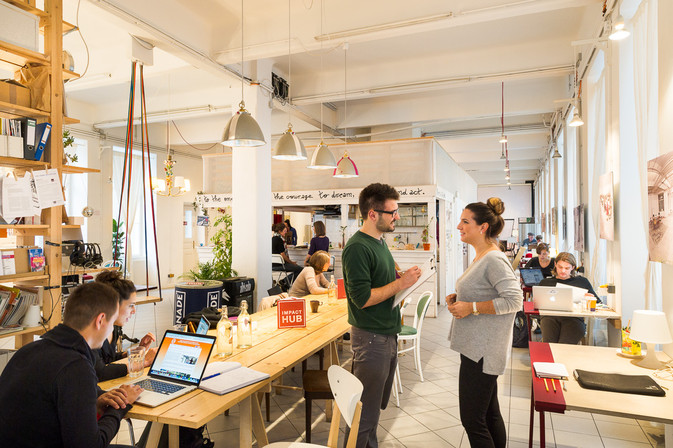 Located in  Lindengasse 56, Top 18-19, Impact Hub Vienna is an accelerator for social startups, a coworking space and a community for people that want to change something in our society. You may choose to co-work, to network, to incubate a project or business and much more. Grab a coffee or a  salad with us.
Our community consists of creatives, entrepreneurs, investors, freelancers and probably anyone who is interested in working together, sharing ideas as well as resources in order to increase work value, productivity and to improve our world. The environment is really community-driven whereby members are dedicated to realising possibilities.
Impact Hub is a synonymous name in the coworking culture. If you don't already know, they've got spaces and a community all over the world from Amsterdam to Johannesburg and all the way from Singapore to San Francisco
Membership plan; 35 Euros for 10 hrs per month, 60 Euros for 25 hrs per month, 120 Euros for 50 hrs per month, 175 Euros per month for unlimited access, 225 Euros per month for unlimited access plus a dedicated desk.
For more information visit Website  Facebook  Twitter 
CO-WORK VIENNA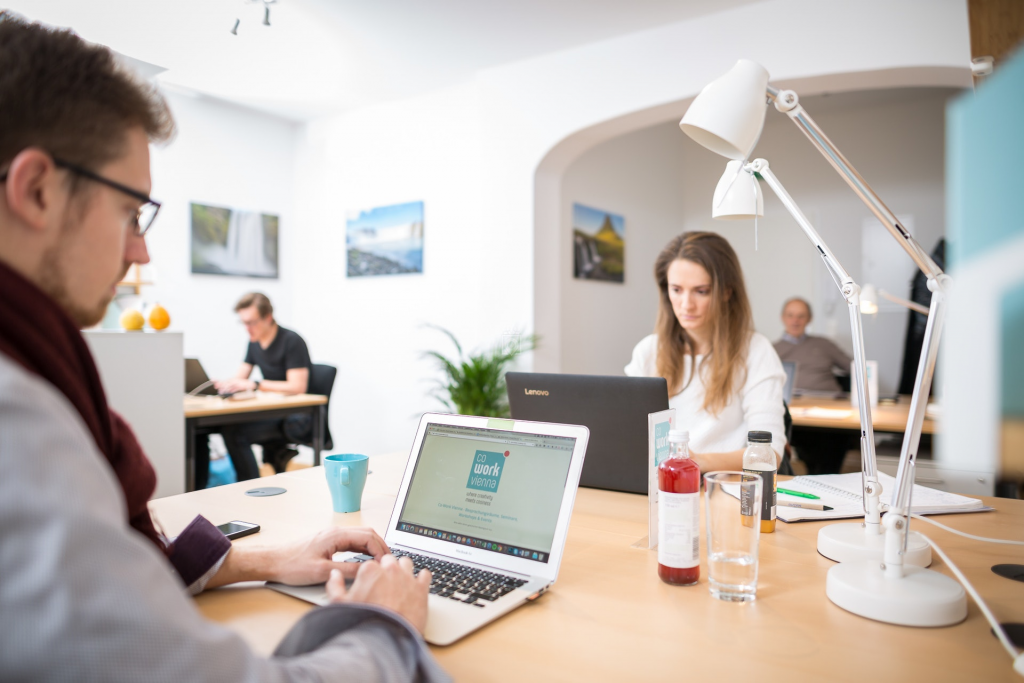 Located in  Stiegengasse 11, cosy co-working space in the beautiful ambience of a carefully renovated Biedermeier house right next to the vibrant Naschmarkt. 15 fix and 8 flex desks on two levels. 2 meeting rooms, 2 kitchens and a shower available to coworkers. Green courtyard, 55 sqm roof-top terrace and urban gardening for the exclusive use of the community. Very well connected to public transportation (U4, U3, 57A)
Membership plan; a flexible desk at 160 Euros per month, a fixed desk standard at 250 Euros per month and a fixed desk premium at 290 Euros per month. A 10 working days pass at 110 Euros per month, working day ticket at 15 Euros and a registered office at 70 Euros.
For more information visit Website  Facebook  
DAS KOMMOD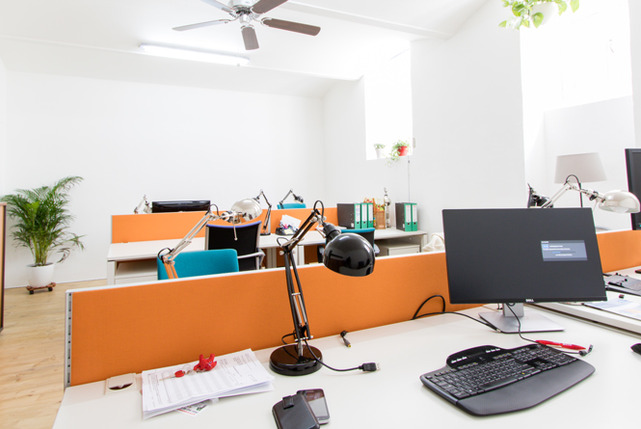 Located in  Esterhazygasse 11A/2-3, believing that you should have a personal, comfortable and uncomplicated work environment, Daskommod offers you a professional infrastructure in a sympathetic coworking space so that you can concentrate on your work or project. Founded in 2015 in a cosy space of 136 square meters, it is a pseudo home without the disruptive influences.
A professional coworking space for startups, entrepreneurs, local freelancers or people who simply do not like to work in the isolation of a home environment, Daskommod is the answer. Membership fees are on a monthly basis; at 195 Euros and 245 Euros per month, a meeting room for up to 6 people at 18 Euros per hour and 85 Euros a day (9-18hrs).
You will have access 24/7 to satisfy the workaholics, your own fixed workspace that is fully equipped as well as lockable storage for your personal goodies. There are printing facilities available and a laminating/binding machine to play on. High-speed WLAN and backup WLAN will keep you connected and all of the odds and sods such as cleaning, insurance etc are included in your affordable coworking fees.
The meeting room can hold up to 6 individuals at any one time and is available for rent. It is fully equipped with presentation equipment such as a full HD projector (including adapters), hi-fi surround sound system, flipcharts and whiteboards.
For more information visit Website  Facebook  
LOFFICE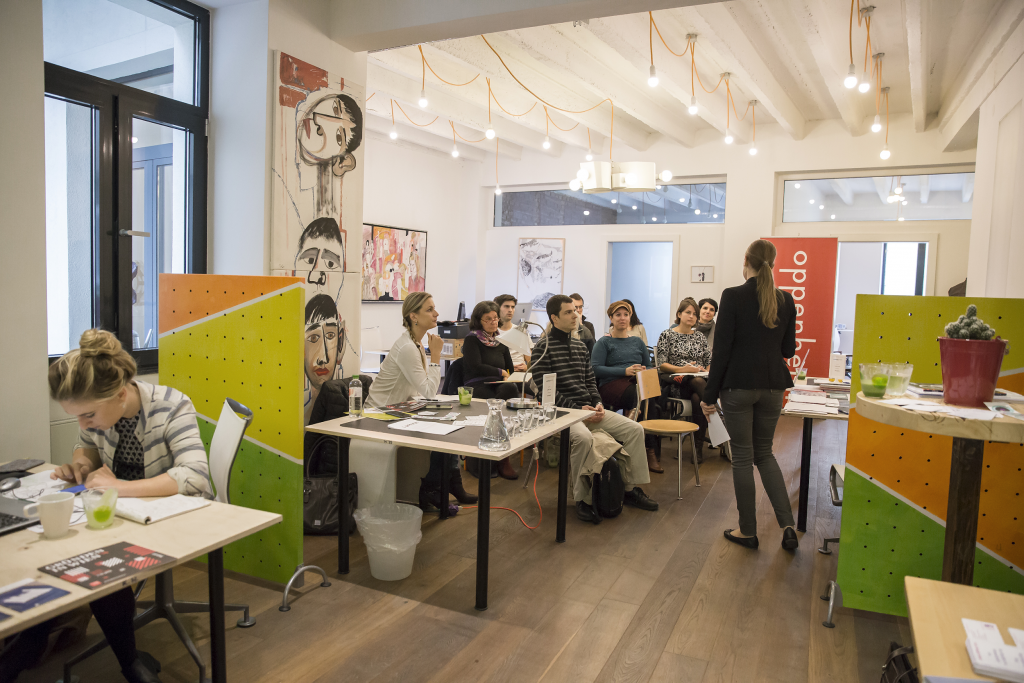 Located in  85 Schottenfeldgasse, Loffice is a new-generation office where the creative and the business world meet. It incorporates working, networking and relaxing, making it a place where everyone can find the space best suited to their activity.
Besides offering innovative workspace to entrepreneurs at multiple locations, Loffice has significant experience in providing a wide range of services, such as event organization and a variety of mentoring support, both directly via Loffice as through their third party network.
In addition to private workstations, Loffice offers a variety of office spaces, meeting rooms, event spaces and terrace. Their offices and event spaces can be found downtown of the two capitals. They are characterized by industrial design, recycled furniture, environmental awareness, ergonomics and the integration of contemporary art into the work environment.
Their goal is to help individual entrepreneurs by sharing our connections to micro and mid-size ventures and the startup sector. They have the capability to help startups efficiently and enforce their national and international presence.
Membership plans; a flexible desk at 20 Euros per day, 80 Euros per week and 120 Euros per month.  A virtual office at 160 Euros, a meeting room at 50 Euros and 40 Euros.
For more information visit Website  Facebook  
SYNERGY 7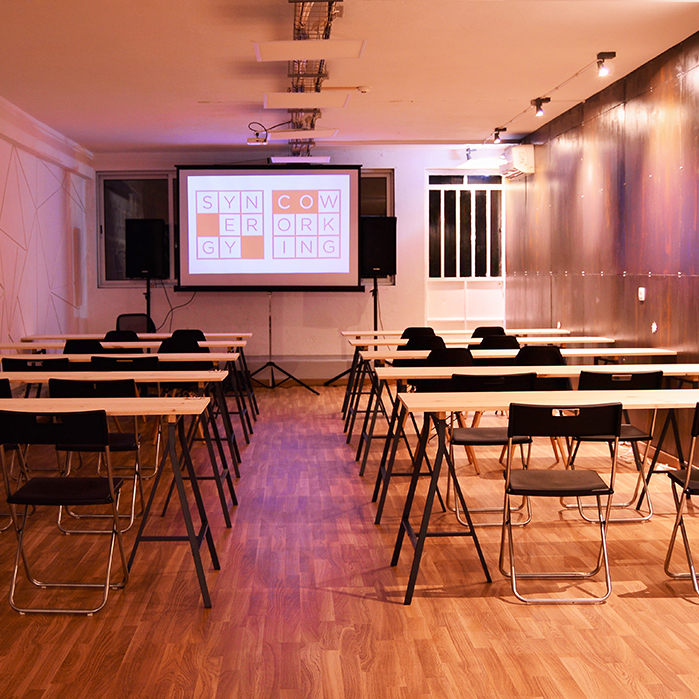 Located in 28 Westbahnstraße, Vienna coworking at Synergy7 will give you 12 spacious work enclaves. Sitting on the ground floor of a building, you can rent a workspace complete with your shelf to store your goodies on. There is access to an inner green courtyard for escapism moments and under-floor heating to keep you toasty and warm in the winter months.
The welcoming coworking community is a diverse mix of souls from an array of industries, think startups to entrepreneurs, local freelancers to small businesses and project leaders. A creative space with energetic vibes, you can quietly work in your own bubble or share the love and connect, collaborate and network with your coworkers.
Coworking membership fees start on a monthly basis and prices depend on the size of the table you choose, starting at 200 Euros per month.
For more information visit Website  Facebook 
FUNKENSPRUNG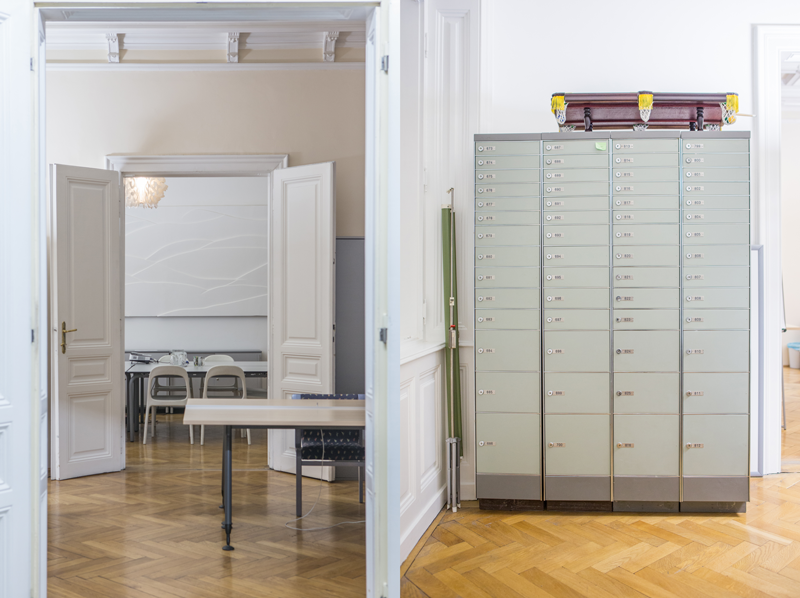 Ignite your entrepreneurial spark at one of Funkensprung's three venues in Vienna: 01 Rasumofskygasse 26 1030 Wien, 06 at  Hütteldorfer Straße 63-65, 1150, and 05 at 93 Mariahilfer Straße. All thoughtfully laid out with futuristic themes throughout, the offices have a vibe that is sure to cause catalysts.
Their original space in Rasumofskygasse 26 1030 Wien is one of the most impressive, a chic and professional space stretching over 400 meters squared, where there is always a buzz of activity. A highlight is a lounge, where chilled wine is on hand if things get a little heated.
Flexible and fixed options are available for membership;  a flexible desk at 295 Euros, a fixed desk at 490 Euros and office space at 900 Euros per month at Rasumofskygasse. A flexible desk at 250 Euros, a fixed desk at 450 Euros and office at 600 Euros at Mariahilfer Straße. A flexible desk at 250 Euros, a fixed desk at 450 Euros and office at 700 Euros at  Hütteldorfer Straße.
For more information visit Website  Twitter  
Whether you are looking for a job, your next co-founder or recruiting your tech talent, Tech Events is the place to be for all professional networking. Visit for more information about the events and how you can get more out of the experience and also get yourself a ticket to an event!
Website: Techmeetups.com  visit and treat yourself to a community of tech business events and support! 
TechMeetups.com 8 years. 21 cities. 68 job fairs. 1100+ hiring companies. 60,000+ job seekers.