We love a new place as much as we love new opportunities. We sometimes consider having a new life but we're not financially capable and emotionally ready because we are not sure what kind of future is waiting for us. We're all aware that having a good job leads us to a good future. Joining our Tech Job Fairs is a great privilege to every job seeker.
If you consider Denmark to be your new place to start with, then you should not miss our event this coming April. Our Tech Job Fair will take place in Amsterdam and together with us is Workindenmark's team who's searching for talented people. The company is your shortcut way to have a future in Denmark.
Workindenmark offers a series of services for international job seekers and Danish employers looking for qualified new employees. The company's vision is to support the creation of a balanced labor market in Denmark.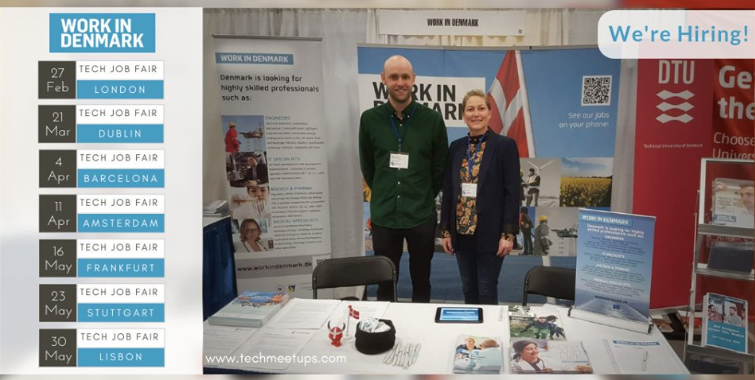 Once you've found a job, and ready to move – living in DK might not get as hard as you thought. Moving to a foreign country and adapting to culture can take time. Denmark has a well-functioning infrastructure, a strong educational system and rich cultural life that can make living in Denmark a good experience for you and the family you may want to bring.
Consider the following when you live in Denmark:
1 – Learn Danish
Most of Danes speak and understand English, but learning Danish is highly recommended to help you engage with people both socially and at work.
2- Health Services
Working and paying taxes in Denmark gives you access to public healthcare services. Consultations and treatments are funded by Danish taxes, this means you can consult a doctor, have treatment at an emergency room or public hospital and a number of other services such as home care, health visitor services and paediatric dental care.
3- Insurance
Insurance will help you avoid financial surprises. It will help you face the consequences of unfortunate situations such as experiencing or causing an accident or becoming subject to water damage, theft or burglary.
4- Bank and Finance
Everybody who works in Denmark must have a bank account as your salary will be paid directly into your account. Most banks in Denmark are open from 9:30 am to 4 pm from Monday to Friday and until 6 pm on Thursdays.
5- NemID
NemID is your digital signature and the key to digital Denmark. NemID is a single login for public websites, your online banking and a great many other websites and services.
6- Digital post
Digital Post from public authorities is the same type of letters that you receive from the authorities. It includes letters from the hospital, pension statements, information about state education support (SU), changes to housing benefits, replies to applications for childcare, letters from the Danish Tax and Customs Administration (SKAT), etc.
7- Culture and leisure
When it comes to cultural experiences and leisure, Denmark has a lot to offer. No matter what you are interested in, from sports, music and movies to fine arts, opera or museums – you will find it here.
8- Transportation
Denmark also has a large and well-functioning public transport system. The Danish public transport system makes it possible for commuters to reach their work within a fair limit of time, either by train, bus or Metro.
The standard living in Denmark is generally high but people's safety and happiness are what makes living easier.
If you want to have a happy and safe living for you and your family in Denmark and you have the tech talent then the company is waiting for you in our Amsterdam Tech Job Fair. They will also join us in Lisbon, Frankfurt, Barcelona and Stuttgart.
Visit their Website, LinkedIn and Facebook for more information. Sign up here for free!