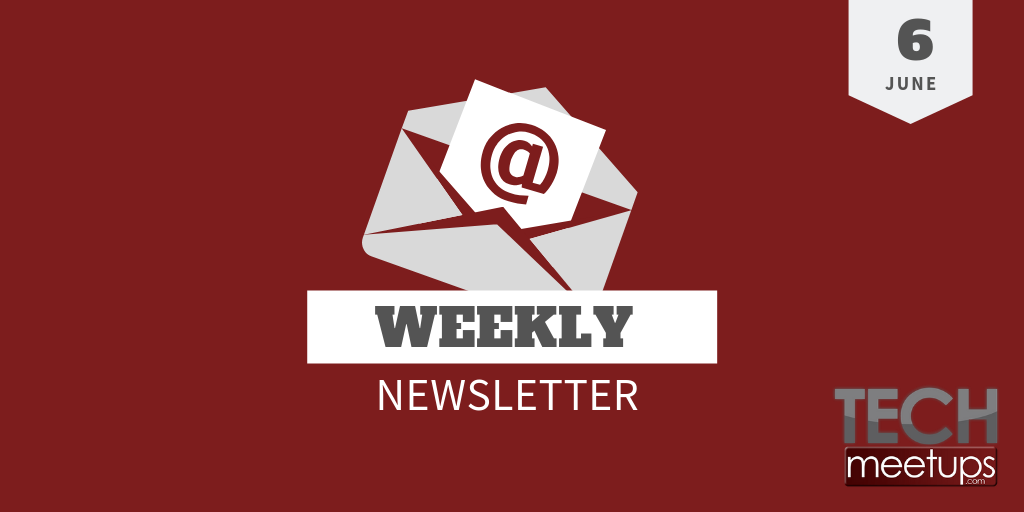 Hello,
Ever heard about Majelan? is a French startup that wants to make podcasts more accessible. Mathieu Gallet, one of the CEOs said that Majelan isn't the Netflix of podcasts. "It's an experience that is 99.99% free. We are a content aggregator, an RSS feed aggregator," he said.
Read more about this news in this article. What is your opinion about podcasts and the access to the information?
GET YOUR CV PROFESSIONALLY DONE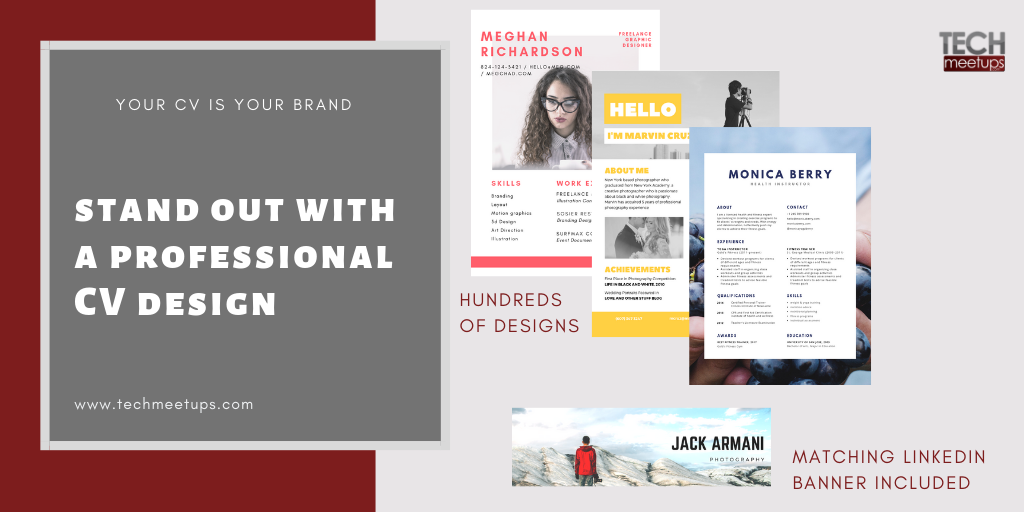 Do you know that most of the time, your CV is just ignored, or even worse, is just thrown in the trash bin? This happens because it doesn't stand out and doesn't impress your potential employer.
Impress your potential employer or the HR officer with an attention-grabbing CV professionally-designed and customized to fit your profile.
Check our 2 options:

SAVE YOU SOME TIME, SKIP THE LINE AT OUR UPCOMING TECH JOB FAIRS- NEW TICKET AVAILABLE: http://techmeetups.eventbrite.com/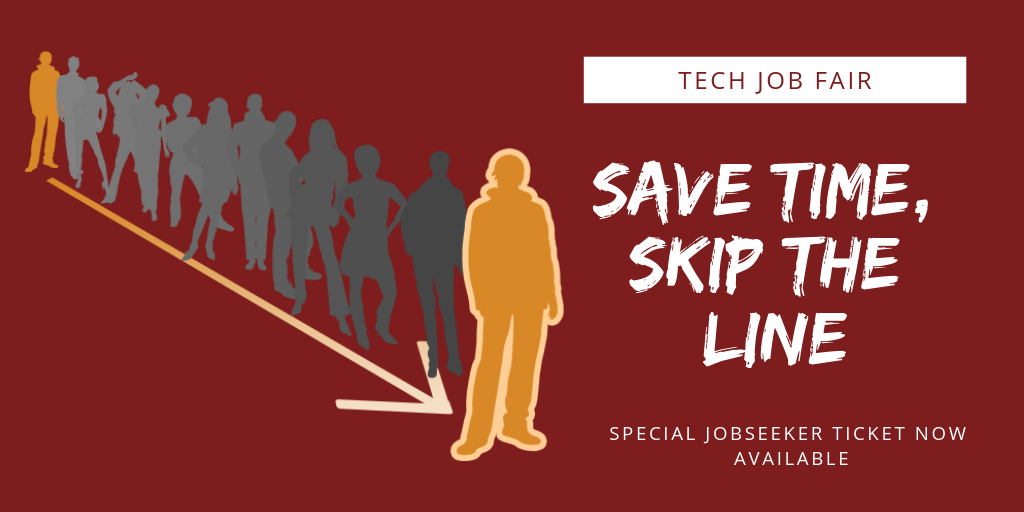 BOOK OF THE MONTH
How many of us need a job? It's the reality of life, isn't it? We can't seem to escape it in the world we're living in. For any of us to have the necessary things that we need, it requires some hard work. Shawn Ghosh in his book "25 TIPS TO SMASH YOUR UNEMPLOYMENT TO PIECES EBOOK" talked about how to make it with all your success on your entire job-search process.
Check it more about it here
CATCH UP WITH OUR SHOP
DCAE Leather Qi Wireless Charger: Your Fast And Securing Way Of Charging
Wireless Bluetooth Speaker: Take Your Music Anywhere
Anti-Lost Alarm: Locating Has Never Been This Easy
CAREER ADVICE FROM TECH STARTUP JOBS
How to Write Thank You Notes After the Interview
Waiting to Hear Back After The interview
Job Search Tips: How to Make the Process Fun and Useful
STAY UP TO DATE WITH TOP NEWS
SCOTUS Greenlights Apple App Store Antitrust Lawsuit
Google, Microsoft In Step in New Era
Baltimore Held Hostage in 2nd Ransomware Attack

WORK ON YOUR ENTREPRENEURIAL SIDE
Seven Tricks to Turn Up your Charisma
The Best Way to Future-proof Any Business
Five Reasons You Should Optimise Your Business Name
CHECK OUT THESE EVENTS COMING UP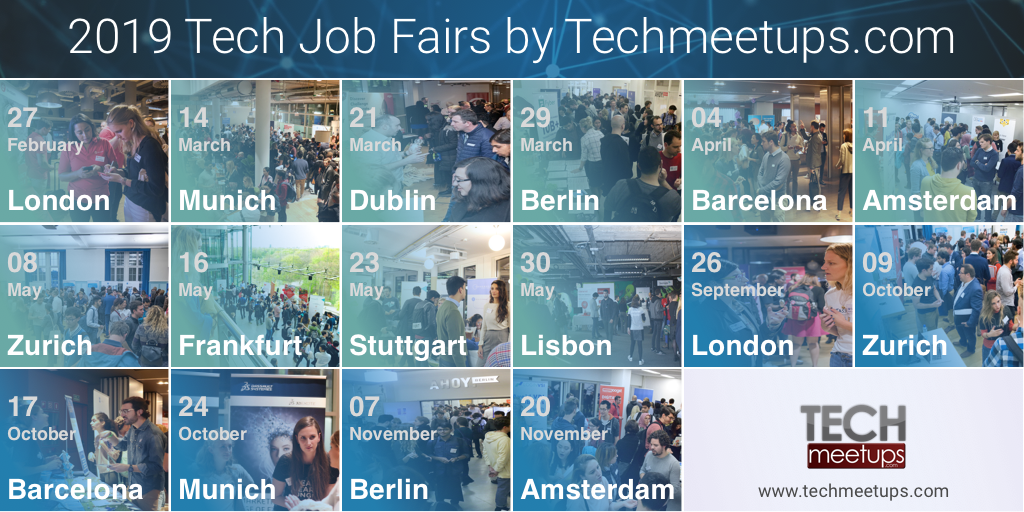 Whether you are looking for a job or recruiting, be part of Tech Job Fairs by Techmeetups.com in London, Zurich, Barcelona, Munich, Berlin and Amsterdam!
London:
Blockchain Summit London 2019 – 26th June
Monzo Investival 2019 – 29th June
LONDON TECH JOB FAIR AUTUMN 2019 – 26th September
Barcelona:
Global DevOps Bootcamp @ Barcelona – 15th June
DataOps Barcelona 2019 – 30th June
BARCELONA TECH JOB FAIR AUTUMN 2019 – 17th October
Zürich:
PX4 Developer Summit | Zurich 2019 – 20th June
SEIF Awards Ceremony 2019 – Tech for Impact – 28th June
Zurich Tech Job Fair Autumn 2019 – 9th October
Munich:
TUM Entrepreneurship Day 2019 – 24th June
Bits & Pretzels 2019 – 29th September
MUNICH TECH JOB FAIR AUTUMN 2019 – 24th October
Berlin:
Wear It Innovation Summit – 25th June
Codemotion Berlin 2019 Tech Conference – 12th November
Berlin Tech Job Fair 2019 – 7th November
Amsterdam:
Artificial Intelligence & Big Data Conference & Exhibition Europe 2019 – 19th June
Dutch Digital Day 2019 – 21st June
Amsterdam Tech Job Fair – 20th November
If you have a free event and would like to promote it to the community let us know!
BROWSE HOTTEST JOBS IN TECH STARTUPS
London
Barcelona
Zurich
Munich
Dublin
Berlin
Lisbon
Stuttgart
Frankfurt
Amsterdam
Anywhere
More jobs and career opportunities from our clients on Tech Startup Jobs!
LEARN MORE ABOUT EMPLOYERS LOOKING FOR YOU
JOIN LONDON TECH JOB FAIR AUTUMN 2019 HERE:
JOIN ZURICH TECH JOB FAIR AUTUMN 2019 HERE:

JOIN BARCELONA TECH JOB FAIR AUTUMN 2019 HERE:
JOIN MUNICH TECH JOB FAIR AUTUMN 2019 HERE:
Partner
JOIN BERLIN TECH JOB FAIR AUTUMN 2019 HERE:
JOIN AMSTERDAM TECH JOB FAIR AUTUMN 2019 HERE: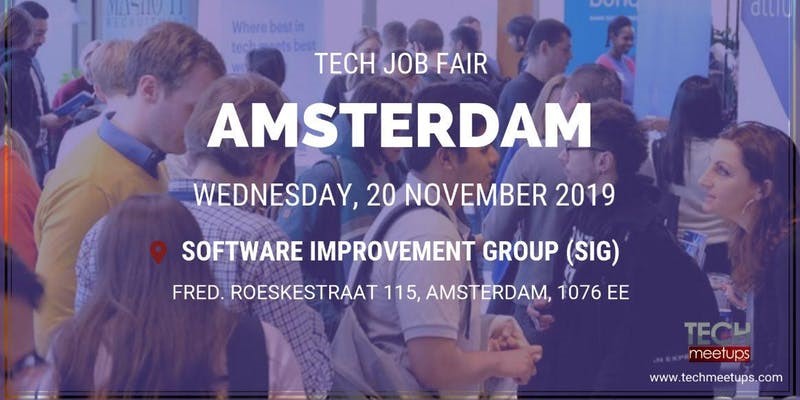 Follow us on Social Media
TechMeetups Facebook | Twitter | Instagram