It's exciting to meet all the opportunities in one place. This April, our Tech Job Fair will come back to the beautiful City of Barcelona. We know the struggle of every job seekers that's why we cater you companies that you surely deserved. Are you ready?
Vistaprint will join us at our Barcelona Tech Job Fair and like other companies, they can't wait to meet you. Prepare your CVs and prepare yourself. Make sure to know their culture, mission, story, and benefits you can get. Impress them by getting to know the company.
In this article, we are sure that the things we enumerated here about them will excite you. Continue reading and start to imagine yourself what would it be having a career with them.
Click here to sign up!
Who are the creators of your brand? What do they do in life, what are they passionate about?
Robert Keane founded Vistaprint in 1994 to help small businesses print great-looking marketing materials in low volumes. In the following years, Robert Keane has taken his company from his apartment in Paris to world leader in mass customization. Now CEO of Vistaprint's corporate entity, Cimpress, his passion for providing professional, affordable marketing materials for small businesses is stronger than ever.
"Anyone with the passion, ambition and spirit to run a business should have access to customized marketing products that help them connect with customers, professionally and affordable. We have pursued that vision from day one – and we always will."
Today Robert leads Cimpress with a clear purpose: to empower millions of people around the world to make a tangible, personal impression.
What's the story behind the creation of your company? What inspired you to start your business?
It's simple: Our business is helping you promote yours.
Vistaprint empowers millions of business owners worldwide to market themselves professionally. Our wide range of quality products and affordable prices, along with design tools suited to every skill level and need, mean everyone can create the customized materials they need to get their message across. And it all started the way most businesses do, with one entrepreneur's ambitious goal. About 20 years ago, Robert Keane wanted to give small business owners access to the same high-quality, custom-printed products that bigger companies (with bigger print budgets) enjoyed. He developed a patented technology that delivers professional-quality printing in small quantities, affordable. Next, he took a process that was traditionally only available offline and made it possible for business owners to create and order their custom materials online – from the convenience of their own computers. Millions of customers (and billions of business cards) later, we've greatly expanded our offerings and advanced our technology, and our commitment to helping you promote your business is stronger than ever.
More on the story here: http://news.vistaprint.com/about-us/executive-team/robert
What's your current view on the market you work in? What makes you feel like your brand stands out?
We are targeting a very unique segment of micro-businesses (1 to 10 employees) that nobody else is currently serving. These are the storefront merchants, individual professionals that can't afford to hire a graphic designer but have an intense need to look professional and to market their business. Our brand stands out due to the great quality we can offer at affordable prices. In addition, we stand out because we offer design templates and tools that we provide to make it easy for our customers to design their marketing materials online and have a cohesive brand across different products. Finally, a key differentiator of our brand is our Absolutely Guarantee policy, which means that the customer is always right. This translates into friendly customer service agents who go way and beyond to help our customers succeed.
What's the thing that you appreciate/value/cherish more about what you do as a brand?
The success of our customers! We are a very customer-centric organization, and understand that we only succeed when our customers succeed. We get excited when we receive videos of happy customer unboxing their "Promobox", which is our subscription service for receiving a monthly box full of customized materials for our clients to try out. We also enjoy testimonials over Instagram or Facebook about customers showing off their products and telling us their stores about how these products are helping their business grow.
Do you have a special story of something unique you did for a client? Something unusual you did as a team, something memorable you'd like to share?
Every year, in February, we have a company party. It's a costume party with a specific theme. Examples of themes from previous years include Zoo, videogames, fairytales, and most recently Hollywood.
Since our Technology Team has the tradition of doing a group costume, we decided that for the Hollywood party, we would dress up as zombies from The Walking Dead. We were so into it that we hired 2 professional make-up artists so that we would look like REAL ZOMBIES and scare everyone. We didn't end up winning the best costume prize, but we did have a lot of fun!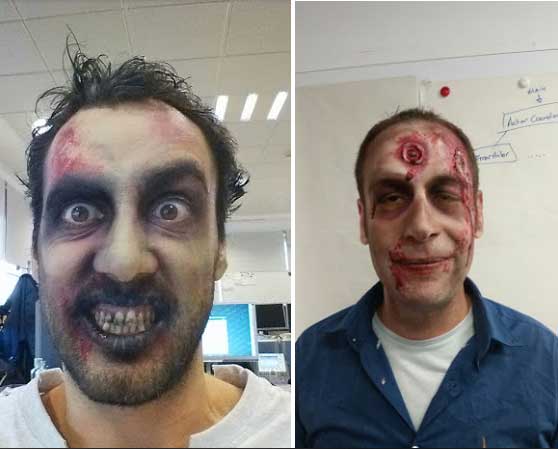 What's your company culture like? What is that you want to represent?
At Vistaprint, we believe in putting the customer at the center of everything we do. In order to give them the best products and the best experience possible, we empower our teams with the autonomy and the responsibility to make decisions that will bring them higher value. We are heavily focused on technology and innovation, and we are a truly Agile company, where business processes and software development are aligned on bringing value to customers early and often. Our engineers in the Barcelona office come from many countries and speak many languages while having the chance to interact and collaborate with our 7000-strong global team.
What is your team like? How do you work?
We work in a "squads and tribes" model. Our squads are teams of 3-5 engineers that are similar to a scrum team and are designed to feel like a mini-startup. They have all the skills and tools needed to design, develop, test, and release software to production. They are self-organizing and decide their own way of working. Each squad has its own mission related to the domain the squad works in, and they can choose the increment they will work on.
What kind of people are you looking for? Who's the best match for your team?
We are looking for software and data engineers with a passion for the profession and with a great sense of ownership. Engineers enjoy a great degree of autonomy and self-management in Vistaprint, they can choose what they will work on and how they will work. In exchange, they will understand the needs of our customers and they will take ownership of bringing value to those customers. Designing scalable and durable solutions requires a high level of technical expertise from our engineers, therefore they are always eager to learn, constantly improve, and master new technologies.
What benefits and perks do you offer your employees? What's the biggest plus of working for you?
We continuously update an extensive mix of benefits and perks for our employees. The list includes, but it's not limited to:
Private medical insurance
Life insurance
Retirement & Savings Plan
Ticket Restaurant card
Sponsorship for public transport cards
Summer working hours & Flexible working schedule
Tuition assistance program
Free Spanish, Catalan & English lessons
Childcare vouchers
Employee, Family & Friends Discount Program
On-site Fitness Center, Yoga and Cross-fit classes
Discounts with local Gyms, Restaurants, Language Schools and Higher Education institutions
What are your goals and plans for the future? What's your biggest ambition?
To be the vendor of choice in supporting the marketing needs of small businesses and to grow our market leadership in mass customization.
Still eager to know more about them? Meet their team in person this April at our Barcelona Tech Job Fair and see all opportunities on their table. You can also visit their Website for more info and follow them on Facebook and Twitter for updates.