Preparing for one of our job fairs? Still feeling a little lost and not sure how to proceed? Don't worry – you're not alone! We understand that for many of our job seekers this is first such experience. And that's why come to you with ultimate job seeker guide that will walk you through our event!
Our Tech Job Fairs are an amazing opportunity for all experienced and inexperienced job seekers across two continents. But they're events of hundreds of people attending them, it may look like a challenge to prepare for them properly. Here's what you should do.
Before the event
The most important steps to complete before the event – don't omit those!
Download, or print your ticket so you can show it upon arrival at the event. Be ready to have them prepared so you don't spend time looking for them within your back, putting the whole line on hold.
Check the event website for all companies listed and their open positions. We post company stories and informative graphics on our social media (Facebook, Twitter, LinkedIn and Instagram) and blog. Be sure to check our job board to know which company is looking for what employees.
Check the venue on the map to find the easiest way to arrive. Especially if you're new to the area, research the best commute route that will deliver you on time. Take traffic into consideration do arrive punctually!
Update your CV and make many copies to bring at the event. Remember it's supposed to be your first contact with the employer, not the last. Make sure you leave them something about you. (Read more about the resume below).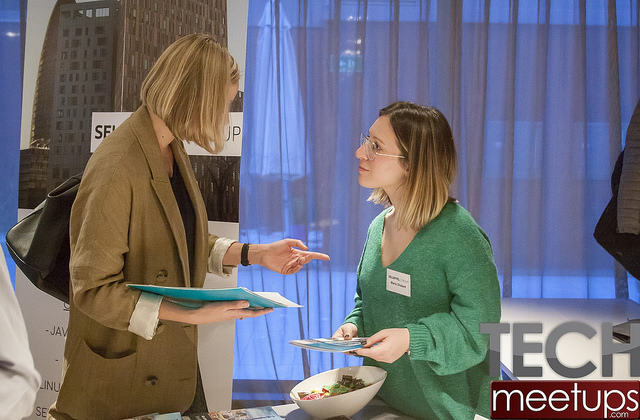 Additional steps to take:
Prepare your personal image. Our Tech Job Fair is the place where you first make your impressions. It's where your potential employers see you for the very first time. Employers remember only a few of the hundreds of job seekers they meet at the fair. Make sure they remember you – dress with class and treat the fair as if it was your interview.
Prepare your professional portfolio. Get ready to present yourself to the employers available at the fair. Prepare a brief presentation about who you are, what are your goals and accomplishments, what are your skills and what specific problems and challenges can you solve for the company. Practise is out loud to gain confidence and memorise it well. Prepare your resume as well. Make it job fair specific and unique. Make sure you prepare a sufficient number of copies for every company you're interested in. If there's potential for on-the-spot interviewing or hiring at the Fair, take reference letters and cover letters, and assemble a professional portfolio (that contains examples of work and accomplishments).
Research the companies that interest you. Learn who the companies are and what they do. Be prepared to make cogent conversation and ask relevant/timely questions to employers (this will make you an interesting and memorable applicant). Researching companies and reading the blog stories we publish about them will help you with this task.
Make sure you're ready for a conversation. Prepare questions to ask employers: what opportunities and available; what are the responsibilities; what skills are companies seeking in candidates? Be prepared to answer questions and review standard interview questions and formulate your responses.
Plan your strategy. Visit booths first that interest you the most (when your energy is high and you're at your best). Do not wonder or roam! Present yourself with a purpose. Don't be shy – be prepared!
Be ready for more. Few job seekers are hired on-the-spot at Job Fairs. Be prepared to follow up on promising leads
At the event
Registration – remember these steps!
Show your ticket either on your phone or printed – as we mentioned before, have them prepared in advance to not slow down the line.
You will be asked to write down your name and your role on a sticky label. This will simplify networking. Make sure you write your name and position in a clear, readable way. Check out the picture above – the person on the left is an employer, the one on the right – a job seeker.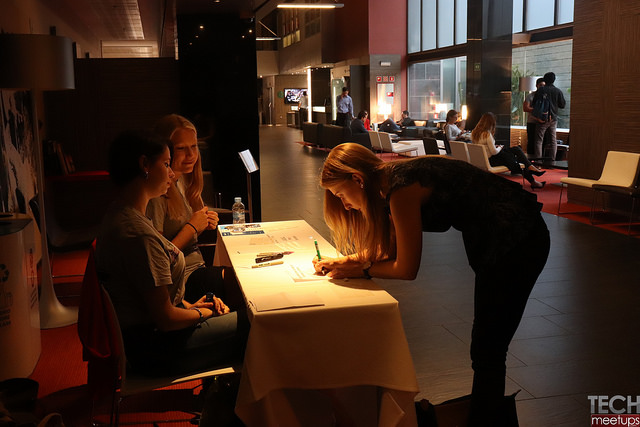 After you enter
Find booth locations of your targeted employers.
Briskly (but attentively) walk through the entire job fair. Scope-out the employers you want to talk to. Observe which employers are busy and which aren't. Make special note of employers that are conducting secondary interviews, either at their booth or in another location (these are the employers who are serious about hiring). Identify the person conducting secondary interviews and seek that person out!
Get a feeling for the entire Job Fair. Then, go and sit for a few moments to compose yourself and to finalize your 'plan of attack'!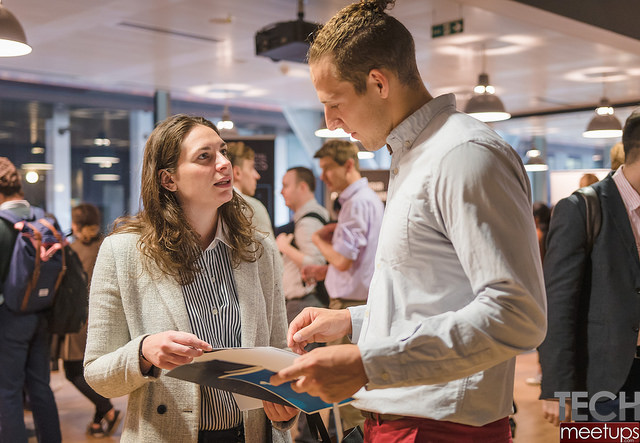 As you approach your targeted companies
From a distance (about 2 meters away), observe and listen to employers interacting with other applicants. Listen to what the employer is asking. Figure out who is in charge. What happens to the resumes (are there multiple resume piles, does anyone write on them)?
Determine the highest level employer-representative in the booth. Seek this person out.
While waiting in line, review information about the employer you're approaching.
As you approach the table, respect other people's privacy as they complete their interaction with the employer.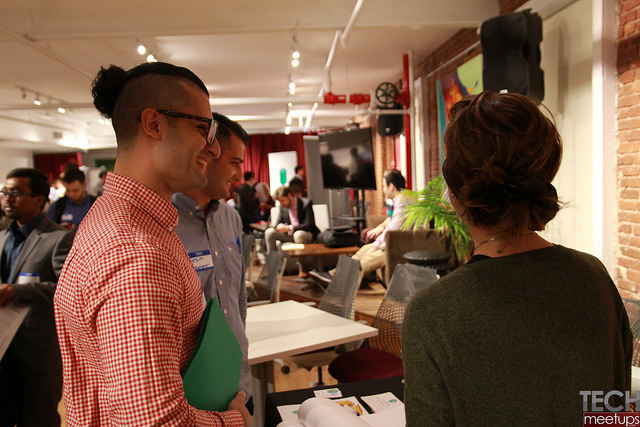 When you meet with an employer
Greet each employer with a firm handshake. Make eye contact! Be polite!
Try to remember the employer's name. Glance at a nametag.
Show interest. State briefly what you like about the company.
Listen carefully to what the employer says. The room may be noisy and busy, but don't be distracted. Focus, focus, focus!
Ask questions.
Answer questions directly, politely, and concisely. REMEMBER- THE GOAL IS TO BE ASKED BACK FOR AN 'IN-HOUSE' INTERVIEW.
Do NOT ask questions about salary and benefits (wait until later for these type of questions).
Request a business card or obtain a contact name, phone number, fax, and email address. Take brochures or informational materials that are available at the booth.
Thank each employer for their time.
If you're given an application form, take time to fill it out neatly and completely.
Network with other job seekers at the Fair. Share leads, resources, and ideas.
Keep a list of the employers you meet. Make notes about each company and your conversation with each representative.
After the event
Review your notes from the Job Fair. Evaluate what you think went well and what you can improve for the next Job Fair or interview.
Write personalized thank-you letters to companies that interest you. Cite something specific from your discussion. Try to send letters out within two days after the Job Fair. It's okay to enclose a resume with your thank-you letter. This may draw attention to your name once again.
Continue to research the companies that interest you. Treat the Job Fair as an initial contact, not the last.
Keep accurate records of your contacts, including dates of your letters or telephone calls, and copies of all application materials that you send.
Final Tip: Focus on learning as much as you can about what employers are looking for in the people they hire. The primary benefit of participation in the Fair is to collect information and make contacts.
It's not as hard as it looks, is it? To make your Tech Job Fair successful, prepare ahead and remember our tips on what to at the venue. And remember – our Tech Meetups representative is always there to help you!
LET US HELP YOU STAND OUT We have been working with job seekers for over a decade. Let our Professional team help you proofread, rewrite & redesign your CV.