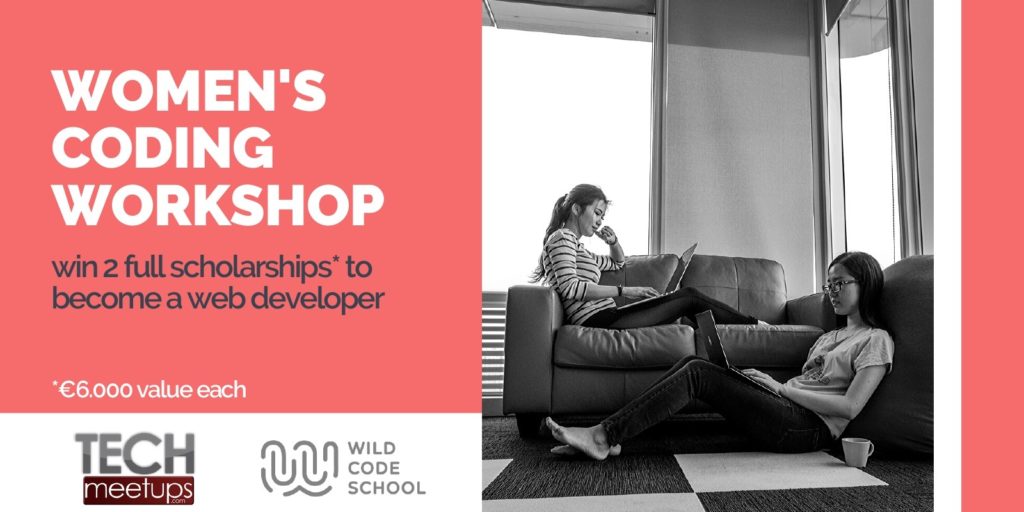 Wild Code School, the leading web programming and development school in Europe, has launched its second Bootcamp with a new call for students in its newly opened campus in Madrid. In association with Techmeetups, Wild Code will be hosting the Madrid Tech Job Fair grab yourself a ticket here!
To celebrate the good reception of the school in the Spanish capital, Wild Code School has invited several experts to a round table to discuss the skills of the worker of the future, both digital and soft skills. The event was attended by the following expert speakers in the field: Anna Stépanoff, CEO of Wild Code School; Catalina Díez, Head of Talent Strategy at Manpower; Neus Portas, Director of Learnability Hub; and Jorge Gil, General Director of IDC Research Spain. The round table has been moderated by Quino Fernández, CEO of Conector Startup Accelerator.
After welcoming the participants, Anna Stépanoff thanked the excellent reception of Wild Code School in Spain, and stressed that it is the only country, with the exception of France, where they have two campuses (Barcelona and Madrid). Stépanoff has highlighted the rapid expansion of Wild Code School in Europe with a network of 24 centres, which is, in her opinion, "due to its own unique methodology, since the programming and data analysis courses are focused on Real practice and career."  90% of our students get a job improvement or a first job in the field of programming, "she stressed.
Wild Code School is a European network of technology campuses that offers an intensive program in five months and 712 hours, for the web development course, that is, programming applied to the development of web pages and underlying structures, with a special factor that differentiates it from other centres, as it embarks students on "real projects", where they work from day one with associated companies in the development of small technologies, thus becoming familiar with the work for projects on demand, such as in a real environment.
The school is committed to professionals and companies to meet the need for preparation of the former and the increasingly high demand for talent from the latter. For this, and in a few months, it trains operational professionals, adapted to technological changes thanks to the practical approach and the real projects that the students carry out during the training.
For more information about Wild Code visit Website |LinkedIn | Twitter
Visit Tech Events to register for the  Madrid Tech Job Fair and for more information about the events and how you can get more out of the experience and also get yourself a ticket to an event!
Website: Techmeetups.com visit and treat yourself to a community of tech business events and support!
TechMeetups.com 8 years. 21 cities. 68 job fairs. 1100+ hiring companies. 60,000+ job seekers.