Great news for Appsfactory: Germany's leading agency in app development, which currently boasts nearly 260 employees, has officially been named one of the most attractive employers among "Top mid-size employers"
Who are the creators of your brand? What do they do in life, what are they passionate about?
Dr Rolf Kluge and Dr Roman Belter are childhood friends who went to school and university together. Thereafter they even completed their PhD at the same institute in Leipzig. They teamed up with Dr Alexander Trommen in 2009 to create Appsfactory. What unites them is their love for innovation and their great drive to build the number one agency for digital products in Germany. All three of them enjoy various kinds of sports, such as running, biking or skiing in wintertime.
What's the story behind the creation of your company? What inspired you to start your business?
If there was a manned expedition into the universe of technology, Appsfactory would be the first member of the crew. #newisbeautiful
Appsfactory was originally founded in 2009 as a production company focusing on SmartRunner – one of the world's first GPS sports tracking applications – invented by Rolf and Roman back in 2006 while they were jointly studying. In 2009 first copycats from Nokia and Runkeeper were launched and it was the time to go all-in and set up a company or pull out.
Despite the massive uptake of registered Smartrunner users – 1 million in 2011 – they decided to do a pivotal change of the business and become a software development agency. Creating new, innovative products that enrich the lives of millions at the spearhead of technological development has always been their idea of running a company.
What's your current view on the market you work in? What makes you feel like your brand stands out?
With new and emerging technologies formerly impossible product visions can be turned into reality. That's the real strength of Appsfactory. We always work on the edge of technology and guarantee the success of our projects. We are consultants and partners throughout the whole lifecycle of digital products and services. When it comes to Apps there is no other company like Appsfactory.
What's the thing that you appreciate/value/cherish more about what you do as a brand?
What we appreciate most, are our #Appsfactorians. They make our brand unique. With their dedication, expertise and commitment we are able to create products that don't just satisfy the customer but enrich the lives of millions. With a diverse team from more than 33 nations, we create products with impact. That's exactly why we have our value #BuiltForRelevance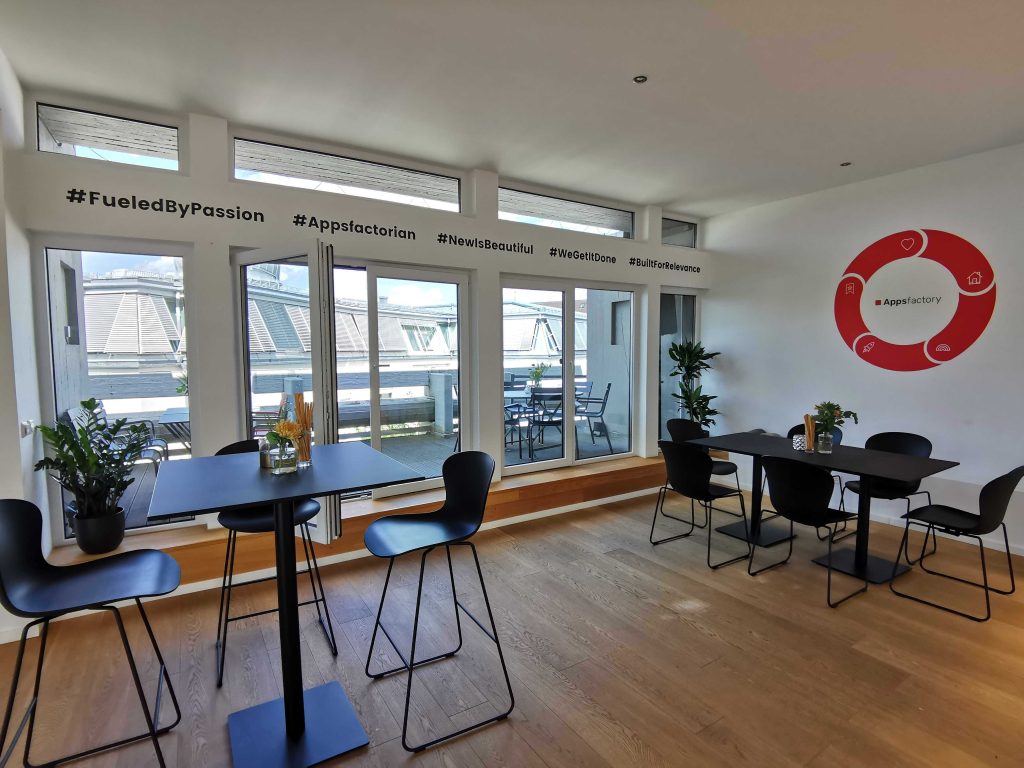 Do you have a special story of something unique you did for a client? Something unusual you did as a team, something memorable you'd like to share?
There have been a lot of very cool milestones throughout the years. We created the world's most successful Live-TV interaction platform ("Quizduell im Ersten") and the first machine learning solution in Germany's media market ("tagesschau.de").
Most(ly) memorable are our team events and company parties though. From casual table tennis, curling, rooftop BBQs over poker nights, to being artsy together: it never gets boring! But you have to find that out for yourselves ;-).
What's your company culture like? What is that you want to represent?
Like we said before, what we want to do is add value to the lives of people. That starts with everyone working here at Appsfactory. We enjoy our abilities, the camaraderie inside and outside our teams, our work and personal growth – we make the company unique. Although we have many different teams and projects we care for and support each other. All our doors are always open if anything comes up. We embrace the individual, whether it's in our Appsfactorians or projects. That's why we are #FueledByPassion.
What is your team like? How do you work?
Appsfactory is organized in four business units – Mobility, Media, Health and Professional Services. Our 250+ talents belong to 21 agile project teams allocated to one of those four business units. This enables our teams to become a true product task force capable of realizing some of the most challenging projects worldwide. Design thinking meets creative coding is our motto.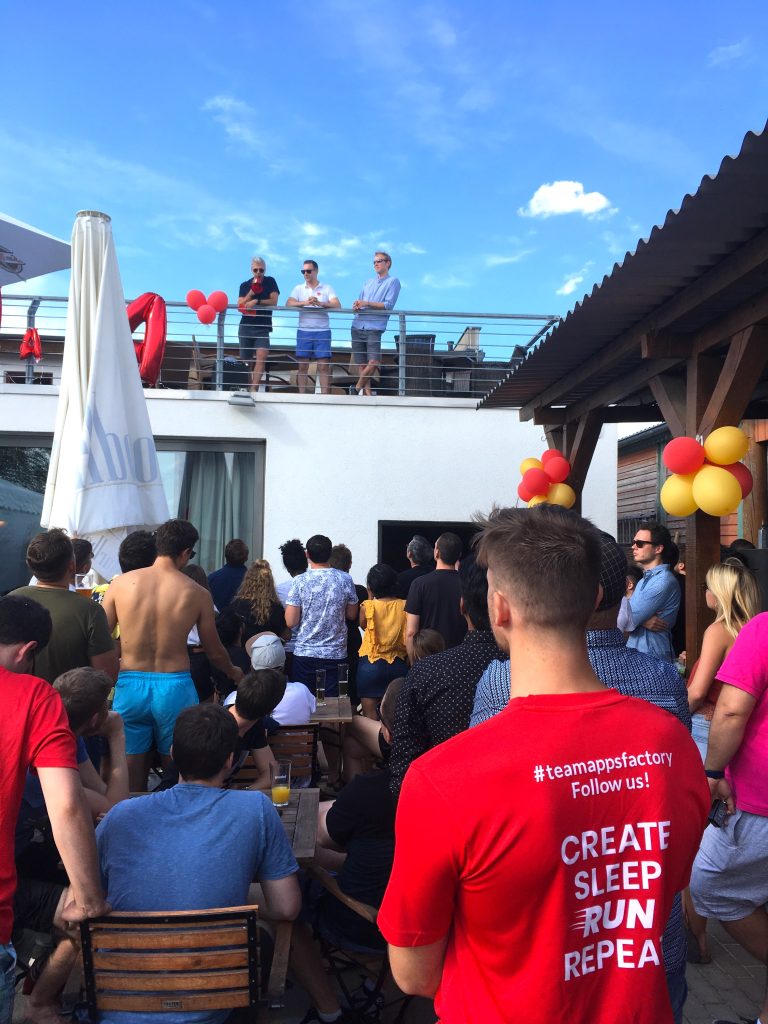 What kind of people are you looking for? Who's the best match for your team?
We are looking for newbies that identify with our values and want to create and innovate together. At the moment we have about 100 vacancies in 22 job profiles. We hire ambitious people who have the potential to learn and passion for their work. We are looking e.g. for UI/UX Designers, frontend, backend, Java-, Android-, iOS and Flutter software engineers.
What benefits and perks do you offer your employees? What's the biggest plus of working for you?
Our USP is our unmatched client roster. We offer the opportunity to work not only for one industry leader like BMW, Mercedes, Microsoft, FAZ, Amazon, Porsche or Vattenfall but for several of them in a short period of time which results in a much faster skill building than anywhere else.
Our employees create digital solutions which are used by millions of people every day. Our target is to be present on every phone or desktop with at least one service. Aside from the usual benefits, you expect an IT company to have – drinks, bike leasing, top-of-the-line tech-stack, a company pension plan, etc. – each of our offices has a nice outdoor area and all of them are located directly in the heart of their cities close to public transport – that way no matter where you live within a city your way to work will never be too long.
What are your goals and plans for the future? What's your biggest ambition?
A running joke inside the company is the opening of offices in Tokyo and LA ;-). Jokes aside, our midterm goal is: "When brands think about software development agencies we want them to think of Appsfactory as THE full-service agency in Germany. Whatever it is you envision, we're there with you every step of the way. Of course, we will grow in the next few years. We estimate that we will have reached the mark of 500 headcounts by 2025 and this allows lots of room for career moves for our employees.
Contact us: [email protected]
Carrer: appsfactory.de/jobs (https://appsfactory-gmbh.jobs.personio.de/?language=de)