We're here to create communities of job seekers and tech startups. TechMeetups connect people, encourage networking and enable vast growth communities. We continued to do so in the first half of 2018 which is an amazing exciting year for us, our job seekers, partners and exhibitors.
Attracting Local And Global Startups
In the first half of 2018, we organized 7 job fairs on 2 continents, Europe & North America.
Over 150 companies have joined Techmeetups events to enjoy networking opportunities, to launch a new product, collect feedback, source, hire or get hired and generate new leads..
The tech scene is really booming, there's a lot of recruitment going on and on the top of the hiring cities is Berlin & NYC.
Creating Opportunities For Job Seekers
Every event organized by TechMeetups attracts hundreds of ambitious job seekers who actively seek new career opportunities. Our event attendees are open minded, proactive people who reach out to the companies with the best they can offer.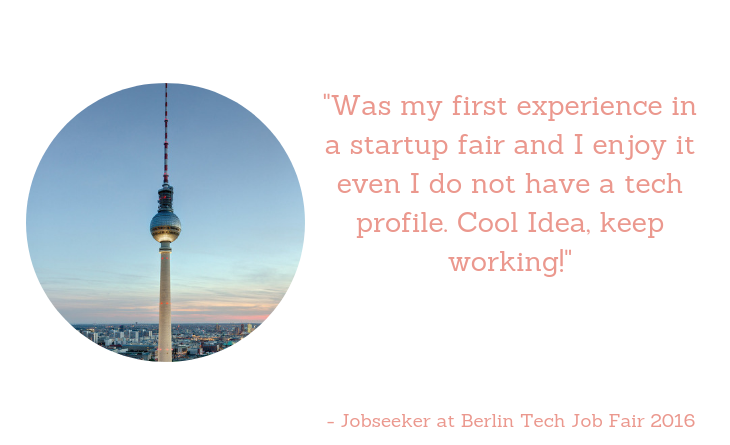 Nearly 4000 attendees participated in our events in the first half of 2018. Among the job seekers, the most popular events where the London and Berlin job fairs – respectively  over 700 and over 500 attendees.
What do our exhibitors and jobseekers value most about our events?
Gathering testimonials from our attending companies gives a clear insight of what they value most about us.
"Communication leading up to, during, and after event" (Exhibitor in New York)
"The organizing staff was fantastic -very helpful, quick to respond and accommodating to needs I liked the professional photos we got from the event and also that Tech Career Fairs used their platforms to spread the word about our company." (Exhibitor in New York)
"A lot of applicants." (Paris)
"Clear and nice communication with the organizers." (Exhibitor in Berlin)
 "Understanding what current job seekers look for and how we can help them in case we hire them. Expectations alignment." (Exhibitor in Lisbon)
"The organisation was great and we were kept fully informed of everything at each point, i also felt that it was well promoted because people knew to expect us there and what they wanted to ask us which was nice." (Exhibitor in Barcelona)
"The chance to know more people from the field an build up a good employer branding. (Exhibitor in Barcelona)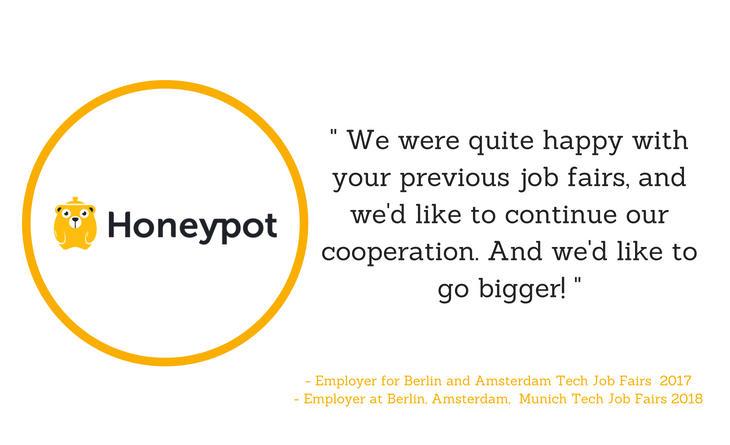 "Open and easy setup." (Exhibitor in Barcelona)
"The informal setting and great atmosphere." (Exhibitor in Amsterdam)
"You guys are great! Overall the turnout and quality of people we met was quite good. Good mix of companies that attended." (Exhibitor in London)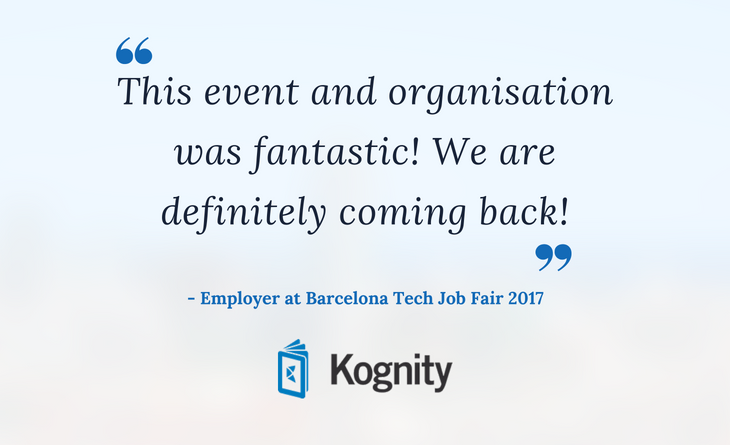 "I think it is great these events are organized and that we as a company can attend. Looking forward to the next event." (Exhibitor in Berlin)
"This event and organisation was fantastic! We are definitely coming back!" (Exhibitor in Barcelona)
TechMeetups are here for the companies and jobseeker to provide value in the field of career and networking. We're always open for your feedback and tips, chances of cooperation partnership. Don't hesitate to reach out to us – our friendly and open-minded team is waiting for your message at [email protected] !