Munich stands as one of Germany's sophisticated and refined cities. This coming March, our Tech Job fair will visit the city to offer tech job opportunities. So, if you're still searching for a company to get you on board, now is the chance to have a step closer to your dream.
One of the companies that will join us in our Munich Tech Job Fair is talent.io. The talent.io platform is the easiest way find a tech job, by becoming visible and being contacted by the city's top tech companies. They have thousands of tech opportunities, with salary ranges from €35k to €120k.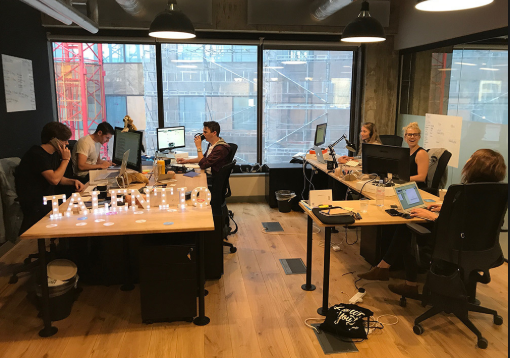 To help others find their dream job, the company needs dream workers to join them. This is why they join us in Munich Tech Job Fair. Here is an interview to get to know the team better. Don't forget to sign up here for free!
What do you do to make your workplace stand out?
Many things help to make talent.io Germany great work environment: weekly German classes, fruit & veg deliveries, team breakfasts, film nights, a beautiful and super-comfy office space with a balcony for summer barbecues. Most importantly, however, we have a truly fantastic, constructive and inclusive team atmosphere – everyone is encouraged and supported in day-to-day work, initiatives, and also personally. We place a great deal of emphasis on office culture and we believe it pays off!
Do you have office rituals? Like meetings held every morning, social breakfasts or others?
Every Monday we gather for a weekly standup to communicate on what we're working on to the team, exchange hugs and wish each other a great week. It's a really nice habit that starts everyone off on a good foot and keeps us all in touch even when we're working on separate smaller teams and projects.
What can a new employee count on in your company? What's their onboarding like?
New team members can first count on a warm welcome and introduction to the local team with a whole team breakfast! They are assigned a mentor as their clear point of contact for anything they might need and we start by getting everyone comfortable and familiar with the company values, the local tech startup scene, some technical aspects of software development and broader tech work, and their own role within talent.io. Once per month a 'talent University' is held in the Paris office at which all new starters spend two days meeting other parts of the team, getting a global overview of talent.io, learning its structure and meeting everyone from the tech team to marketing to the Founders.
What's your company structure? Do you have a hierarchy or prefer a flat model? How big are your teams, if you form any?
Our hierarchy is flat, whilst we have team leads, they enable, empower and lend their expertise to their team instead of creating pressure. Globally talent.io is now at over 100 people and constantly growing in each market. We have 4 local offices, in Berlin, Paris, London and Amsterdam, across which the whole team is split.
You are a step closer to starting your job. Start creating your future plans with talent.io! Experience the stress-free work environment and manage to master your tech skills. Make a reminder and join us in our Munich Tech Job Fair. It is your chance to meet the team.
To know more about talent.io, feel free to visit their Website, LinkedIn, Instagram, Facebook or Twitter accounts. See you soon!