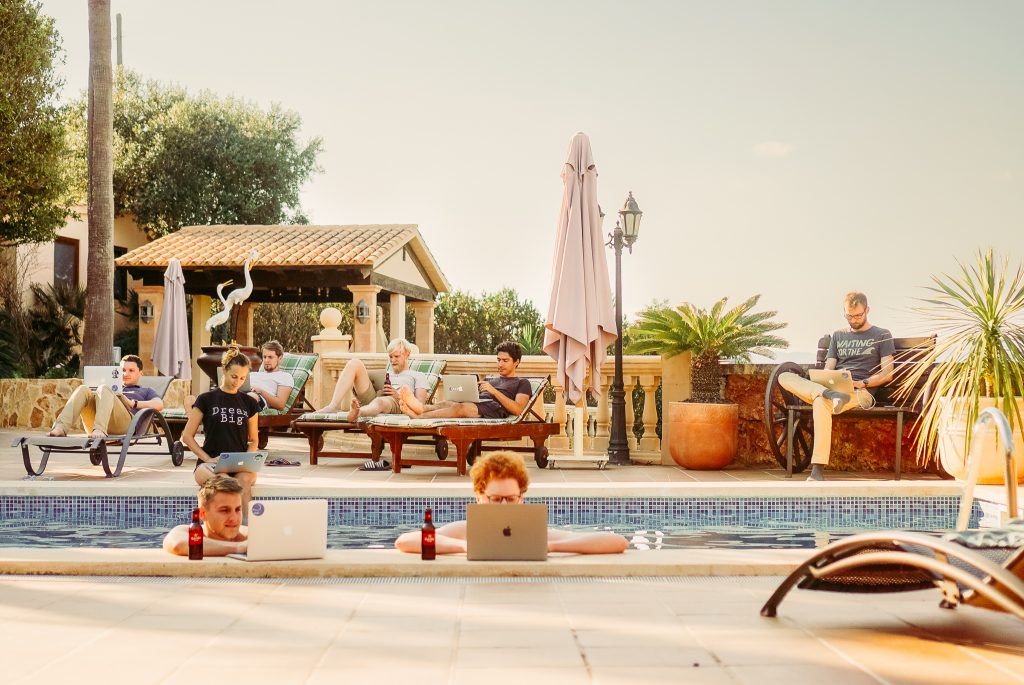 Holidu is devoted to building the world's best search engine for vacation rentals. The company is here to make finding and booking the perfect rental finally easy. This journey involves a rapidly growing team of travel and technology enthusiasts from all over the world.
As a result, Holidu was recognized as one of the most popular startup employers in Germany by Gründerszene in collaboration with Kununu. The team consists of more than 170 people coming from more than 30 different nations. Their travel mates include investors and mentors who have helped companies to achieve global success.
We are glad to have Holidu joining our Job Fair in Munich Tech Job Fair 2019. Help yourself to a ticket here and take this exciting opportunity to meet the tech travel moguls.
Holidu's team of travel and technology experts will be at your service to introduce you to their hottest job offers and their amazing travel directory. Check out the Q&A below to get a sneak peek into Holidu's company culture and structure.
Who are the creators of your brand? What do they do in life, what are they passionate about? 
The co-founder and CTO of Holidu Michael Siebers is an absolute technology and data enthusiast. Before Holidu, Michael worked at Zalando SE where he has been an early team member and helped to scale the development team to over 600 developers within less than 3 years. His entrepreneurial spirit took over at a young age, so that already during his studies in Computer Science, he had founded  PictureCloud.org.
Michael's brother Johannes Siebers (CEO) contributes the commercial expertise. He earned his diploma in business studies after studying international business administration in Tübingen, Madrid, and Sydney. After graduating, he worked with different startups at Siemens in the field of venture capital.
What's the story behind the creation of your company? What inspired you to start your business?
"We came up with the idea to create a vacation rental search engine while planning a surfing vacation with friends. We had the task of finding a place to stay. While doing so, we realized: An unbelievable number of websites were offering the same houses at very different prices and with different availability." says Michael Siebers. The initial idea behind Holidu seemed too obvious: Why was booking a vacation rental so much harder than booking a flight or hotel? This question inspired the vision that drives Holidu to this day.
Holidu's team of travel and technology enthusiasts fulfills this vision by creating the world's best metasearch engine for vacation rentals by combining state of the art technologies with creative ideas.
Founding brothers Johannes Siebers and Michael Siebers have the mission to make finding and booking vacation rentals easy.
What's your current view on the market you work in? What makes you feel like your brand stands out? 
"The vacation rental market is gigantic (>$150bn in annual bookings worldwide) and keeps growing. Therefore, it is necessary to always stay alert, follow the trends and keep improving our product every day. Since the founding of Holidu, our aim is to create the best selection of vacation rentals, more bookability, better prices, better filters and search options. We already support this with our technology but we strive every day for building superior user experience with our product. Holidu stands out because we are good at analyzing high data volumes extremely well and ensure that our customers can find the best vacation rental for the lowest price." says Johannes.
Why Holidu stands out:
Artificial Intelligence is crucial in tech companies but still, many companies struggle to include technologies based on it. For Holidu, artificial intelligence and machine learning are an indispensable part of day-to-day business. AI is the foundation on which Holidu is built, (they received their Exist scholarship for their image recognition technology based on it). This technology helps Holidu to recognize duplicates of the same holiday home on different websites and it enables us to show the user the best price. The tech craftsmanship is exceptional.
The team consists of more than 170 people coming from more than 30 different nations. Between the headquarter office in Munich and further remote offices in leisure destinations, everyone works efficiently together every day. The fun never falls short. Many events are organized next to work and long-lasting friendships are developed. This working atmosphere is cherished a lot at Holidu. Furthermore, there's a women's quota of almost 50% at Holidu. In the tech teams, Holidu is above average with about a third of female team members, and they would like to increase that number even more. The company hosts Meetup formats that are particularly popular with female developers.
What's the thing that you appreciate/value/cherish more about what you do as a brand?
We are humbled by the opportunity to make people happy. Going on a holiday and spending quality time with friends or family is something people look probably forward to the whole year. Finding the best accommodation for one's needs, being able to book it easily and not having to worry about anything is truly a relief for travelers. We love what Holidu stands for and what our brand makes possible, because with every booking through our platform we make a family or a group's vacation easier.
Do you have a special story of something unique you did for a client? Something unusual you did as a team, something memorable you'd like to share?
Holidu is a very diverse team and many of its members are not from Munich or Germany. "This is why we put much effort in our onboarding process where we not only help new joiners learn about Holidu and their role but also support them to settle in the city and connect with their team members." Pretty Unusual is also Holidu's band, which started to play as a surprise at their summer party in 2017  and keeps entertaining the team every year. Other than that, the company organizes fun ski trips in winter, hiking trips in summer and much more!
What's your company culture like? What is that you want to represent? 
Winning as a team
Holidu is a diverse team of tech and business talent, in which strong teamwork culture is fostered and each member takes ownership of their individual contributions. At Holidu, it is a tested and confirmed belief that when proactivity and creativity with trust and freedom are paired, amazing things are accomplished by the team.
Hungry but humble
We set ourselves ambitious goals to provide real value to our customers. We work hard to achieve our aims, while continuously challenging our status quo and constantly seeking to improve our service and ourselves.
Love technology
At Holidu we believe in the power of technology to solve almost any problem. To provide our customers with the best possible user experience, we build our own technology and leverage machine learning.
The focus is on the customer
As passionate travelers ourselves, we want to make a real difference for our customers. We put our customers first in every decision and seek to be genuinely helpful. We listen to customers, partners, and colleagues to serve them in a transparent and friendly manner.
What is your team like? How do you work?
It is an international team, everyone loves to travel and is eager to learn and move things forward. Different departments are working collaboratively together and have fun while doing so. In our tech teams, we work together in squads, which include developers, product managers, and designers.
Our team of technology enthusiasts, creative experts, and vacation rental specialists from over 30 countries proudly refine Holidu's global platform, 24/7. The brand is set on perfecting the search process for the ideal vacation rental and making the market truly transparent.
What kind of people are you looking for? Who's the best match for your team?
We are searching for hungry individuals who love having an impact from the first day on motivated to achieve something big with the team. However, team success is greater than individual success. We want passionate and collaborative individuals committed to advancing their tech careers alongside the team.
What benefits and perks do you offer your employees? What's the biggest plus of working for you?
As Holidu employee, you will have an impact on our product which is used by millions of users every month. You can start your career with responsibility from day one and grow yourself with regular feedbacks. This helps each member to improve their skills and develop high profile competences.
To keep our employees healthy and energized we offer fresh fruits, breakfast, and coffee in the office for free. If you are interested in joining some sports classes we have a premium gym directly in the same building, which we offer at a discounted rate.
Besides that, you can improve your English skills in meetings or learn german in subsidized classes. We have a huge network where individuals connect and have fun with diverse yet like-minded people at work and regular events.
We offer a traveling package in our german office incl. 28 vacation days + 13 public holidays in Bavaria.
Working at Holidu is like working together with friends; an open team, that has fun working together and also spends time together during their free time. We have colleagues from over 30 countries working here, more than 25 languages spoken.
 What are your goals and plans for the future? What's your biggest ambition? 
We will continue to invest in growing our inventory of attractive accommodations as well as in the further development of our technology platform in order to offer our travelers, partners, and home-owners an even better service. Our mission is to finally make the search and booking of vacation homes easy. Our vision is to become the global go-to platform for vacation rentals, by dramatically improving the user experience and combining all of the world's instantly bookable vacation homes on our website. Making our travelers, homeowners, and partners happy is a daily driver in our work. This way they can save real money and time and spend more time on what really matters: having a nice holiday and being great hosts.
Find Holidu on their Website and Twitter and  Facebook for more information and updates.
To get a sneak peek at the adventure that awaits you, check out our Instagram @travelmeetstech! 
For more insights & reviews visit us on Kununu or Glassdoor.
See you in Munich!