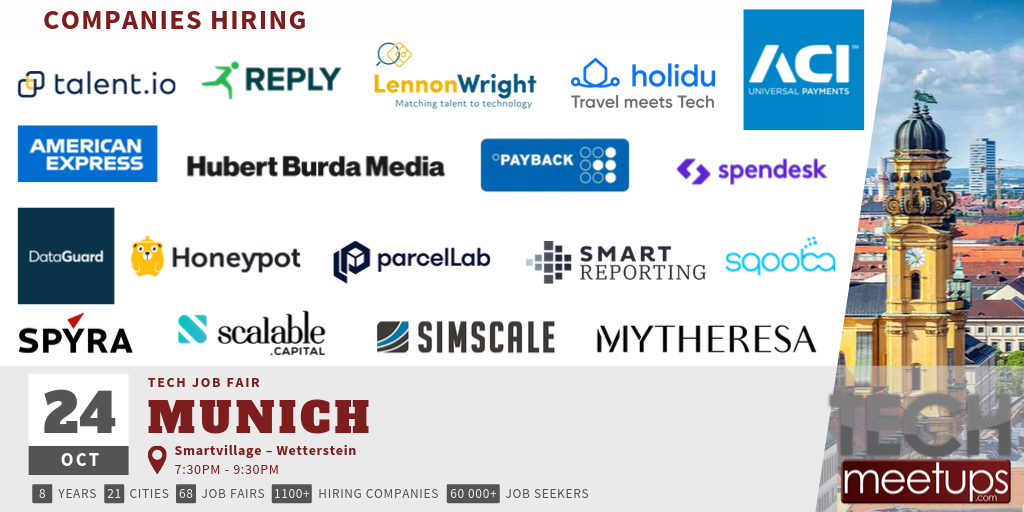 The world's biggest tech job fair will be coming to the most livable city in the world this Thursday.
All of our exhibitors are excited to meet Munich's best tech professionals. But, are you ready to meet your prospective employers?
Our Munich Tech Job Fair Autumn 2019 is one of the most awaited job fairs every job seeker in Munich should not miss. This is the ultimate event wherein you are given the opportunity to make the first step in taking your career to the next level.
Whether you're a new graduate or a highly experienced professional, our participating companies have offers that can help you boost your career growth. Get the chance to know more about them in this blog post.
Don't forget that you can still join our tech job fair by getting your FREE ticket here.
1. talent.io

talent.io is a selective, reverse recruitment platform designed to be the easiest way to recruit an excellent technical team. In 4 years, this company managed to raise € 10M and grew from 3 people in Paris to a team of 130 across 4 countries. They aspire to become Europe's #1 career platform for all professions in high demand.
2. PAYBACK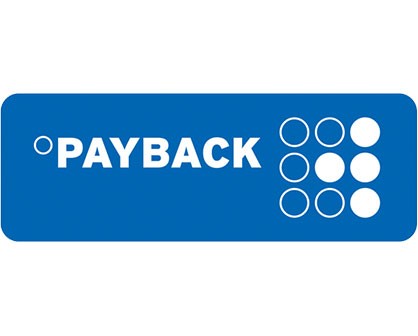 PAYBACK is part of the American Express Group and a subsidiary of the management holding company Loyalty Partner GmbH. When it was launched in 2000, PAYBACK was the first scheme of its kind in Germany. Today, it still stands head and shoulders above the competition and ranks as Germany's largest and most popular bonus programme and marketing platform.
3. Reply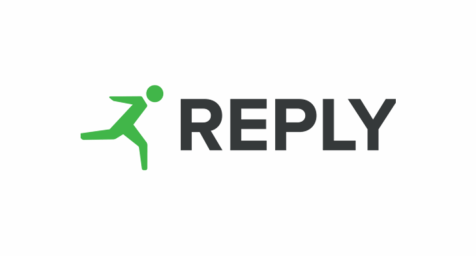 Reply is a leading Consulting, Systems Integration and Digital Services company. They are made up of a network of highly specialised companies, which support leading industrial groups in defining and developing business models to optimise and integrate processes, applications and devices, using new technology and communication paradigms, such as Big Data; Cloud Computing; Digital Communication; Internet of Things; Mobile and Social Networking.
4. Hubert Burda Media
Hubert Burda Media is a tech and media company that was founded in 1903 with headquarters in Offenburg and Munich. At the end of the year 2018, they had a total of 12, 369 employees. They are the home of many strong brands across a broad range of print and digital consumer media. With over 600 print and digital consumer media and our own technological developments – including the open-source software Thunder and the Cliqz data protection browser – Burda is one of Germany's largest media and tech companies.
5. Holidu

As one of the fastest-growing travel tech companies worldwide, Holidu's mission is to finally make the search and booking of vacation rentals easy. They were recognized as one of the most popular startup employers in Germany by Gründerszene in collaboration with Kununu. The team consists of more than 170 people coming from more than 30 different nations.
6. American Express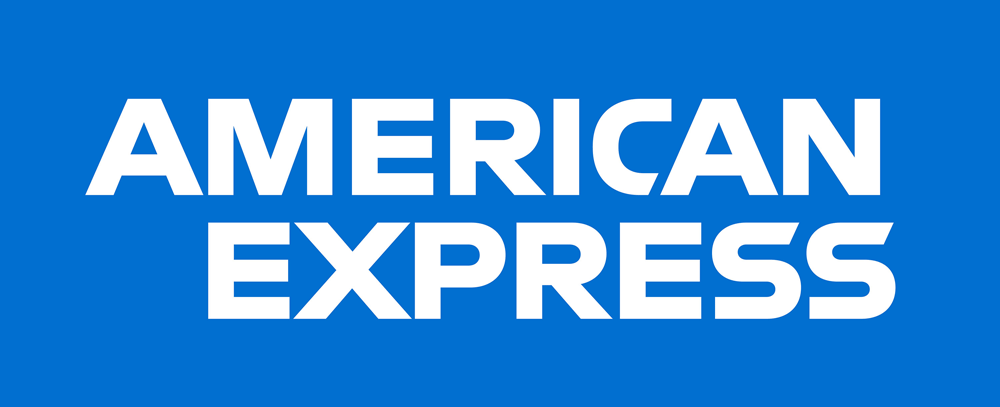 Since 1850, American Express has worked to make a difference in their customers' lives in ways that matter most to them. Their vision is to provide the world's best customer experience every day as they want to provide differentiated products and services to their customers to help them achieve their aspirations.
7. Lennon Wright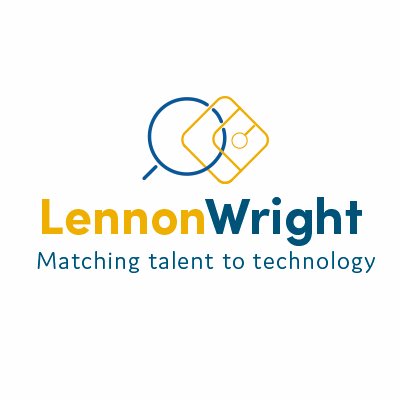 Lennon Wright is the premier Tech Talent Recruiter in Germany. Their candidate-centred focus approach in recruitment has been changing the lives of Technology professionals for the better since 2015.  They match the best Talent to the best Technology jobs in the EU and USA from their offices in Munich, London and Virginia in the USA.
8. ACI Worldwide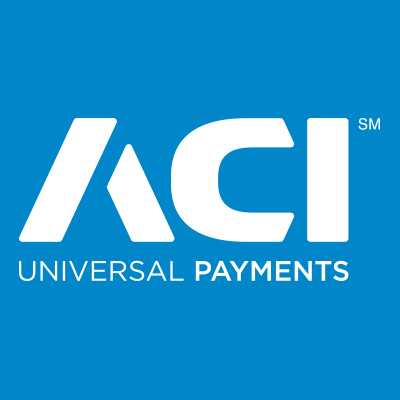 ACI Worldwide makes fast, simple and secure payments possible around the world by connecting more ways to pay with more payment capabilities than any other provider. They have more than 40 years of payments expertise and customers in 90+ countries including 18 of the top 20 banks worldwide, thousands of merchants directly and through PSPs, 3,700+ organizations utilizing our electronic bill payment solutions, 1,500+ banks, intermediaries and merchants preventing fraud with our solutions.
9. Honeypot

Honeypot is Europe's developer-focused job platform. The platform was launched in 2015. Their mission is to get every developer a great job. They help Developers, DevOps Engineers and CTOs find jobs they love. Today, they are Europe's leading developer-focused job platform, serving Germany and the Netherlands.
10. Sqooba

Sqooba is a Swiss and German-based start-up, building analytical solutions and providing highly reliable end2end products for data streams and complex data landscapes. They believe that in a data-driven world, the key to future success is to build capabilities that enable organizations to innovate with data, disperse the insights, democratize the tools & unleash the creativity.
11. parcelLab

parcelLab is the leading cloud solution for smart parcel monitoring, is looking for people in sales, marketing, and development. They connect online retailers with their customers to help them exceed the limits of the best possible shopping experience. Started with 3 founders in 2014, they are today more than 20 experts in the field of post-purchase.
12. SimScale

Founded in 2012 and based out of Munich, Boston and New York City, today SimScale has more than 70 employees from over 30 nations with over 40 languages spoken. SimScale is the world's first production-ready SaaS application for engineering simulation.They hire exceptional people who value stimulating and collaborative teamwork within a vibrant international environment.
13. Spendesk

Spendesk is a fast-growing FinTech company. They were founded in Paris in 2016 by Rodolphe Ardant, Jordane Guily and Guilhem Bellion, they now help over 1,300 businesses across Europe to spend better. They believe that business spending can be beautifully easy, so they built an all-in-one solution to help manage every part of the spending process.
14. Scalable Capital

Scalable Capital is the largest digital asset manager in continental Europe. Founded in 2014 with the aim to provide a broad group of investors with access to capital market investments, today, they already manage more than 1.5 billion euros through their platform.
15. Mytheresa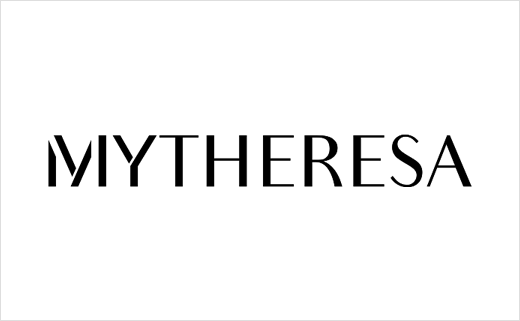 Mytheresa is an industry leader in the world of online luxury fashion and retail. For over 30 years the highly successful Mytheresa store cemented its status in Munich as a pillar of style and taste, and in 2006 it widened its customer base globally by launching a small e-commerce extension. Today, over 500 employees work together to create an unforgettable online shopping experience.
16. Smart Reporting

Smart Reporting is a digital health start-up, founded in 2014 by Prof. Dr. Wieland Sommer. The company is a university spin-off and inspired by the capability of digital technologies to profoundly change healthcare for the better. Today, Smart Reporting offers leading software solutions for structured reporting and clinical guidance in medical diagnostics.
17. Spyra One

Spyra One's mission is to reinvent the way people have fun with water. Their goal is to create the best water gun that ever was and will be. In their small startup team, shooting a message across the desk is as easy as hitting your colleagues with a water gun. The prototypes of their patent-pending technology has already excited many test users during trial water fights in their own arena.
18. DataGuard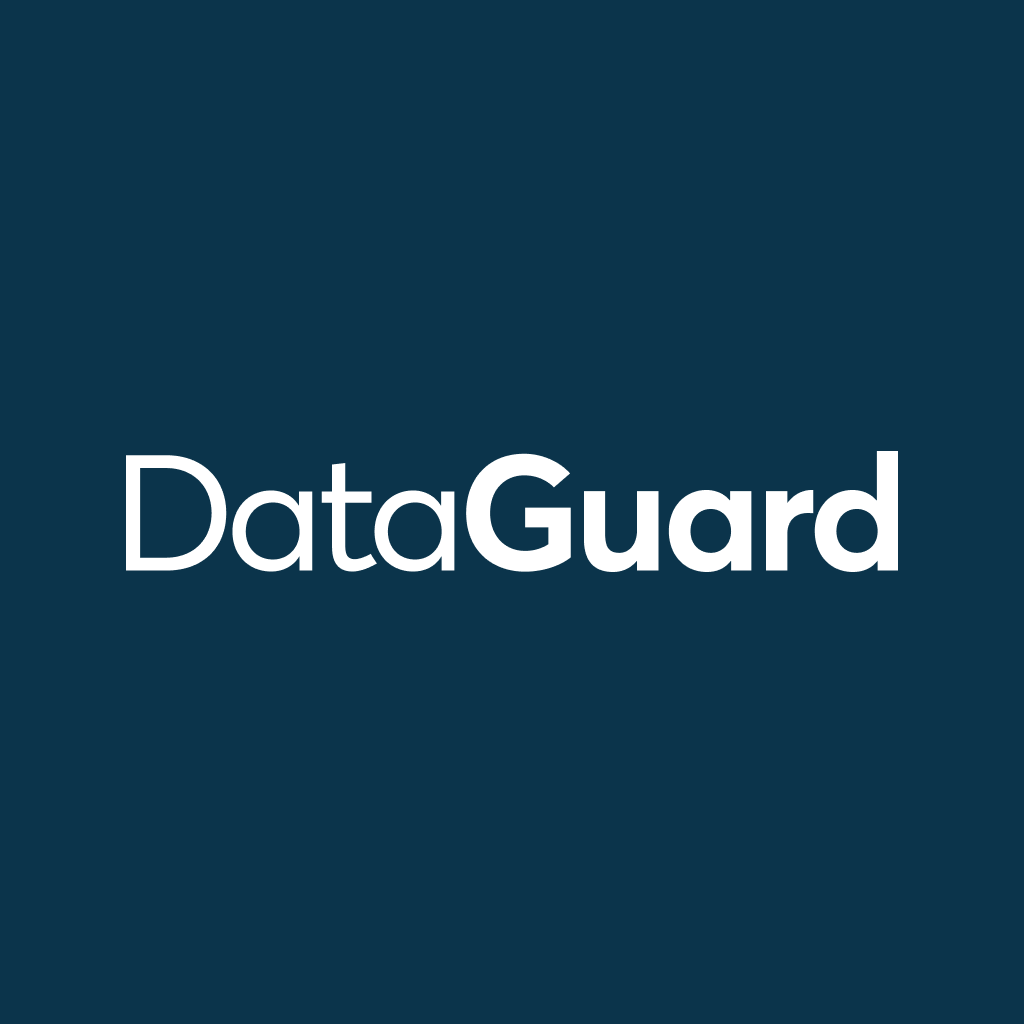 DataGuard is a privacy and legal-technology company headquartered in Munich, Germany. At DataGuard, we house over 100 employees who are passionate about privacy, compliance and IT security.
Visit each website of our participating companies to learn more about their company culture, and to get a glimpse of what your future workplace would look like.
Make sure to prepare your CV, and of course, prepare yourself both physically and mentally to make a lasting impression to your potential employers.
If you haven't gotten your job fair ticket yet, get it now here for FREE.
Don't forget to follow us on Twitter, Facebook, LinkedIn and Instagram to get real-time updates of the event.  Good luck, and see you in Barcelona!
TechMeetups.com 8 years. 21 cities. 68 job fairs. 1100+ hiring companies. 60,000+ job seekers.