OM Partners was one of the participating companies at our recently held Barcelona Tech Job Fair last 4th of April.  We are so thankful to them for making our event a success!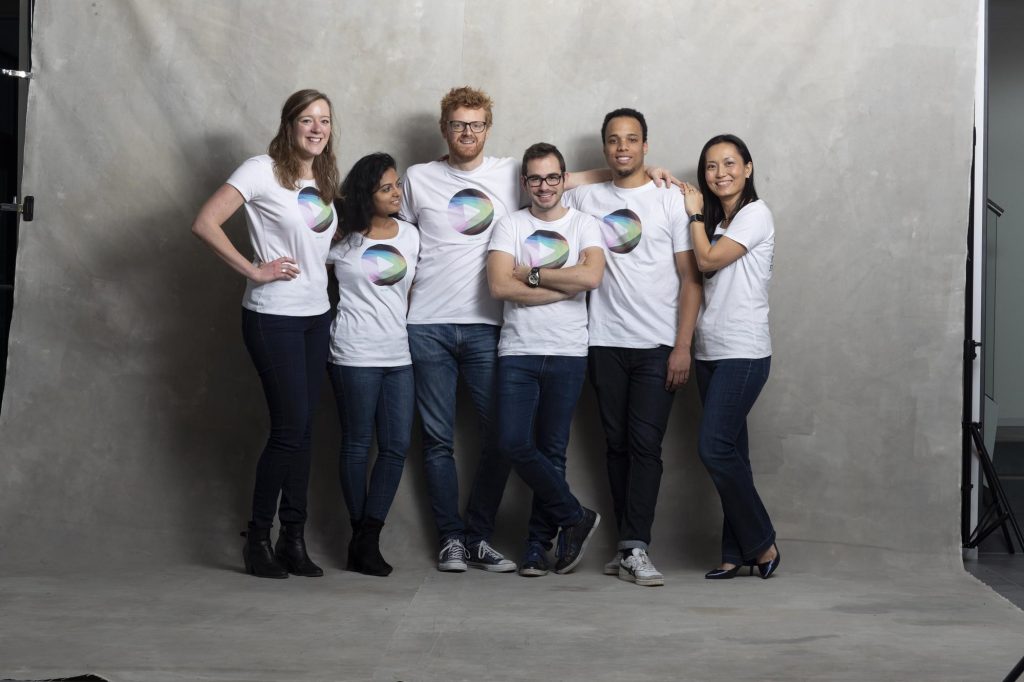 OM Partners, an international company with headquarters in Belgium, is opening a new office in the area of Barcelona. They offer plenty of job opportunities to strengthen their Software Development Team, and they are looking for the right candidates. They are ready to meet you and to explain you how is life at OM Partners and the many benefits of working there. Will you be the perfect match?
OM Partners is a software and consulting company that delivers Supply Chain Planning Solutions. They always strive for creating innovative, performant and scalable software solutions to achieve their common mission: to smarten and optimize their customer's supply chain.
Find out below why their workplace stands out, what's their onboarding like, and other interesting facts about them.
What's the story behind the creation of your company?
OM Partners started in 1985 as a provider of a mathematical programming toolbox and has now become one of the top players in the supply chain planning market.
In response to the globalization of its client portfolio, OM Partners has expanded from its original Belgian base, setting up regional offices in the USA, China, India, the United Arab Emirates, Brazil, France, the Netherlands, Germany, the United Kingdom and now in Spain. In addition to this autonomous growth, OM Partners is constantly widening the scope of its solutions through a growing network of external partnerships.
What's your current view on the market you work in? What makes you feel like your brand stands out?
The scale of supply chain related data and connectivity (internal and external) within the corporate supply chains are growing at an enormous pace. At OM Partners, we are always researching for leveraging more value and insights out of this big supply-chain data flow.
OM Partners is recognized in the market as a reliable supplier of innovative and high-quality supply chain planning software. We are even named a Leader by Gartner, the world's leading information technology research and advisory company. That's how we became the supply chain planning partner of choice for multinationals such as Johnson & Johnson, BASF, Procter & Gamble, and Shell.
What's the thing that you appreciate/value/cherish more about what you do as a brand?
It is difficult to name only one, so allow us to mention 2: innovation and corporate responsibility.
OM Partners boosts innovation. A commitment we take seriously. We dedicate a large amount of time and 30% of our annual revenue to research and creativity. And because we put great pride in our ability to create our own product, we continuously encourage our employees to think differently. A bold statement, which we adhere to through extensive teamwork, discussion forums and annual innovation challenges. Our academic roots have grown into sustainable partnerships with various universities and a strong involvement in international research projects.
Moreover, OM Partners takes up its corporate responsibility and allocates a yearly budget for charity initiatives that create a large and lasting impact. Because we also want to support the active involvement of our employees, we encourage them, each year, to submit a charity organization to which they are personally committed. All colleagues are involved in the vote and distribution of the charity budget.
What do you do to make your workplace stand out?
We offer an inspiring work environment. Each of our offices offers a pleasant workplace. We have plenty of modern and spacious conference rooms, and colorful and inspiring creativity rooms. Our well-equipped meeting rooms make it possible to effortlessly organize online meetings. We also offer free soup and beverage to all employees.
Moreover, lifelong learning is not just a buzzword at OM Partners. We work in small, dynamic teams where everyone helps each other to grow and learn every day. We provide also access to various training programs for our employees.
At last, we also organize a wide range of fun activities (Virtual Reality games, Paintball, carting, …) to find a balance between work and fun.
Do you have office rituals? Like meetings held every morning, social breakfasts or others?
At OMP we implement the Agile Scrum methodology. This involves regular dedicated and efficient meetings with all the team members to align everyone and to discuss the next steps.
We work hard, but we also like to enjoy. We regularly organize fun activities, like the Board Games Evening, the Friday after-work drink or football and volleyball tournaments.
What can a new employee count on in your company? What's their onboarding like?
When you start working at OM Partners, a training program is worked out for your first months, depending on your background and the projects you'll be working on.
Besides the formal training package, individual trainings can be followed according to your specific needs. Suggestions can be made on your own initiative or by your coach. These trainings are organized internally or externally (ex. language courses, specific IT training, etc.).
Moreover, a coach and a day-to-day coach will be assigned to you, to guide you through various projects, make sure you grow, learn new things, develop certain competences, and take on responsibilities.
What's your company structure? Do you have a hierarchy or prefer a flat model? How big are your teams, if you form any?
At OM Partners, all of us are equally important links in the larger chain. Not one person is more important than the other in our flat company hierarchy. Together, we go for the optimum. All of us are persistent and determined to help our customers in the best possible way.
That's how we play: we work together, we grow together, we succeed together.
We work with different (smaller) dynamic teams, where everyone helps each other to achieve the common goals.
What is your team like? How do you work?
Our customers challenge us every day. That's why we make it our business to stay up-to-date with the most recent evolution in software design. That means our software is constantly evolving from an architectural point of view, for example in the field of service-oriented, task-based programming.
Top-quality work is of the utmost importance to OM Partners. We apply this value to everything we do to make sure our software is available at all times without errors or glitches. We work closely together with our in-house functional product managers, all of which are top-notch experts in the field of supply chain management.
To ensure the creation of robust software, we adhere to a well-defined quality process, testing our software via different approaches, and undertaking extensive design and code reviews. We strive to detect issues as early as possible in our development process, for example by using unit testing. We have a dedicated team of scrum testers, several CI systems that run automated tests, and a specialized QA team responsible for upgrade, regression and integration testing.
If you rise to the challenge of working as a software developer at OM Partners, you will get the opportunity to shape and develop software that can handle the most complicated supply chains, gaining experience in building robust, smart and scalable software.
What kind of people are you looking for? Who's the best match for your team?
We love software developers that take the initiative, are driven to succeed and are creative. Therefore, we are looking for team players that are passionate about software development and are eager to use their creativity and talents to develop state of the art software solutions.
We like you just the way you are. OM Partners embraces and celebrates diversity in all its forms.
We will support you in pursuing your passion and we will help you build your career around it.
More information is available on their website. Follow them on Facebook, Twitter and LinkedIn to get updates.