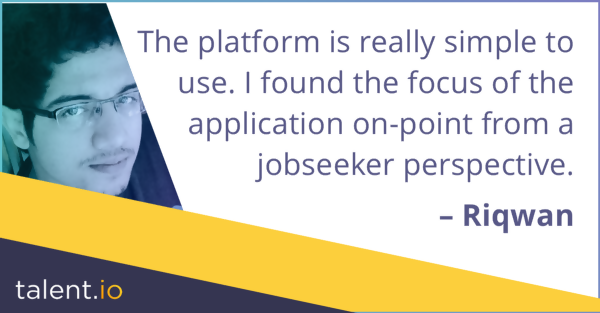 talent.io has a great service for tech professionals and companies to benefit from. The online platform provides the easiest way for companies to build a great tech team and for tech professionals to find their next job!
We are honoured to announce that they will visit the Berlin tech Job Fair taking place on 7th November 2019, Munich tech Job Fair taking place on 24th October 2019 and Amsterdam Tech Job Fair Autumn taking place on 20th November 2019 respectively.
It is an incredible time for you to advantage from their visit as they would love to help you with their experience. Please make sure to show your presence and see what they have to offer!
Until then, we are sharing the great success story from Riqwan about how talent.io has changed his life and how talent.io helps tech professionals like Riqwan to land their dream jobs.
Here is what Riqwan shared with us regarding how you can make talent.io work for you!
Could you tell us a bit about your background? How did you first find out about talent.io, what were you expecting?
I came across talent.io as a listing when I ran a Google search on companies to work for in Berlin. At first, I didn't think much about it since I didn't see many resources online about the company. I was initially skeptical about the platform's ability to provide me with any additional value — until I received an email from my TA Katerina about making my application stronger. At that point, I started to think that this is a company committed to doing its work efficiently.
What was your experience like after initial sign up?
It was a pretty smooth process. I scheduled an interview with Kate the day after I signed up. Once we smoothed out the application together, we published my profile.
I received my first offer for an interview within a week. Within a month, I received a final job offer from Helpling!
How did this compare with your experience applying for jobs outside of talent.io?
The platform is really simple to use. I found the focus of the application on-point from a jobseeker perspective. I received regular emails whenever a communication or offer was posted, and the messaging feature was really helpful. It would however be interesting to be able to find out how many companies discounted me and why.
You had several interviews offers — did they all seem relevant, in terms of position and salary?
Yes, I received 3 invitations to interview for 3 separate companies in Berlin. Unfortunately, with the first company it didn't work out due to some time constraints and with the second we dropped communication, but the third company I fell in love with and accepted their offer!
The products of the companies were all very relevant to my interests and the expectations in terms of salary entirely in line.
So, how's your new job?
It's great! The team is lovely and the office too — and the product is challenging enough to keep me excited.
Did you try many other solutions to find a job?
Only LinkedIn and AngelList. I've received a few offers from the Netherlands and for London, but Helpling was a company that attracted me hugely during the interview process.
What's your single favorite point of talent.io?
Kate is great! Having an amazing Talent Advocate makes all the difference.
It is never too late for you to be the next successful individual and to share your story! Take the step: be a part of the Tech Job Fair and meet team talent.io in person.
You can sign up to talent.io online, or follow them on LinkedIn, Instagram, Facebook or Twitter.