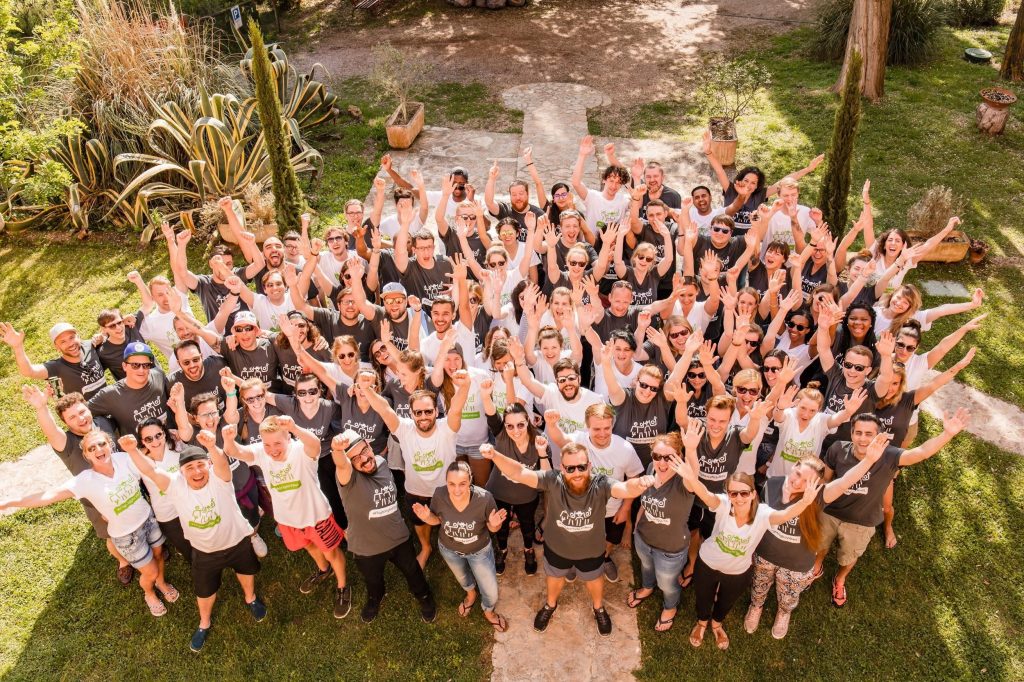 How would you like to have your flights delayed and not be able to do anything about it? Flightright is here to help you! You can count on them to take care of business and give you what you legally deserve!
They will be at our Tech Job Fair in Berlin on the 7th of November, 2019. If you want to work for a great company, please come to this event. You won't want to miss this great opportunity to meet them face-to-face and secure your dream job!
But first, we'd like you to know a little more about Flightright…
Our success story
Our service has revolutionised legal practice: Flightright helps all passengers to exercise their rights and enforce them with the airlines. So what do we do differently? The conventional approach of going to see a lawyer is not the most convenient and can often involve a lot obstacles and time. At Flightright, we are committed to enforcing passenger rights with our online-based legal service. Our service is known as "legal tech" and it is a refreshing, alternative to the conventional legal practice.
LEGAL TECH – Revolutionising conventional legal practice
We have been offering digital, straightforward and transparent legal assistance based on fast communication channels for more than 6 years now – with no cost risk involved for the consumer. We have programmed our own database that includes more than 80 million data records that are updated daily: strikes, weather information, new court decisions and flight data from across Europe. It recognises within a matter of seconds whether a passenger is entitled to compensation. The only part of the database that the customer sees is the compensation calculator input mask. As soon as we receive the passenger's authorisation, we start working on enforcing the claim against the airline.
This automated service has revolutionised the legal tech industry, as it encourages passengers to check and assert their compensation claims.
How It All Began
The idea for Flightright was born one day between an airport, a court and an important appointment with a priest. Philipp Kadelbach's flight was scheduled to take off at 2 p.m., but the news at the check-in desk was: "The flight won't be leaving until 7 p.m. at the earliest." Philipp Kadelbach has to arrive on time, because he and his wife need the priest to give them the go-ahead for their inter-denominational marriage. He manages to book another flight for, €300 at his own expense, allowing him to arrive on time. And the priest gave the couple the green light as well.
The idea behind Flightright was born
This experience lays the foundation stone for Flightright's success story. Kadelbach wants compensation for the flight and contacts the airline. The airline initially takes a cooperative stance before all goes quiet. Individual consumers are left completely on their own – they rarely manage to get what they are duly entitled to. And so Kadelbach and a friend came up with the brilliant idea: They want to help air passengers get the compensation they deserve -, with the help of a state-of-the-art, online-based legal service. The service puts customers on an equal footing with the airlines.
By February 2010, the project is ready to be launched, including its core feature: the website with the online calculator that automatically calculates the compensation under EU law. It only takes a few clicks for customers to enter their flight delay – the Flightright team takes care of the rest. The company has been growing steadily ever since: the team of lawyers has been joined by a customer service team, financial accountants, IT and marketing specialists.
David versus Goliath
Nothing is easy to start off with – the airlines are stubborn and want to take every case to court. The tactic of trying to wear consumers down doesn't work and Flightright wins the vast majority of cases. From then on, the airlines take a more cooperative stance because "when we go to court, it costs the airline around twice as much", says the founder. "It's a great feeling knowing that you stuck to your guns as the "little David" up against a multi-billion, euro industry."
The company now enforces compensation claims for passengers from across the globe. They are glad to have someone to stand up for them. The recommendation rate of satisfied customers is extremely high. "A lot of customers are committed to advertising our services – even in the departures lounge of the airport. That's the best sort of praise we can get", says a delighted Kadelbach.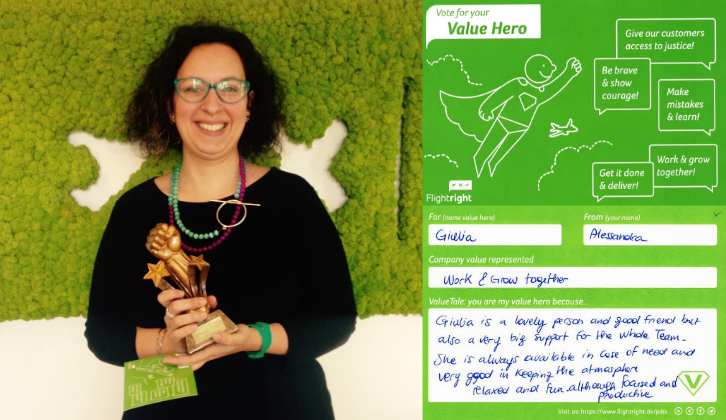 How We Work- Our Principles
Give our customers access to justice: Ask ''What's in it for the customer?' and make the voice of the customer heard. Be the experienced and professional older brother to our customers. Give professional guidance and be confident in our abilities. Our service is worth the price as we walk the extra mile. Creatively combat unfair treatment of consumers.
Be brave and show courage: Take smart risks and have courage. Say what you think even if it is controversial. Push the boundaries and don't give up. Use opportunities and don't wait to be told what to do.
Get it done and deliver: Colleagues can rely on you because you commit and keep promises. Deliver step by step and take over responsibility for the end result. Prioritise what is best for the company. You decide based on facts without over-analysing.
Work and grow together: Treat others with respect. Be open and honest with others and with yourself. Create a climate where your colleagues love coming to work. Care about the development of your colleagues, share knowledge and help out. Give direct feedback to each other, not only on things we need to improve, but especially on things we are strong at. Be ready to step out of your comfort zone.
Make mistakes and learn: Take calculated risks. Educate yourself further to improve your work continuously. Test fast & often to learn with lowest possible effort. Accept that mistakes can happen while being fast. Communicate mistakes quickly and proactively. Be accountable & clean up your mistakes. Make sure that a mistake is not repeated in the future. Share lessons learned and celebrate success cross-functionally.
Awards and certification
Flightright has already received multiple awards for its excellent service – we are especially proud of our TrustScore of 9.1/10 awarded by Trustpilot – one of the world's biggest review communities.
We hope you enjoyed learning about Flightright. Remember, they will be at our Tech Job Fair in Berlin on the 7th of November, 2019. Please bring your CVs and get prepared to seize the job you've been waiting for!
You can get their latest updates on Facebook, Twitter and LinkedIn.