TechMeetups is a Global cluster of 21 interconnected communities with 60,000+ startups, students and graduates, professionals, coders, salespeople, financiers, marketers & developers across the world. We have communities all over the world: London, Berlin, Amsterdam, Barcelona, Paris, Lisbon, Stockholm, Madrid, Copenhagen, Hamburg, Munich, Dublin, Bern, Zurich, Stuttgart, Frankfurt, New York and so on.
We help companies through Events like Meetups, Job seekers night, Drinks & Demo, Pitch night, recruITech, Workshops, Hackathons, Job Fairs https://techmeetups.com/events
Whether you are looking for a job or recruiting, Tech Job Fair is the place to be!
TechMeetups.com 8 years. 21 cities. 72 job fairs. 1099+ hiring companies. 60 000+ job seekers
Employers, hiring managers, career consultants, startups, non-profit organizations, and community organizations come together to provide resources, connections, and job opportunities to candidates looking for opportunities in IT, Marketing or Sales.
Want to leave a job, like, yesterday? You're not alone.
Need help getting a job that doesn't make you miserable? Join the Tech Job Fair! So, update your resume, and get ready for interviews at companies hiring now. Job seekers are encouraged to dress for the speed interview and bring resumes.
Students/Job seekers should register for a FREE ticket on Eventbrite.
This event will target local job seekers from tech and business filed: developers, designers, marketers, sellers, financiers, managers, BI, analysts, product managers, data scientists.
If you've had enough of submitting your CV online without the opportunity to make a lasting first impression, here's your chance to change your strategy and do a bit of networking.
Job hunting, job seeking, or job searching? If you're looking for a career path with good compensation, room for growth, and plenty of new things to learn, join us! Make your job search easier, faster and more transparent: meet key contacts who can help you in your career growth.
Walk through the TechMeetups Tech Job Fair and talk with employers, human resource representatives, hiring managers and company executives; the people who are ready to make a decision that can change your future.
Get your job seen and in a top tech community job site www.techstartupjobs.com
Agenda for the event
18:30 – 21:00 Exhibiting and Networking
Everyone from banking, retail, software, pharma, finance, media, healthcare, automotive, engineering, banking or fashion industry, startups, agencies, recruitment, consultancies to high growth companies are kindly invited!
Become an exhibitor
Enjoy networking opportunities, launch a new product, collect feedback, source, hire and generate new leads.
Exhibitor packages https://techmeetups.com/exhibitors
Pictures  https://www.flickr.com/photos/techmeetups/albums
Testimonials: https://techmeetups.com/testimonials
If you have any questions and suggestions, please contact marketing@techmeetups.com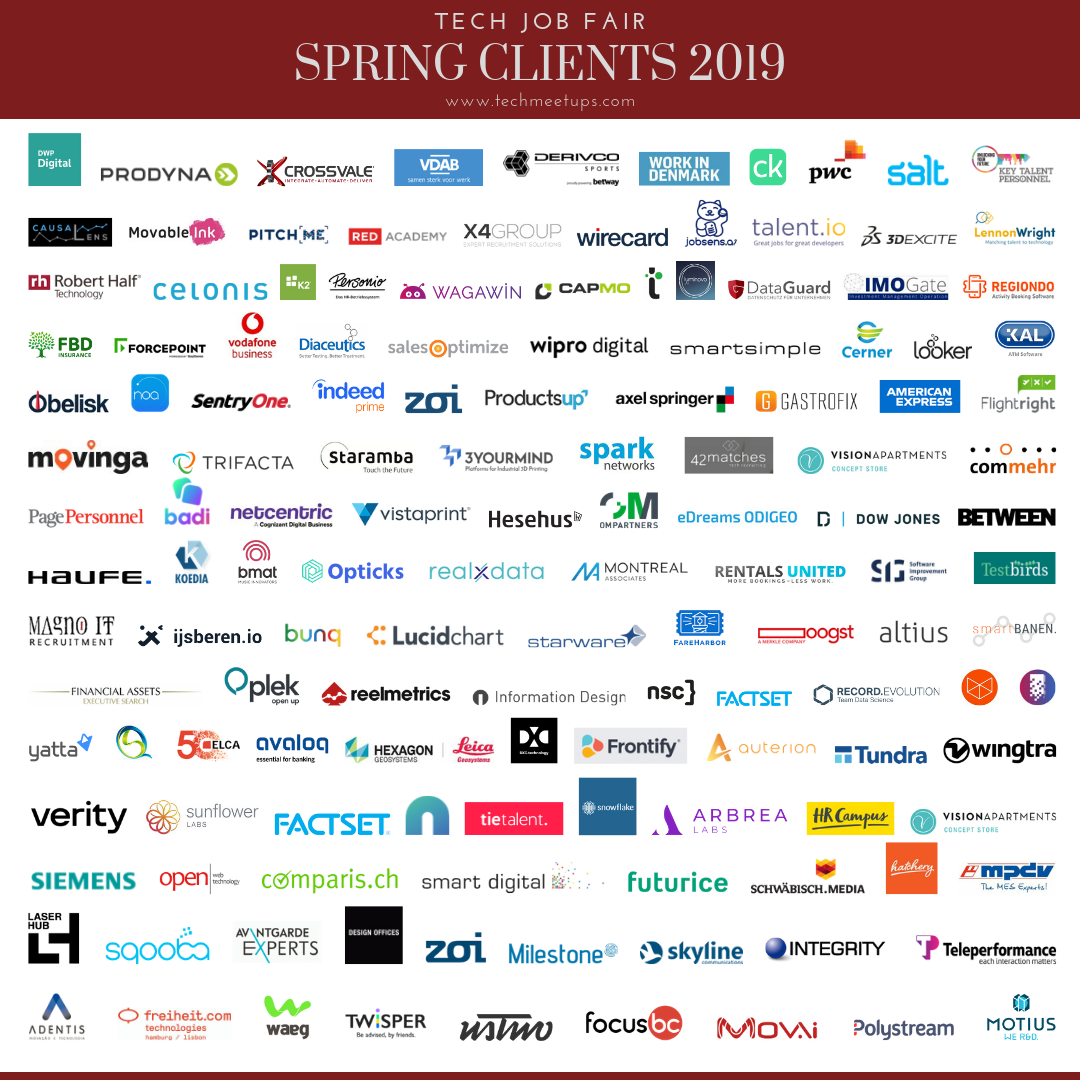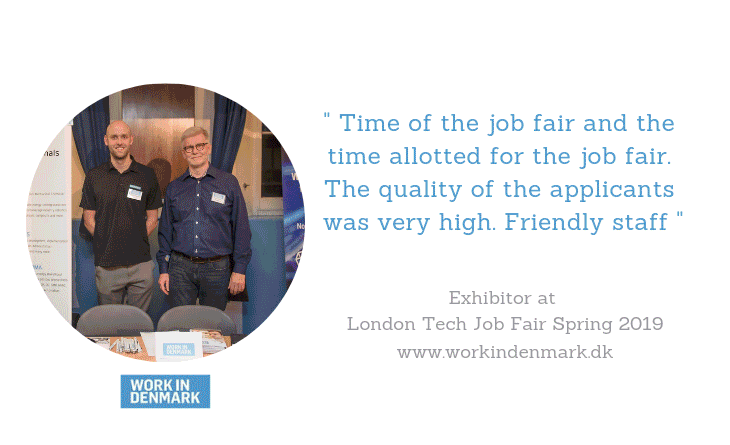 COMPANIES HIRING:
causaLens is a deep-tech company on a mission to optimise the global economy. We build the next generation of predictive technology for complex and dynamic systems with HQ in London and presence in key global markets.

Digital insight is an online research platform that produces background profiles on companies and individuals in minutes.  It is used by organisations to comply with Anti Money Laundering regulations, protect their reputation and ensure the values of their suppliers, donors, employees and customers align with their own.

Workindenmark provides international job seekers and Danish employers with the information, guidance and tools to find each other.
Partners:
Startup Ecosystem EU offers actionable insights to grow and promote your business while delivering quality customer experiences. Our executive team offers insight, experience, and a hands-on approach to cultivate early-stage concepts, products, and services into commercially successful business opportunities.