Please join us for an informative session led by senior colleagues from Deutsche Bank and Google to learn more.
Deutsche Bank is the leading German bank with strong European roots and a global network. The bank focuses on its strengths in a Corporate Bank newly created in 2019, a leading Private Bank, a focused investment bank and in asset management. more
JOB SEEKER REGISTRATION – FREE ADMISSION
Audience: IT professionals in London (Online via Zoom from 18:00 GMT)
What to Expect 
On the event day:
Presentations
Review of job opportunities
Q&A session
After the event:
Once applicants have submitted their CVs, we aim to schedule first round interviews as quickly as possible.
Speaker topics for event
Jongi Mohiuddin (DB) – Project overview and drivers for hiring
Scott Condit (DB) – Platform and Architecture Overview
Yvette Berman (DB) – Work environment, D&I and culture
Vladimir Elvov (Google) – Google technology offerings and Deutsche Bank partnership
Looking for the best Cloud Platform Engineers to deliver innovative and exciting solutions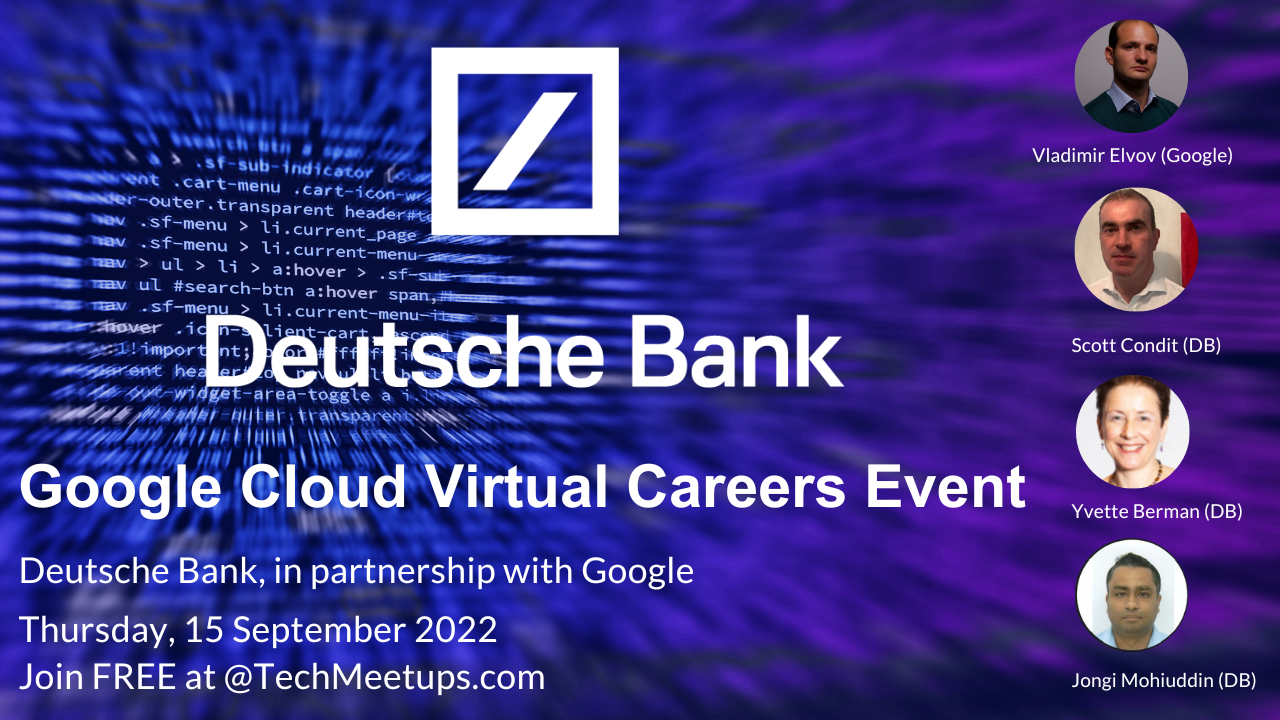 Are you a Cloud Developer? Are you interested in Big Data? Do you have a passion for technology? Interested in working in a fast-paced, agile environment? Have you ever thought about a career in Financial Services but don't have any experience? If this sounds like you, then please keep reading!
Deutsche Bank, in partnership with Google, is moving to the Cloud as part of its agile evolution. We are hiring individuals for brand new teams and we want the best technologists from any industry.
We are recruiting for a range of roles across Architecture, Development and Administration to work on an exciting new program in Risk Management. Our strategic platform – RiskFinder – is a complete solution for Risk and Capital Metric Management, consisting of a scalable full-revaluation calculation engine with 50k cores, a multi petabyte-scale Big Data analytics platform, and low-latency in-memory distributed grid reporting technologies. Our technology stack includes Java, C, C++, PostGres, OracleDB, Lua, Python, Scala, and Spark plus other off-the-shelf products integrated into one platform.
Vladimir Elvolv – Lead Data & Analytics Specialist
Vladimir Elvov is a Lead Data & Analytics Specialist at Google focusing on large-scale Financial Services clients. He specializes in the area of Big Data technologies and Cloud Data Platforms as well as Cloud migrations and transformations. Prior to joining Google, Vladimir held multiple positions as a Data Engineer and Solutions Architect with software, media and insurance companies. He holds a degree in Computer Science and Business Administration from the Technical University of Munich.
Scott Condit – Risk CTO
Scott is a hands-on developer who still codes as much as possible – inside and outside work, and likes to keep up-to-date. He joined DB in 2006 from a Financial Services company, where he ran a cloud valuation platform, and before that worked as an engine and application developer in computer games. Since then he has designed and built a number of risk systems, including a Front-Office Risk Platform and RiskFinder, strategic Capital Analytics platform.
Yvette Berman – Head of QA and Release Market Risk IT and ERM Services
Yvette has over 30 years' industry experience across financial risk technology, which includes working at 3 Investment Banks and a specialist consulting firm. She started out as developer, then BA and eventually focused on QA and testing. She joined DB in 2009, initially running QA across the banks Front Office Risk systems in 2014 given the strong focus on regulation she moved to a role to building the QA and Testing, Environment and Release Management teams across Market and Counterparty Credit Risk.
Jongi Mohiuddin – RiskFinder Cloud Migration Program Manager
Jongi Mohiuddin is the Program Manager for migrating RiskFinder our strategic Capital Analytics Platform to Google Cloud as part of our strategic partnership. He has progressed in technology roles across a 22 year career starting as a graduate, covering disciplines from Development, Architecture, Product Management, right up to Program Management recently, leading complex transformations for Tier 1 Investment Banks. Since joining Deutsche Bank in 2008, he has delivered many programs, including most recently overseeing the IT delivery for the Fundamental Review of the Trading Book.
Techmeetups does not guarantee to job seekers any interview or hiring from any company. TechMeetups is all about YOU so come along, join us and let's connect to form a truly global tech community!
Let us know your need, and we'll let you know how we can help at [email protected]