Who are the creators of your brand? What do they do in life, what are they passionate about?
EcoVadis CO-Founders and Co-CEOs are Frederic Trinel and Pierre-Francois Thaler. They are both international entrepreneurs. A big passion of both of them is sailing, and that's also how they first met.
Pierre-François brings years of experience in procurement and business development of innovative solutions. Previously, he was the CEO of B2Build SA (the 1st B2B marketplace for the European construction industry) and a director of Ariba Procurement BPO. He's a speaker and author of numerous studies on Sustainable Procurement.
Frédéric is an international entrepreneur and founder of four companies, all active today — in Asia, Eastern Europe & UK — operating in global trade, software and human resources sectors. The last venture of Frédéric was Mr. Ted Ltd, where he was COO in charge of Technology & Operations.
What's the story behind the creation of your company? What inspired you to start your business?
EcoVadis was started in 2007 in Paris. Pierre-Francois Thaler, EcoVadis Co-Founder and Co-CEO: "At EcoVadis we operate a global platform combining technology and expertise to provide ratings on sustainability, helping businesses understand the environmental and social performance of their suppliers or the companies they work with. We created EcoVadis because we thought that it was a unique opportunity to use sustainability ratings to drive change in global supply chains."
What's your current view on the market you work in? What makes you feel like your brand stands out?
Stefan Lehnert, EcoVadis Customer Onboarding Deputy Team Leader based in Barcelona: "We do not have standard questionnaires for assessments like other providers. The EcoVadis assessment is very profound and questionnaires are customized to the company's profile (with regard to size, industry and location). Therefore we have more than 100 questionnaire options. Our analysts deep dive into the provided documentation and give feedback on improvement areas and provide a corrective action plan. This plan is connected with our new Ecovadis Academy – an e-learning platform that helps companies to tackle their identified corrective actions. Thus we do not only provide a rating but also give them the tools on how to improve. This is how we try to have a positive impact on the planet & society. We share best practices from more than 90.000 assessments!"
What's the thing that you appreciate/value/cherish more about what you do as a brand?
EcoVadis is the leading provider of business sustainability ratings. We exist to help global business be more sustainable, ethical and responsible. We drive positive impact and scalable change. Our solutions are backed by an international team of experts and powerful technology – we analyze data and build sustainability scorecards that give companies actionable insights into their environmental, social and ethical risks.
What's your company culture like? What is that you want to represent?
EcoVadis team's motto is: Work smart, have fun and make an impact, and our six core values are:
We exist to help global business be more sustainable, ethical and responsible. We drive positive impact and scalable change. And, we walk the talk in our team.
We work with focus and agility to meet and exceed expectations of our customers – both clients and teammates. We build strong partnerships to create lasting impact.
We foster an inclusive culture where everyone can express their uniqueness. We value individual differences. We respect each other's needs. We constantly learn from each other.
We carry out our work with the highest level of professionalism and transparency. Accountability, honesty and trust are the foundations of all that we do.
Our goal is to be the best at what we do. We continuously innovate. We proactively propose new ideas that match with business realities. And, we bring them into effect.
We support and empower each other. We show appreciation and celebrate accomplishments. Team spirit and work-life harmony are key to helping our team thrive.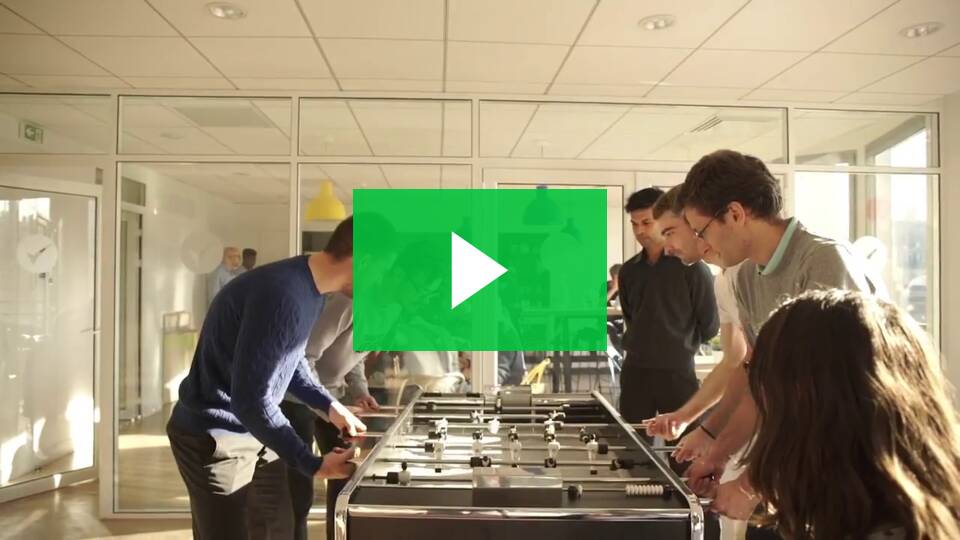 What is your team like? How do you work?
EcoVadis global team is driven by a diverse team of over 1200 talented professionals representing more than 60 nationalities. The team is based around the globe, including offices in Barcelona, Warsaw, Paris, London, Dusseldorf, Mauritius, New York, Tunis, Hong Kong, Toronto and Tokyo. We hire remotely as well.
In the Barcelona office, we currently have more than 70 teammates coming from different backgrounds enabling us to work in a very multicultural environment.
What kind of people are you looking for? Who's the best match for your team?
EcoVadis' unique mission resonates with people who want to have a career with an impact. We are a fast growing company, providing challenging responsibilities and projects, and opportunities to grow.
EcoVadis career offers opportunities in fields like Sustainability and Data Analysis, Sales, Customer Success and Support, Marketing, Product Management and Development, HR, Communications, Finance, Administration, Legal, Quality, Software Development, IT Security and Engineering.

The best matches for our growing teams will definitely be people that are eager to work in a fast paced and international environment. Personal attraction towards our project and driven to make sustainability real will also be a strong asset!
What benefits and perks do you offer your employees? What's the biggest plus of working for you?
We offer competitive salaries and support personal growth from day one. This includes extensive onboarding, teammates' support and a brand new e-learning platform bursting with courses and modules. So you can learn new skills and fine-tune old ones!
We also provide our team with the benefits of flexible working. Some of us work from home and some prefer to work from our easily accessible office hub in Barcelona, located in the dynamic area of Gloriès! If you come to the office, you can work in the open space or public areas while enjoying the panorama of Barcelona, and also take breaks on our lovely terrace.
At Ecovadis we embrace teamspirit. We organize regular onsite and online team buildings, and our CSR team coordinates events where we can give back to local communities and ecosystems! For that, everyone at EcoVadis can use a community service day.
Last but not least, EcoVadis will support you with all the necessary office and work from home equipment, holidays in line with Spanish labor law, optional health care and life insurance.
What are your goals and plans for the future? What's your biggest ambition?
Our ambition is to transition all companies to a sustainable world. We envision a global marketplace where sustainability intelligence influences every business decision, thus improving economies, people's lives and the planet we all depend on.
We aim to achieve this ambition by providing reliable, globally recognized sustainability insights and ratings to all companies, enabling them to reduce their risks, continuously improve their sustainability practices and accelerate their impact on our planet and society.
As part of this ambition, our people play a key part. We aim to cultivate a supportive and learning environment for our team, providing meaningful work and inspiring the next generation of sustainability practitioners.